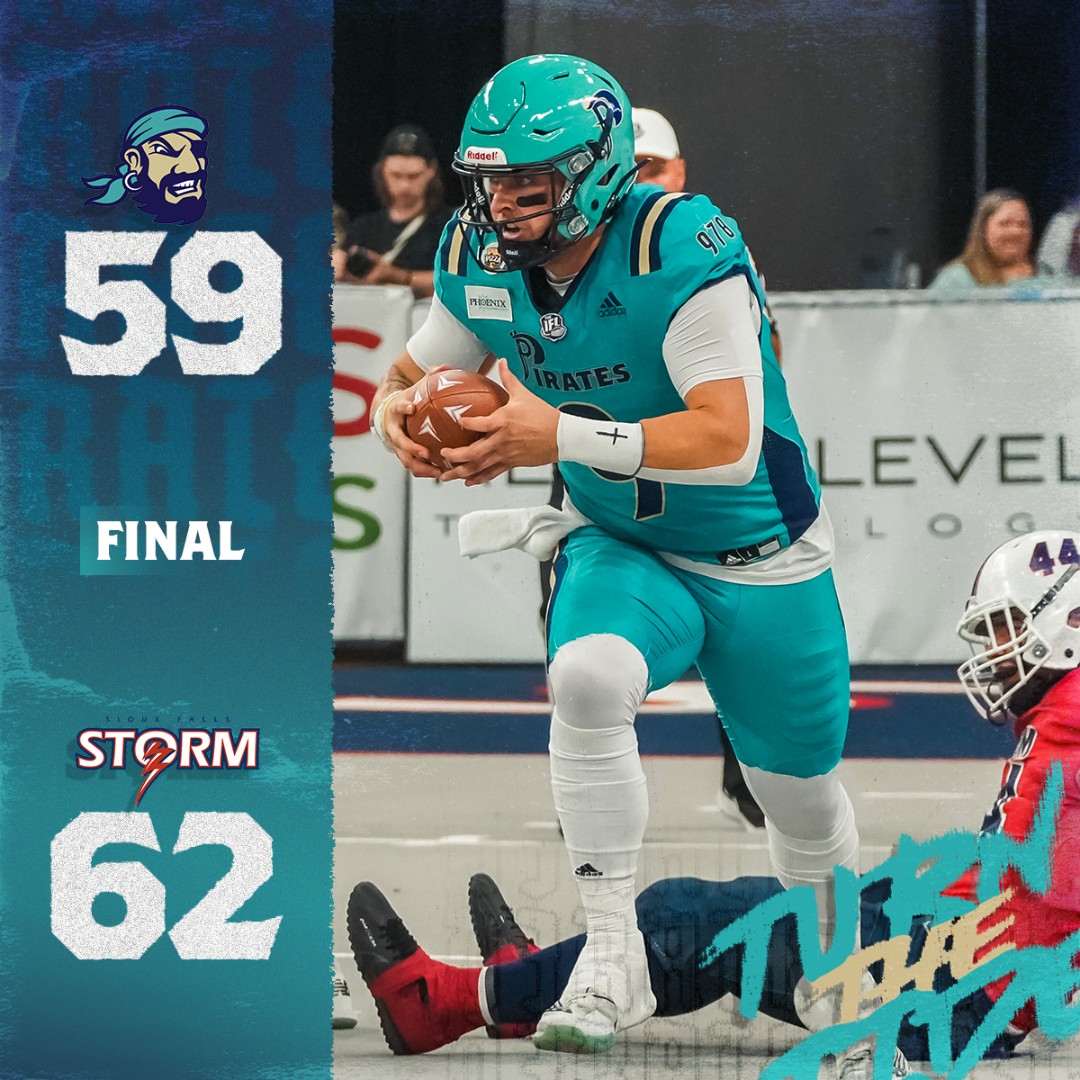 Image courtesy of the Massachusetts Pirates
The Massachusetts Pirates finished the regular season with a tough 62-59 loss last night to the Sioux Falls Storm. With the loss, the Pirates will now be on the road next week for the first round of the IFL playoffs.
The Pirates will have to go back to Sioux Falks to take on the Storm again. Massachusetts got off to a great start last night building a 16-14 lead in the first quarter thanks to two Anthony Russo touchdown passes, one to Issac Zico and the other Darren Carrington.
The Pirates were able to add to their lead to start the second quarter thanks to a Jimmie Robinson rushing touchdown. The defense struggled in the quarter however giving up 21 points. Despite that, Massachusetts led 37-35 at the half.
There was more back and forth in the third quarter but the Pirates were still able to control the pace. They led 44-35 after Russo connected with Zico for the third time. At the end of third however, the Storm led 48-44.
The Pirates were able to take the lead back to start the fourth quarter on another Robinson touchdown. Massachusetts led 51-48. A Josh Gable kick for two gave the Pirates a 53-48 lead but the defense would once again struggle to hold it.
Trailing 54-53, the Pirates took the lead again when Robinson scored his third rushing touchdown of the night. That would be it for Massachusetts as they would surrender a late score to make the final 62-59.
With the loss, the Pirates fall to 2-6 on the road this season. They were a perfect 7-0 at home. After a tough loss like this, the team will now have to refocus and find a way to bounce back next week in the same building. It will not be easy but this is a veteran group that has been here before.