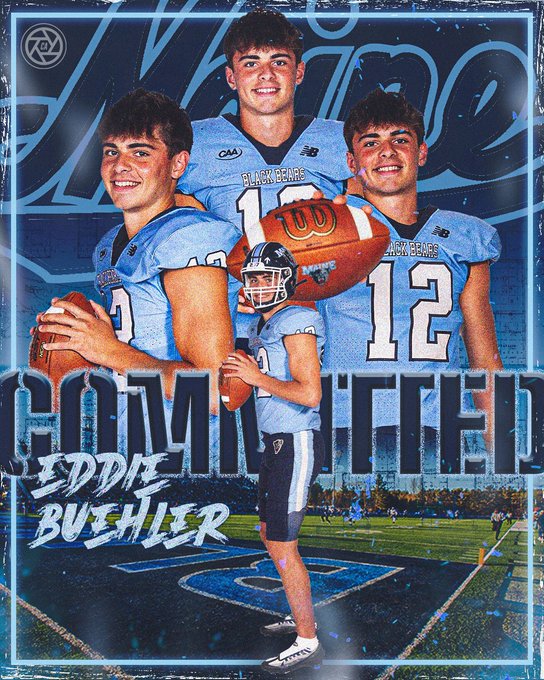 Image courtesy of Eddie Buehler
Former North Kingstown and current Phillips Exeter Academy quarterback Eddie Buehler announced yesterday that he is committing to the University of Maine.
https://twitter.com/eddie_buehler/status/1680288473586999298?s=46&t=0-klhPVppXQ66vGpXhGesA
Buehler held offers from Wagner, Bentley, New Haven, Assumption and Saint Anselm but ultimately chose Maine. Buehler was recently offered by new Black Bears offensive coordinator Steve Cooper.
I spoke to Eddie about his commitment. I asked why he ultimately chose to commit to Maine.
"From the beginning Maine showed lots of interest and definitely made me feel special. The high level of football matched with the opportunity to get a great education was hard to turn down." Buehler added: "I was also extremely impressed with the coaching staff and believe they will help me become the player and person I want to be. Overall I am extremely grateful for all of the opportunities I had and want to thank all of the coaches that believed in me."
According to Buehler, Maine Head Coach Jordan Stevens and Coach Cooper were a big reason he committed. Both Eddie and his family felt comfortable with the school and making the commitment.
"Coach Stevens, Coach Cooper, and the rest of the coaching staff played a large role in my decision. I was blown away with how welcoming the entire staff was on my visit. Coach Stevens spent a lot of time with my family and I making sure we got a good understanding of the program he is building."
Cooper spent time going over the Black Bears offense with Buehler and sharing his vision for him in the team's system.
"Coach Cooper was extremely impressive as well when walking me through the offense and sharing what he envisions for the program in the near future. Ultimately the connection I made with the coaching staff at Maine during my recruiting process made my decision easy in the end."
Buehler is excited to be done with the recruiting and he can focus on his PG season playing for Panos Voulgaris at Phillips-Exeter.
"After a long and emotional recruiting process I am extremely excited to say that I am committed to a program that I believe in, as well as a program that believes in me. Being able to put my recruitment aside and focus on having the best season at Exeter possible is a great feeling." Buehler continued: "I am extremely grateful for Coach Voulgaris and the opportunity he has given me and can't wait to play for him this fall."
Now the 6-3 195 signal caller can focus on his development and getting better. Congratulations to Eddie on his commitment.