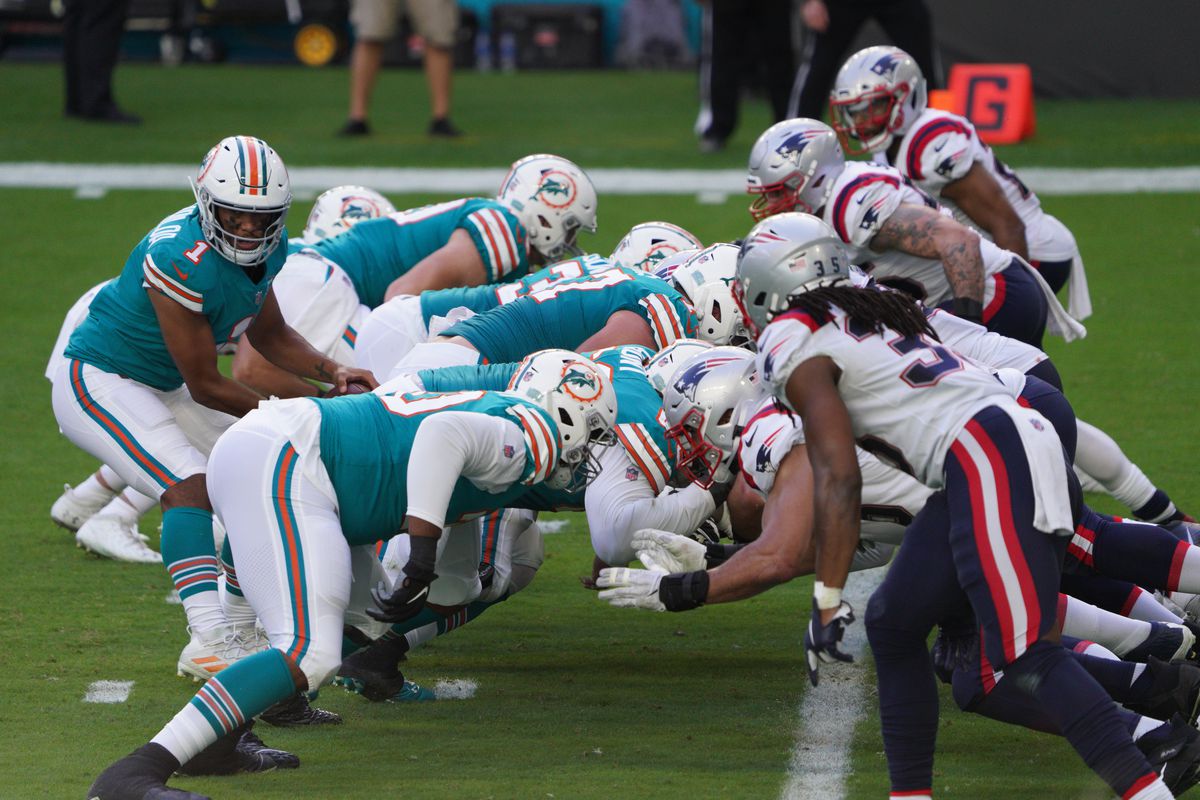 The Patriots host the Dolphins on Sunday Night Football. As usual, Miami is one of the toughest match-ups in the NFL offensively. The Patriots back seven will have their work cut out for them especially with Tyreek Hill and Jaylen Waddle. How the Patriots chose to defend them will be the biggest key in this game.
As always, the game is won and lost in the trenches. There are plenty of match ups to keep an eye on upfront as well. We have identified the top five match-ups we think will impact this game.
Here are five match-ups to watch.
Jonathan vs. Tyreek Hill: Assuming Jones plays, he will match up with Hill as much as possible. The Patriots don't like to flop their corners but they will do it for certain match-ups. Look for Jones to line to Hill's side of the formation at least 80% of the time. He has experience covering Hill in recent years and that experience is beneficial. * Jones is inactive tonight so I would expect more zone coverage and Cover 2 Man and Marcus Jones on Hill.
Christian Gonzalez vs. Jaylen Waddle: Gonzalez length will be an issue for Waddle but it will also depend on how Miami uses Waddle. If he is off the ball and used in motion as much as he usually is, Gonzalez will not be able to be physical with him. One of the things that makes the Dolphins offense so tough to defend is their use of motion. If the Patriots are in zone, Gonzalez will not be on Waddle as much as they would like because they will bump adjust their secondary.
Left Tackle vs. Bradley Chubb: Chubb's length and get off usually gives left tackles problems. With Trent Brown out, Vedarian Lowe or Calvin Anderson will play left tackle. They will have their hands full. Look for the Patriots to do some different things schematically in an effort to protect their left tackle and Mac Jones. Six man protection and chip releases are on the menu tonight.
Jevon Holland vs. Hunter Hunter: The Dolphins will match up their safeties against the Patriots all night long. This will be one of the more intriguing match-ups of the night, especially in the red zone. I expect the Patriots to move both Henry and former Dolphin Mike Gesicki around in their formations. How the Dolphins adjust and match up will be a key in this game because we know how much Mac Jones relies on Henry, especially in plus territory.
Belichick vs. McDaniel: The Patriots did a good job defensively against the Dolphins high powered offense in two meetings last season. Bill Belichick has seen variations of different offenses come and go through the years. Nothing Miami does will surprise him. The Patriots will be ready. It will come down to making plays in key situations, especially on defense. Getting off the field on third down consistently will be key.