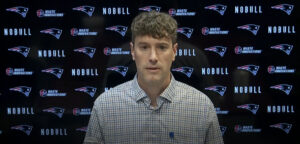 Image courtesy of @Patriots
Not only did the Patriots address their need for more team speed in this year's draft, they even drafted a kid with the last name Speed just for good measure.
Cornerback/special teamer Ameer Speed lives his name, running a 4.33 40. Kayshon Boutte (4.5) and Demario Douglas (4.44) bring immediate speed upgrades to the wide receiver room and legitimate slot options. Defensive back and kick returner Isaiah Bolden – the final pick for New England in the seventh round – is dynamic (4.31) and is actually more of a threat as a returner than anything else.
While Bill Belichick and Matt Groh went defense in the first and second round – adding speed at corner with Gonzalez and linebacker and/or safety with Marte Mapu and Keion White – the emphasis throughout a busy final day on Saturday was offensive line depth and overall team speed. The NFL is seemingly getting faster by the day and the Patriots know they simply can't just try to catch up to teams anymore, they need to be aggressive or they're going to continue getting left behind.
The funny thing is, it was a bit of deja vu for those covering the team, as speed was the main theme last year at this time as well.
"Yeah, seems to be my most well-used quote, is 'if you want speed, draft fast guys.' I thought we would just hammer that home here with Ameer Speed. So you guys can keep having fun with that one," Groh joked in his post-draft Zoom.
"But you want fast guys? You better draft them. So with Isaiah, with Amir, a bunch of these guys, even the guys we took in the earlier rounds, our strength staff does a great job and is going to try and get everything out of these guys. But you've got to have just naturally fast guys and that's what a lot of these players are and we are always looking to upgrade our team across the board with all their skillsets."
While it remains to be seen whether or not these guys can actually make the Patriots fast enough to keep up with the likes of Miami and Buffalo – we'll leave KC and Cincy to the side for now – the encouraging news is that at least there's a clear effort to keep up with the direction of the league and just the teams in the division, let alone the other top teams in the AFC.
"But, the league is only getting faster and faster. We don't want to just try and keep up; we want to push the pace here," Groh added.