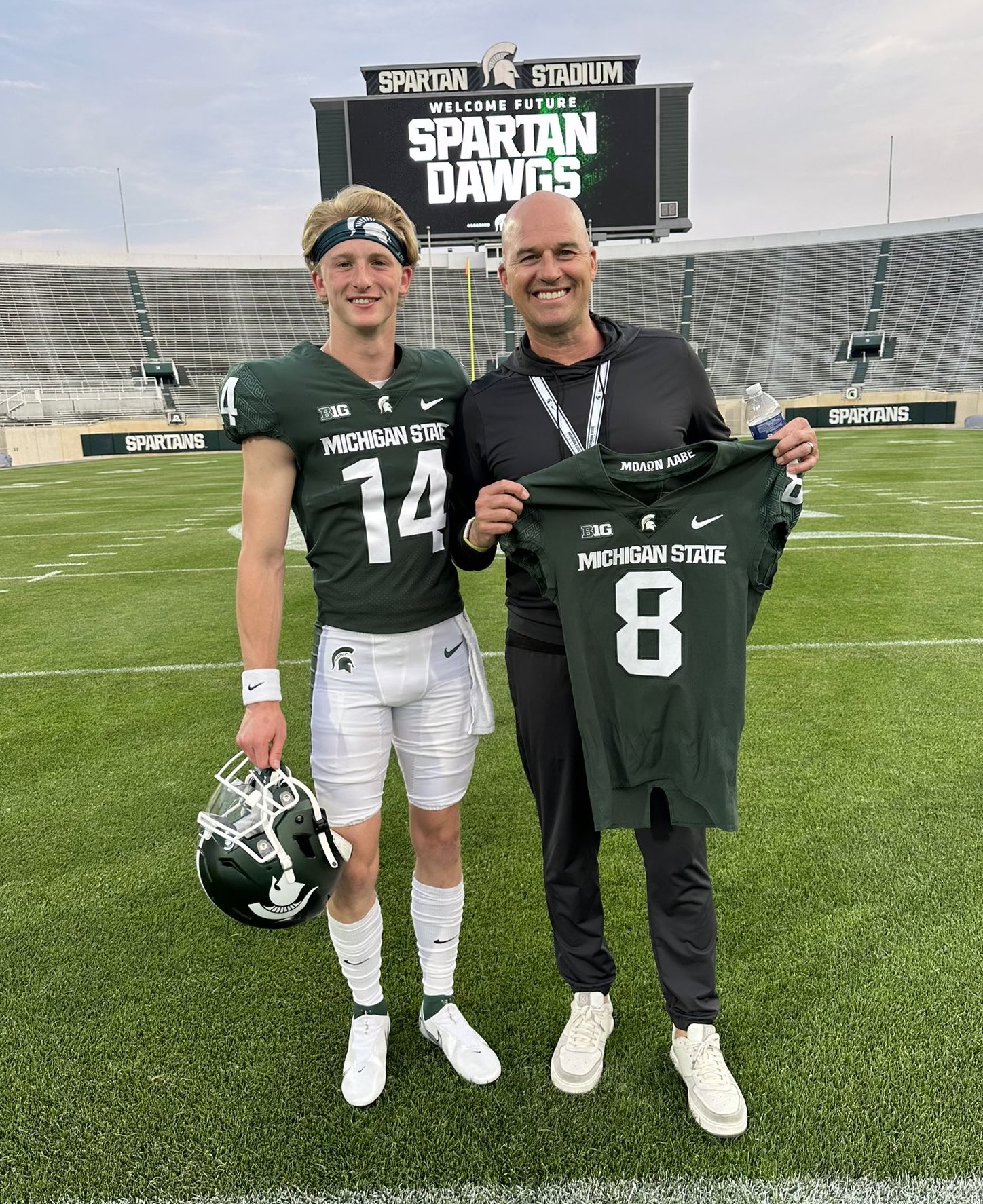 Image courtesy of SpartanTailgate.com
Xaverian rising senior quarterback Henry Hasselbeck made two announcements on Friday. His first one was that he would not be playing lacrosse in college. He thanked the University of Maryland for the opportunity to play college lacrosse. A short while after that, Hasselbeck announced that he was committing to Michigan State University to play football.
https://twitter.com/henryhasselbeck/status/1674942087177940994?s=46&t=0-klhPVppXQ66vGpXhGesA
The announcement came as a bit of a surprise. After transferring to Xaverian from Belmont Hill last summer, Hasselbeck put together a terrific junior season under the tutelage of his father Matt Hasselbeck and offensive coordinator Brett Anderson. Hasselbeck went from the son of Matt to one of the most highly recruited quarterbacks in the Class of 2024.
Hasellbeck held 17 total offers. Among the schools recruiting him was Boston College. His parents and uncles Tim and Nathaniel all attended the school. As do his sisters currently, Annabelle and Mallory. Both play on the Eagles Women's Lacrosse team.
Boston College appeared to have the inside track, especially with Annabelle and Mallory recruiting their little brother hard but in the end, Henry chose to carve his own path and committed to Michigan State.
Henry visited the school with his dad for two days in early June and then he took another visit with both his parents last week.  The staff and school made a great impression on him. Despite that, it was the relationship he forged with offensive coordinator and quarterbacks coach Jay Johnson that was a big reason Hasselbeck committed.
" I didn't set out to commit to Michigan State, but when I arrived on campus I could envision myself there immediately. Coach Johnson had previously visited me at Xaverian and we stayed in touch watching my Xaverian film over Zoom and forging a friendship."
One would think the decision to commit to Michigan State might have created a little bit of friction in the Hasselbeck home but Henry says his family was fully supportive of his decision.
"My parents were very supportive of whatever college I chose. My sisters were a little more aggressive trying to get me to join them at B.C. Hasselbeck continued: "In the end, I think my entire family supports me wherever I go."
Hasselbeck added that his decision to commit to Michigan State doesn't change the way he feels about Boston College Football.
"This decision to play at Michigan State doesn't change how I feel about B.C and Coach Hafley. I am a huge fan and always will be."
Henry went back and forth in terms of what he would play in college. He committed to play lacrosse at Maryland last year but in his heart of hearts, he always wanted to play college football.
"The big decision was deciding if I was going to play lacrosse in college at Maryland or if I was going to change course and pursue my dream of playing college football."
Ultimately Hasselbeck chose football. Now he can just focus on his senior year at Xaverian and enjoying the experience.
"My focus has really always been on doing my best at Xaverian and letting the rest take care of itself. I am looking forward to again playing three sports at Xaverian this year, before focusing on only one sport in college"
The Hasselbeck name is highly regarded in the football world, especially around these parts. Now Henry will look to be the next Hasselbeck to leave a mark on the game. He will do it on his terms and he will do it at a school that he believes gives him the best chance to succeed.