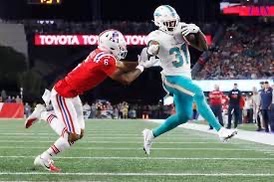 Image courtesy of Sun-Sentinel
FOXBOROUGH – At some point, Mac Jones is going to have a fourth quarter comeback.
It didn't come on Sunday night though.
For the second straight week, New England dug itself a hole, fought to come back and had a chance to win a football game, but ultimately fell 24-17 in a critical early season AFC East game against Miami in front of a national television audience on Sunday Night Football.
Tua Tagovailoa is now 5-0 against Bill Belichick and the Patriots. More importantly, the Pats are now 0-2 and will head to face a dangerous Jets defense next weekend.
"Well, not too much to say after that one," said Bill Belichick. "You know, tough loss, but, got to learn from it and you know, just keep working harder and move on. So, there's really not m much to say."
The Patriots trailed 24-10 with 8:45 left in the game after a Raheem Mostert 43-yard TD run. Mostert was Miami's best player Sunday night, racking up 121 yards on 18 carries.
Miami got a nice return from old friend Braxton Berrios and took over at the Pats' 43 with 8:52 remaining. One play later, Mostert scampered in with ease. Stunningly, Jones (31-42, 231, 1 TD, 1 INT) quickly led a 75-yard drive that took just 3:20 and ended with a two-yard Stevenson TD run, once again bringing the Patriots back within seven with 5:25 left on the clock.
Miami fumbled a snap on 3rd-&-1 in Patriots territory and attempted a 54-yard field goal that was wide, giving the Pats yet another chance to tie the game with the ball at the New England 45 with 2:14 left. Moments later, facing 4th-&-1 at the Miami 32, Mac threw a short pass to Mike Gesicki who looked like he'd be tackled short of the marker. But, with a heads up play, Gesicki tossed the ball behind him where Cole Strange caught it and appeared to miraculously get just enough push for the first down. The initial call on the field was first down, however, after review, it was ruled he was inches short and the Patriots turned it over on downs, ending the game.
"You should talk to the officials, I'm sure they'll do a pool report on that," Belichick said when asked about it.
Another slow start for the Patriots ultimately led to a hole that was too big to dig out of.
New England opened with the ball and quickly moved downfield with a couple strong runs from Rhamonde Stevenson and grabs from Gesicki and Demario Douglas, but a nine-yard sack on second down near midfield killed the drive and forced a punt down to the Miami 15. The Dolphins responded with a 13-play drive that had New England on its heels, but the defense stood tall with a goal-to-go stand, forcing a 23-yard field goal with 3:00 left in the first.
The Pats again moved the ball into Miami territory on effective runs by Ezekiel Elliott and nice grabs by Hunter Henry and DeVante Parker. On the final play of the quarter, Jones hit Douglas on a crosser on 3rd-&-8 for a first down after a nifty move, but he was quickly stripped from behind and the Dolphins recovered at the Miami 27. Douglas returned punts after that, but did not see an offensive snap. Another lengthy drive ensued and Mostert capped the drive with a nine-yard TD run to make it a 10-0 game with 9:39 left in the half. To make matters worse, Marcus Jones injured his shoulder on a big play by Jaylen Waddle and did not return.
Both teams traded punts until the Pats took over again at the New England 19. 11 plays and 3:55 later – despite going just 35 yards – Chad Ryland booted his first career NFL field goal from 49-yards out to get the Patriots on the board at 10-7 with just under two minutes to go.
Miami's speed and ability to create mismatches allowed the Dolphins to immediately rip momentum back as Tua led an eight-play, 75-yard drive in 1:38 that ended with a two-yard TD catch for Tyreek Hill and a 17-3 lead for the Dolphins at the break.
The New England defense had arguably its best series of the short season to open the third, forcing a quick three-and-out, punctuated by a third down sack from Matt Judon. The offense took over at its own 36 and moved across midfield before two poor run plays on second and third-and-one resulted in no gain and a loss, forcing a punt, which also brought a round of thunderous boos from the crowd.
Miami attempted a 49-yard field goal on its ensuing drive, but a wild field goal block set up resulted in a block for Brendan Schooler and a recovery at the Dolphins' 49 by Kyle Dugger with 3:39 to go in the third, breathing some life back into the stadium. Unfortunately, the lack of offensive production continued soon thereafter. First, Rhamondre Stevenson was short on a third down run, Belichick challenged and lost. Jones snuck it with a "tush push" for the first, but on the very next snap on a ball intended for Parker down the sideline he was intercepted by Xavien Howard, giving the Dolphins the ball at the Miami three with 52 seconds left in the quarter.
New England forced a three-and-out to end the third and the offense began its third drive of the half in desperate need of points at the Pats' 42. Thanks in large part to a lengthy Mac scramble, the Pats finally got in the end zone when he hit Hunter Henry on what looked like a bit of a busted play for a six-yard TD. Ryland's PAT stunningly made it just a 17-10 game with 11:21 left despite the struggles.
Miami assisted in keeping the Pats around as Christian Gonzalez covered a ton of ground to pick off a deep ball at the New England 14 three plays later, but it almost immediately turned into a three-and-out as JuJu Smith-Schuster was blown up on a screen and Mac was sacked for a 10-yard loss. That set up the ensuing Mostert TD and the chaotic finish at the end.
Now 0-2 for the first time in 22 years, New England needs to find a way to start faster or this season might be over before it ever really gets started.
"I don't think belief is the problem," said David Andrews. "But, belief only takes you so far. You've got to get it done at some point…it's more about execution than belief."