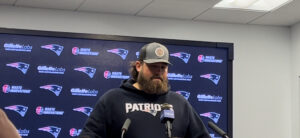 If anyone knows how long the NFL season truly is, it's David Andrews.
Now a vet in every sense of the word, Andrews – and other vets along with the other team captains – have a big role off the field this week and that's making sure younger guys know the world isn't coming to an end. New England might be 0-2 after losing in pretty excruciating fashion at home the first two weeks, but there's till 15 games to go.
A loss to the Jets this week would not only snap a 14-game winning streak the Pats have over their AFC East rivals, but it would almost certainly ratchet up the panic meter quite a bit. For now though, Andrews is preaching patience and a narrow mindset for this week and this week only.
"Look, I mean, it's a long year, right?" Andrews said Thursday morning. "I've been 0-2, 1-2, whatever. It's not over until it's over and the last second clock runs out January – whatever it is now. So, it's a long year. You can't look at the year as a whole, right? Let's play the Jets this week. Let's put everything into the Jets and then Sunday at 4 o'clock, 5 o'clock, whatever it is, to Monday morning, we'll look at the Jets again, correct it and move on, whatever it is. Then, Monday night, Tuesday, whatever it is, it's time to move onto the Cowboys. I couldn't even tell you what's next after that for right now.
"That's how you've got to look at it. It's a one-week season. You can't look ahead, good, bad or ugly. You've got to pour everything you've got for these four or five days into the Jets, move on from that, learn from that, correct what you need to correct, take what's good and then re-load and do it the next week. That's what you have to do. Teams are too good in this league to dwell on future, past, present. You've got to move on and pour everything you've got into it next week."