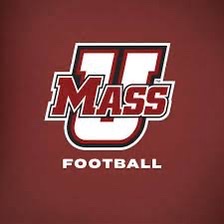 Win or lose against the No. 25 team in the country this weekend, it's been a good year for UMass.
All things considered, especially with the injuries at the QB position, if the Minutemen can end with four wins – five if they pull off the upset on Saturday – it's a clear step in the right direction, something fans have been clamoring for over the last decade or so.
With a very, very winnable game against rival UConn looming on Thanksgiving, it's a bit of a house money scenario this weekend as Don Brown's team currently sits at three wins.
On Monday, Brown held his weekly presser. Here's what he had to say as the Minutemen returned from their second bye week and started prep for the trip down to Lynchburg, VA.
On Liberty
"Well, they're 10-0, so obviously they've gotten off to a good start and they've just kind of kept going. We're excited about the challenge, that's for sure. Obviously, excited to have two weeks to prepare. We had a really good bye week in terms of our preparation. Now, you've got to turn it into a really good practice week going into the game."
On if the bye week before Army was similar preparation wise to this one
"Absolutely. That's the whole premise. It's 'how do your guys approach it?' and the approach in all three phases has been excellent. From a conditioning standpoint. From a standpoint of getting healthy, that's certainly happening as well. I think we'll be very close to 100% attendance going into Saturday as long as nothing happens during the practice week. I feel really good about it."
On Liberty QB Kaidon Salter
"Well, he does a good job of not only getting his eyes downfield and getting the ball out fairly quickly, but he also has the ability to run and get out of trouble, which, those guys always make your day a little bit longer. The potential is there to make it a little bit longer, so we've got to do an outstanding job of keeping him in front of us. If you're behind him, that's not a good place to be. You want all your rushers in front and in their rush lanes so we have a chance to get this guy on the ground when he decides to move and groove."
On keeping team relaxed and locked in when facing a ranked opponent
"They've got our attention. The other thing that's been good, obviously our own performance has gotten better. From that standpoint, the guys have handled the practice week and the nuances that we're putting into the game plan. Obviously, playing well the last few weeks certainly gives you some juice going into this particular practice week. We're excited about the challenge for sure."
On the D-line playing well the last few games and keeping it going
"Well, one of the things to keep their momentum going is to get them healthy. We went eight straight weeks and I'll be honest, we took our share of lumps there. But, through this first bye and the second bye, we've been able to get guys going in the right direction and we've got guys healthy. So, you know, health is a big deal in this game and I feel we're as close to 100% as we're going to be. That's a positive."
On the Merrimack win and what he'll pull from that game in preparation for the final two
"There's always certain things, nuances…formations, motions or defending particular plays that teams run. So, you can always take something from that for sure. We're certainly doing that. The nice thing is, they're very similar to us too. Most teams that are on our schedule are spread-like teams – and even Army ran elements of the spread. That's kind of a good thing. Familiarity helps you breed success because obviously you've seen the plays before. When you're drawing cards and getting ready for a practice format that particular day or that particular week, it's nice you're getting guys on the beam getting ready to defend very similar type plays."
On the importance of the bye week health wise for Adams & Derosiers
"Really important…you could almost pick out who the guy (that was or wasn't healthy) was and if you can't, I'm not helping ya. It's nice because those guys have had a chance to breathe and get back to where they need to be from a health standpoint. We've been smart with those guys with their load as well."
On what he's looking for with the team in the final two games
"More of the same I'm hoping. I really like our approach. When things look tough and things got tough for us, it's nice to see us continue to play and go in the right direction. Obviously, we're playing our best football these last few weeks. A couple weeks with byes as well, so feel good about that."
On Liberty's defense
"Defensively, they're a go-get-it. They lead the country in interceptions. Their pass defense and their takeaways, when you're strong in that area, that really helps your football team. We'r not quite in that area, but at the same time, strength of schedule we've played, we're around 38th, 39th in the country and they're around 106th. So, there's some of that going on too from a scheduling standpoint. But, they're a really good football team. They've got their stuff in order. They're good in all three phases. Offense, defense and kicking. You're not 10-0 if you're not a real good football team."
On having Taisun back and providing stability at the QB position
"Thank God. That's all I can tell ya. You saw when he went down in the Auburn game, obviously Carson came in and did a really solid job and then we lost him. So, there was kind of a juggling act going on there and just to have some continuity at the position for the last few weeks has certainly been a positive for sure."
On if there's anything new to report health wise
"Anything new…no. We got out of the Merrimack game with very little discord. There was a period of time where we were accumulating injuries at multiple positions. That's a non-issue right now, so you can see there's a lot of bodies out on the practice field. Nothing makes me happier than watching our guys get out there and go to work."
On Liberty's running game
"They actually have two backs that are very solid. They jumped in the transfer portal as well, so that's the way to get healthy at running back for sure and to add to your roster. They certainly have taken advantage of it. The short throws out of the backfield in the bubble area and the flat area, you better get people on the ground. That'll challenge your tackling for sure. We've got to get multiple bodies to the ball and we've got to get people on the ground, for sure."
On how different Liberty is compared to last year
"I would say they're fairly similar in terms of their style, but everybody has their nuances and things they do differently. There's a good amount enough of that as well. But, the thing that I think of when I think of Liberty is balance. They can run it, they can throw it and they're going to challenge you in both phases."