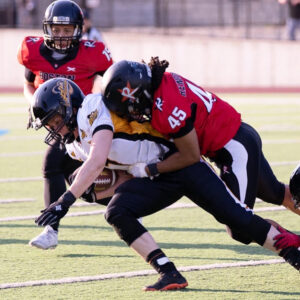 Image courtesy of Mitzi Velez Lorenzana – Renegades Photographer
It looks like you can start booking those hotels and flights to Canton, OH now.
With another non-competitive 61-point blowout this past Saturday against Pittsburgh at home in Revere, not only did the Boston Renegades move to 3-0, but they continue to show that they are the standard when it comes to the WFA and women's pro football in general.
There's really only one stat needed from this game to highlight Boston's dominance: The Renegades scored 61 points, while Pittsburgh ran 60 plays.
"This team is so easy to fight for both on and off the field," said defensive end Donny Fournier. "You bring your 'A' game every game just because of who is here. Every night at practice we bring it against each other, upping our game, and we are looking forward to bringing (that energy) to DC next week."
As usual, the Renegades got up early and never looked back. Allison Cahill (20/34, 258, 5 TD, 1 INT) hit Chanté Bonds for a short tw-yard TD to get things going before a two-yard TD run for Tytti Kuusinen and a 13-yard hookup between Cahill and KD Ellison made it 21-0 after one. The onslaught continued in the second as Kuusinen added a 15-yard touchdown run and Abby Pelletier hauled in a four yard TD from Cahill for the 35-0 halftime lead as Vanessa Baer was perfect on extra points.
Ruth Matta punched in a five yard touchdown run in the third and Cahill found Ellison again, this time for a 14-yard connection for a 48-0 lead after three as Maggie Barden missed both PAT's. In the fourth, Stephanie Pascual brought in a 25-yard pass from Cahill for another TD and Heather Marini added a late eight-yard TD run. Lena Alfaro missed the first PAT before Baer booted the last one.
Boston outgained Pittsburgh by a whopping 511-114 margin, including 258 passing yards to just 88 and a ridiculous 253 rushing yards to just 26 for the Passion. The defense also forced two fumbles that were recovered by Pascual and Whitney Zelee.
"Seeing quite a bit of growth from everyone, the younger players to the veteran players," said head coach John Johnson. "They are gelling more as a team, executing a lot better, communicating a lot better, and the results are what they are."
"DC are unique from every other team; They have a very good passing attack so we will have to be on our best game in their house."