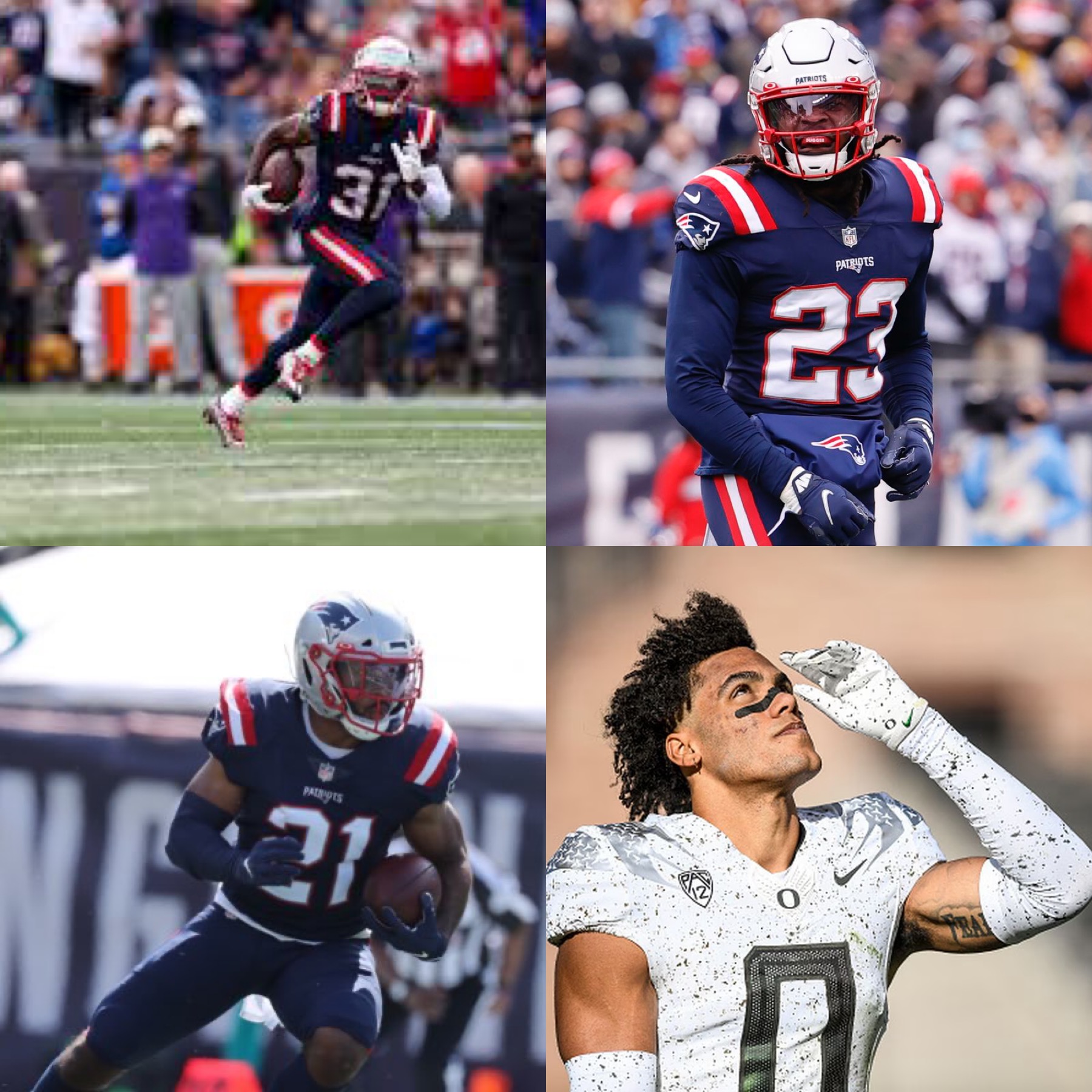 We kick off our positional camp previews with the defensive backs. Defensive back has been a strength for the Patriots during Bill Belichick's 23 year tenure and this season should be no different. Losing Devin McCourty hurts on and off the field. The 13 year veteran was one of the best free safeties in the NFL and was a three time Super Bowl winner. His playmaking ability and leadership will be missed but the Patriots have enough talent in the back seven that they can manage his loss.
We begin our preview by taking a look at the safeties and we will transition to the cornerbacks.
Safeties
Kyle Dugger, SS, 6-1 222 Lenoir Rhyne: Dugger is an elite level talent who is going into a contract year. He is a true 3X3 safety who can play over the top, cover down in man coverage and support the run. He can play all three downs and the Patriots use him in a myriad of ways. Consistency has been an issue for Dugger at times but when he is focused, he is physical and has elite playmaking ability. Dugger had three interceptions last season, two of which were returned for touchdowns. He was a catalyst for the defense and will need to be once again this season, especially with Devin McCourty now retired.
Adrian Phillips, HY, 5-11 208, Texas: Phillips has emerged as one of the top playmakers for the Patriots. He does everything asked of him and more. Most fans were still trying to process Tom Brady leaving in free agency in the spring of 2020 and they hardly noticed the Patriots signing of Phillips but he has turned out to be a valuable member of the defense. Phillips is a 3X3 safety who does his best work playing downhill and supporting the run. He can also play as a box safety and even play inside linebacker in certain sub packages. Phillips is an invaluable part of the defense and a player who will now step as a leader as well.
Jalen Mills, FS, 6-0 200 LSU: Mills was cut and then brought by the Patriots on a year deal. The reason he was brought back is simple. Versatility. Mills can play nickel, dime or outside corner but he can also kick inside and play safety something that he is going to do this season. Mills has experience playing free safety from his time in Philadelphia so him playing over the top in two high and single high coverages will not be much of an adjustment for him. Mills has flashed play making skills during his time in New England but will need to do it on a more consistent basis. He will need to take on more responsibility on the field and in the locker room.
Jabrill Peppers, HY, 5-11 217, Michigan: Peppers versatility and his ability to return kicks are the two primary reasons he will have a spot on the 53 man roster. He had his ups and downs last season but his ability to play in the slot in coverage and support the run as either a downhill safety or in the box makes him a a player who will get a lot of snaps this upcoming season provided he can stay healthy. .
Joshuah Bledsoe, FS, 5-11 207, Missouri: Bledsoe will finally get his opportunity to show what he can do. Injuries and a lack of opportunity have hindered his development. With McCourty retired, he will get his shot to prove that he can lead this team on the back end as the starting free safety or in a sub package role. Bledsoe will also have to play on all specials, at least in the beginning.
Brenden Schooler, HY/ST 6-1 210, Texas: Schooler went from an undrafted free agent to one of the Patriots best special teamers as a rookie. He won't play much defensively because the Patriots have plenty of depth at safety but he has emerged as one of the top special teamers in the NFL. For now, his primary focus is special teams but he could eventually carve out a role for himself as sub-package hybrid.
Cody Davis, S, 6-2 205, Texas Tech: Davis is a core special teamer who can play on kickoff, kick return, punt, punt return and the PAT Block. He can also play in sub packages as a back up if necessary. Davis' versatility and leadership makes him a player that the Patriots need.
Brad Hawkins, S, 6-1 222, Michigan: Hawkins has good size, plays downhill and has proven he can match up against tight ends and running backs in coverage. He will need to play on all the special teams and really standout when he does get reps in training camp otherwise he will struggle to make the team.
Cornerbacks
Christian Gonzalez, 6-1 205, Oregon: Gonzalez falling to the Patriots at 17 was a gift from the football gods. He is exactly what they needed. A boundary corner with size and athleticism that can match up with the other team's best receiver on the backside. Gonzalez will be given every opportunity to start and it would be surprising if he isn't starting by week one. He will need to shake the label that he is not physical. Beyond that, he checks every box in terms of what you want out of a long corner.
Jonathan Jones, 5-9 185, Auburn: Jones returned to the Patriots on a two-year, $20 million dollar contract this off-season. He has been an invaluable part of the defense the past five seasons. Last season he played outside corner and despite giving up some size, he managed to hold his own against some of the best receivers in the league. Jones struggled at times down the stretch against the likes of Tee Higgins and Stefon Diggs but he held his own against Justin Jefferson. With the addition of Christian Gonzalez, Jones can now slide back inside to the nickel or dime spot or even play free safety
Marcus Jones, 5-8 188, Houston: Jones had a terrific rookie season. He developed into one of the best return men in the NFL, returning a punt for a game winning touchdown against the Jets. Jones was also used on offense as part of a special package that utilized his speed and athleticism. He ended up scoring an offensive touchdown in that role. Defensively, Jones played well but he did have some issues against bigger receivers both in the slot and outside. The ball skills and athleticism are there. Jones just needs to learn to play against bigger receivers and use his technique. Regardless, he is a special talent and a player that will help the Patriots in all three phases once again this season.
Jack Jones, 5-11 180, Arizona State: Jones future with the Patriots is very much in doubt thanks to an end of the season suspension and his current gun possession issue. He proved last season that he has the instincts and the ball skills to be a top flight outside corner. The question is his future with the team. Can the Patriots trust him to make better decisions and mature? We really won't know until he is back with the team. Until then we can speculate. If he is with the team, the expectation is that Jones will start at field corner.
Myles Bryant, 5-8 192, Washington: Bryant will once again be in the mix at the dime corner spot and he could factor in the return game. Bryant has been a valuable member of the Patriots secondary in recent years but his lack of size and his inability to match up against bigger receivers has been a problem. Despite that, he is one of the most competitive players on the roster and his experience makes him a commodity both in sub packages and on special teams.
Isaiah Bolden, 6-2 205, Jackson State: The rookie cornerback out of Jackson State is a player the Patriots targeted in the pre-draft process. Bolden has length, is explosive athletically and he can return kicks. He is an intriguing prospect and a player who could possibly make the roster and get a lot of playing time as a rookie. He will have to battle with Bryant, fellow rookie Ameer Speed and veteran Quandre Mosley for the final cornerback spot.
Ameer Speed, 6-3 215, Michigan State: Speed was primarily a special teamer during his time at Georgia and Michigan State. He has great size, length and athleticism. If he makes the team, it will be because of his contributions on special teams. Speed also offers versatility in that he can transition to safety eventually and play in more of a 3X3 role.
Rodney Randle, 5-9 205, Lamar: Randle profiles as a slot corner in nickel and dime packages. His best shot of making the team would be as a special teamer who could find his way on the field in sub packages eventually.
Quandre Mosley 6-2 198, Kentucky: Mosley is a veteran cornerback who has good size and can play outside or in the slot. Given the depth the Patriots have in the secondary, he will need to play on special teams and be effective to make the team.
Position Breakdown: The Patriots have plenty of versatility and depth in the secondary but replacing a long time stalwart like Devin McCourty will be tough. Dugger and Phillips will take on more leadership responsibilities and counted on to do more schematically.
Cornerback is the real question mark. The uncertainty of Jack Jones situation creates opportunities for other guys to step and start. Gonzalez will be counted on to grow up early and play right away. He is too talented not to.