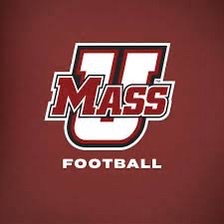 What's the next best thing to a bowl eligible season for UMass?
Beat UConn and head into recruiting season with four wins and a whole lot of positive momentum.
While it hasn't been the six-win season that Don Brown told his team he expected before the year started, the Minutemen have already done more during this campaign than the program had done in a long time. Still in the rebuilding process and taking the injuries the team suffered – especially at the quarterback position – into account, it's hard to call this season anything but a successful step forward. A win over the 2-9 Huskies would almost be just as good as a bowl bid at this point.
"Obviously, it gives us a chance to get right back on the horse and get excited about playing this great game of football," Brown said Tuesday morning. "You only get to play your rival once a year, so I'm sure the guys will be ready to go when we hit the practice field today."
Brown has seen and done it all in the coaching world, but he's actually learned about himself during year of two of his return, acknowledging he's had to take a step back at times and realize things can't move as quickly as he'd want them to, and that's not a bad thing.
"Just play each and every game and every separate practice as its own separate entity," he added. "Make sure you go to work with a smile on your face and realize that you're working in the great game of football. Obviously, we're making strides as a team. It's not going as fast as I want it to be, but that's a good thing too.
"Life is good my friend. I get up every morning, I get to coach football and I get to be around great people."
This senior class that will be playing against UConn for the final time has been a huge reason why Brown's culture and overall program have been accepted and implemented successfully so far, with clear signs of continued growth going forward.
"It's a good group. Obviously, they've been through a lot of change," said Brown. "I can't say this group has rubbed me the wrong way or done anything like that. They've just come in and gone to work and they're doing the very best they can on a day-to-day basis. I'll tell ya, the day-to-day basis is the tough thing. In college football, you're at it six days a week and they afford you one day off. Those guys welcomed me with open arms, and our staff, and they've attempted to do all the right things.
"I'm glad we've been able to make some progress for them, but what a way to go out if they can get this fourth win this weekend."