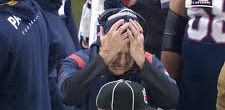 The Patriots return off their bye week this week. They travel to New York on Sunday to take on the Giants in a game that has major draft pick ramifications. 
The Patriots are currently 2-8 and hold the third pick in the draft. The Giants are 3-8 after their 31-19 win over the Commanders yesterday. They are currently picking fifth. 
New England needs to do everything they can to stay in the top three of next year's draft. It should not be a problem. They do not need to tank. They are bad enough that they can keep losing on their own. 
I am not a proponent of tanking and I think it is difficult to do in the NFL. Hitting rock bottom is not necessarily a solution. It could take a while to get back to the middle let alone the top. However it is a necessary evil when you are devoid of talent at certain positions. 
The Patriots need impact players, whether it is a quarterback, offensive tackle, wide receiver or another position. The easiest way to get those type of players is to pick high in the draft unfortunately. 
Patriots fans are going to have to grin and bare it for this season and take it on chin. It could pay off down the road if the team ends up with a high enough draft choice and the player they draft becomes a star.
Of course, there are also a lot of questions as to who will be picking the players? Will it be Bill Belichick or will it be someone else. That is to be determined. Until then, the Patriots need to continue to lose and keep their top three pick. 
It is hard to believe that losing might be the best thing for this franchise right now but when need a reset, falling and getting up is the best way to fix a bad situation. 
Bottom line. The Patriots are bad enough to lose. They do not need to try to lose on purpose.