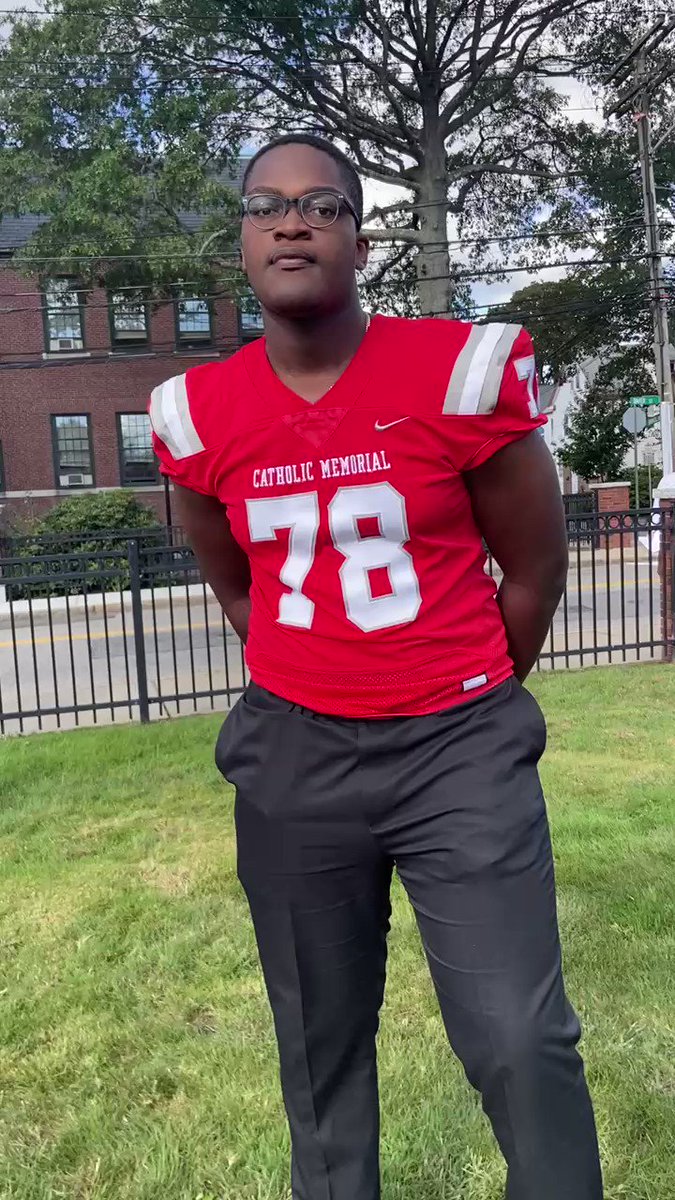 Guerby Lambert/Twitter
Catholic Memorial four star offensive tackle Guerby Lambert has narrowed his list of schools down to four. According to 24/7's Brian Dohn, that list is Boston College, Harvard, Ohio State and Notre Dame.
Lambert has made official visits to all four schools and has a time frame in mind in terms of when he will announcement what school he is committing to.
#Harvard joins #OhioState #BostonCollege #NotreDame as the finalists for blue chip OT Guerby Lambert. He also has a time frame in mind for a decision. (VIP) https://t.co/PEa5jz2Fqx pic.twitter.com/iVCRWYZTHp

— BrianDohn247 (@BrianDohn247) July 12, 2023
Lambert has 19 total offers. Alabama, Georgia, Michigan, Auburn, Florida State and LSU were among the schools to offer Lambert a scholarship. According to sources, Lambert is leaning Notre Dame but he has yet to make a decision. It is safe to say he will probably announce prior to the start of the season.
Lambert's story is an interesting one. He actually went to Catholic Memorial to play soccer and was recruited to the football team by defensive coordinator Mike Milo. The 6-6 280 pound Lambert needed some convincing as did his parents but Lambert ultimately chose to play football.
Now Lambert has a big decision looming. He will be the latest in a long line of offensive lineman from the area to play Division One Football in recent years. The athleticism and skill set is there and while Lambert is raw, he has big time potential and could develop into an elite level left tackle.
Where he ends up committing to is anyone's guess but we will find sooner rather than later.