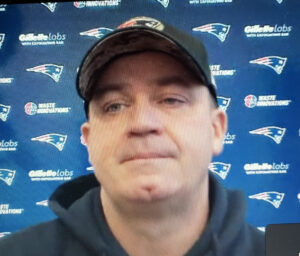 It's hard to call a game in September 'must win" at any level, but it's pretty damn close to that scenario this Sunday for the Patriots.
Already 0-2 for the first time since 2001, the Patriots travel to New Jersey this weekend to face the Jets. On paper, dealing with Zach Wilson should be easy, but at this point in the New England experience, there is no longer a guarantee at any point with this organization. An 0-3 start would be catastrophic with a matchup in Dallas' extremely physical defense looming on the horizon next weekend.
The biggest problem for the Patriots has been turnovers – particularly early on – and an inability to finish drives late in games. On Tuesday morning, offensive coordinator Bill O'Brien acknowledged that the time for talking is over. Something needs to change.
"There's been glimpses of what the offense can be and we have to be more consistent, there's no excuse in the world that really matters to anybody out there. Nobody wants to win more than we do in this building," he said. "I think we've gotten the ball inside the 30-yard line like six times and have come away with no points. Like, we can't do that anymore.
"We have to come away with points. I think that's all of us together. I want to make that clear. The one thing we don't do here is point fingers. I look in the mirror first and we're really working hard to improve to put our guys, to coach it better, to put them in the right position and I know our guys are working hard to execute as good as they can. I don't know if you can point to one thing. It's just more about, hey, we have to be more consistent in what we're doing and we've got to…the name of the game is points. When you don't score more points than the other team, it's not good. We have to come away with points when we get into those areas of the field."
One guy who could have helped a lot – particularly late in the game on critical third and fourth downs – was rookie Demario Douglas. It's obvious he was benched by head coach Bill Belichick following a fumble early on. O'Brien was asked about Douglas and expressed how much confidence he has in the young wideout.
"Ball security's obviously a huge part of what we preach…I have a lot of confidence in Pop Douglas, as I do in all the players that we have," O'Brien "I think because of the way the game played out, the packages we went to, no huddle or some of the things we were doing, it just wasn't Pop on the field. At the end of the day, I think we have to do a better job of continuing to get everybody involved in the game plan throughout the game and that's what we'll do.
"I think Pop will learn from what happened on Sunday, but Pop has had a really good rookie – in my opinion – rookie experience so far from OTA's to training camp to where we are now. Pop has done a lot of really good things. We like when Pop's in the game."
While the Jets may have their own issues on offense, they present a huge challenge defensively. There's a reason games have been close the last few seasons and with Sunday being so important this early on, O'Brien knows the offense – especially with continued O-line issues – has its work cut out for them.
"They have a lot of good players at all three levels," he added. "They play well together. Their scheme is very well-coached. It's a very disciplined scheme. You have to be very disciplined going against it. Just like every week, it's a challenge and our guys are looking forward to the challenge."