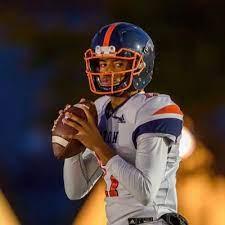 MEDFORD — It has been a terrific week at the Elite Football Clinic at Tufts, and we were on hand to see the action on Friday.
Over 900 kids competed in front of roughly 350 college coaches from Division 1, 2, and 3. For 17 straight years, players who have competed at the Elite Football Clinic took part in an NFL camp.
There was plenty of potential on hand Friday, and some top-level talent.
Now, given that it was a huge camp and we were not able to see each player, this list is not a complete one. This is only a group of players that caught our eye. We tried to mix it up between linemen and skill players.
With that, here are some top performers.
Ciyez Aponte, WR, Mount Pleasant — Aponte caught our attention in workouts, running routes and catching the ball. He had an ease to him when he was catching the ball, and was not fighting it like some others. Heading into his junior year, he's one to watch out of Rhode Island.
Brett Elliott, TE, BB&N — Maybe the top tight end in the ISL, Elliott is a recent Duke commit. We like this player a lot. He played very well in The League, has good size, and is a red zone weapon. He should have a big senior year.
Sam English, DE, Pingree — This is a player who we really enjoyed watching Friday. He battled some tough competition in 1-on-1s with good offensive linemen. He's good on the edge, but is also someone who is athletic enough to drop in coverage. He is heading into his senior year.
Tom McLeish, QB, King Philip — At 6-4, McLeish has good height. He boasts one of the stronger arms you're going to see in the area. All that, and he's also a good athlete. He will be a three-year starter at KP, and is one of the top area quarterbacks in the 2024 class.
Will McNamara, WR/LB, Pembroke — McNamara is an interesting athlete. He runs well, has good size at 6-4, and can play a few different positions. He lined up at wide receiver and linebacker, and can also play tight end. He's one to watch.
Qur'an McNeill, QB, Milton Academy — This is the most we've had a chance to watch this quarterback this offseason. He is impressive, and we can see why Boston College has already offered. He is a good thrower, while either stationary or on the move, with a strong arm, and made perhaps the prettiest throw of the day in a period against Dexter. McNeill has a bright future.
Luke Schutte, OL, Rivers — The linemen were a talented group, and Schutte is part of that. At 6-4, 320, Schutte is likely an interior offensive lineman at the next level. He was impressive in 1-on-1s, and will be one of the better senior offensive linemen in the ISL.
Daniel Silveria, TE, King Philip — King Philip had a good group there, and Silveria was a part of that. At 6-3, Silveria has nice size, and can toggle between tight end and wide receiver. He already has a good connection with McLeish, and that should continue in the fall.
Dom Silvia, OG, Dexter — Already committed to Charlotte, Silvia is big at 6-6, 320 pounds, and was overpowering in 1-on-1s. He is the quintessential interior offensive line recruit, and should have a strong career at Charlotte.
Max Van Tassell, DE, BB&N — Another player who showed out in 1-on-1s. Not many players have had a better spring than Van Tassell, who had a terrific showing at The League. He shows good quickness and bend around the corner, and has decent strength, too.
Tyson Thomas, RB, Dexter — The new arrival at Dexter, Thomas comes to Brookline after transferring out of Grafton. Thomas will be a handful at Dexter. He showed good speed, and has excellent ball skills. He can run the ball, catch it, or play defense.
Hardy Watts, OT, Dexter — Already the owner of multiple Power Five offers, Watts is impressive. He showed good technique, and once he got his hands on you, it was over. Dexter has ridiculous talent up front, and Watts is one of the reasons why.