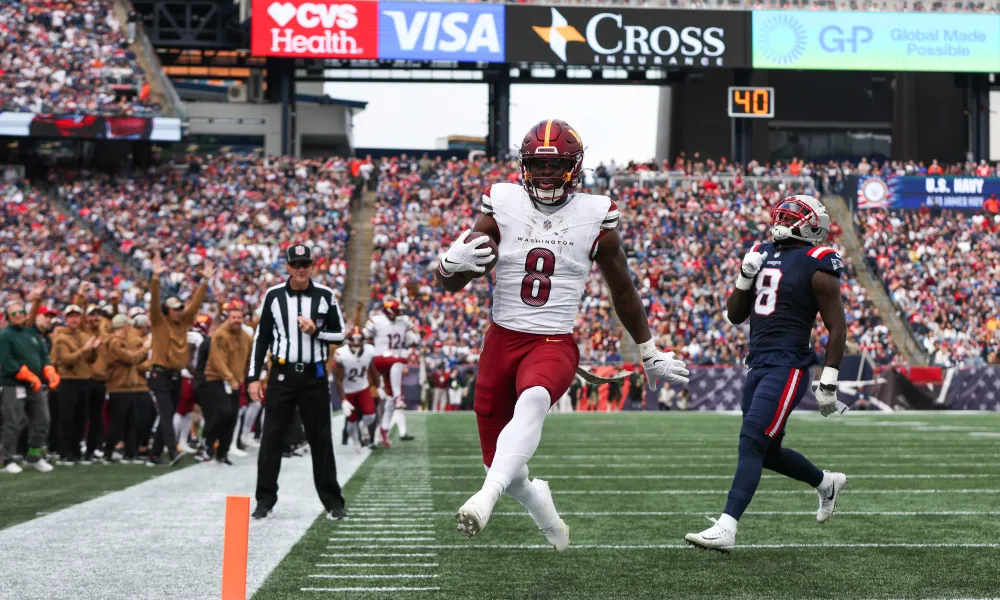 Nov 5, 2023; Foxborough, Massachusetts, USA; Washington Commanders running back Brian Robinson Jr (8) runs the ball for a touchdown during the first half against the New England Patriots at Gillette Stadium. Mandatory Credit: Paul Rutherford-USA TODAY Sports
FOXBOROUGH- I think it is safe to say that the Patriots season is officially over after yesterday's 20-17 loss to the Washington Commanders.
Remember when we were saying after the Buffalo win two weeks ago, wait until they get to the soft part of the schedule. Well, that part of the schedule is here and the Patriots are not better than the teams on the "soft" part of the schedule.
Nope. Instead, they have become the team that other fanbases are checking off as a win. That is what the Patriots are now. A bad football team. 
After the game, moral was low in the locker room and rightfully so. The Patriots has their chances in this game. They could have won. Unfortunately, they lack the talent and the discipline necessary to win games like this.
Perhaps the most difficult part of this to fathom is just how undisciplined they are right now. You allow Commanders quarterback Sam Howell to break contain on a 3rd and 23 and pick up 24 yards and a first down. You then line up off-sides on a 4th and 2 at a pivotal moment in the game and give the Commanders a first down, taking more time off the clock. Once upon a time, this organization cared about being disciplined in key situations. Not anymore. 
Patriots fans know this season is over as well. It was the perfect football Sunday yesterday. It was sunny and 62 degrees at kickoff. Yet, there were empty seats throughout the stadium. They know this team is playing out the string.
Next week's game against the Colts in Germany was supposed to be the highlight of the regular season. Thousands of Patriots fans bought tickets and booked expensive flights and hotels for a once in a lifetime experience. Now, this is just another game in this long season. A more expensive, elaborate tailgate party that is taking place in another country. 
We left now to speculate what this team's record will be at the end of the season. After yesterday's performance, finding two more wins on the remaining schedule is a chore. 4-13 is the best Patriots fans can hope for.
The New England Patriots are officially a bad football team ladies and gentlemen. The days we never thought were possible, are upon us now and it could be this way for a while.