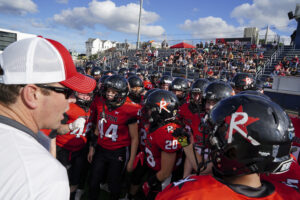 Images courtesy of Mitzi Vélez Lorenzana
After having a couple weeks to marinate on a sub par performance by Renegades standards in the regular season finale, Boston hit the field for a WFA quarterfinal against the D.C. Divas on Saturday night.
In the never ending quest for perfection, the Renegades looked like the Renegades again, embarrassing the Divas 70-14 in Revere.
Boston (7-0) will host the Alabama Fire in the semifinals on July 8 with a spot in the championship game in Canton, OH on the line.
"The game plan on defense was always to dominate," said Solina Pascual. "On the field and on the sideline we are amped to make plays. We are hungry and we want to eat. Stepping on the field means stepping up, and not taking opportunities for granted."
"We felt confident coming into this game knowing and remembering to just be ourselves and if we did that we'd win tonight. And that's what we did," added Vanessa Baer.
It was a vintage performance from the WFA's greatest player of all time Allison Cahill. Cahill racked up 385 yards and four touchdowns with no interceptions on a 33/43 clip. As a team, Boston had an absurd 597 yards of offense. Cahill had at least one completion to 10 different receivers, with Chanté Bonds hauling in 10 balls for 67 yards. Ruth Matta and Katie Falkowski each had two rushing touchdowns while Tytti Kuusinen had 75 yards and one TD on nine carries.
Defensively, the Renegades forced four turnovers (3 fumbles, 1 pick) and held D.C. to just 236 yards of total offense. The Divas could only muster 11 first downs the entire game as well.
Adrienne Smith got the night started with a 28-yard TD catch. Boston led 14-0 after one thanks to a fumble recovery and touchdown for Whitney Zelee. The Renegades pulled away in the second on two Matta TD run (25 yards and 6 yards) along with a 69-yard catch and run from KD Ellison.
Kyshani Dummott and Pascual each had TD receptions in the third quarter (both three yards) and Kuusinen added a TD run. In the fourth, Falkowski had her two TD's from four yards out and a yard out) to make it 70-7 before a late 81-yard TD run for the Divas.
Now just one win away from a return trip to The Pro Football Hall of Fame, Boston will have to lock in on preparation. With six regular season games, teams don't often see every other franchise in the league. Alabama is in that category for the Renegades.
"Playing a new team means we have not watched any film on them, we don't know who to look out for, what kind of schemes they have. So for us, it is really exciting to work even harder watching film and studying and running our scout teams at practice," said Pascual. "It's a new challenge that I am really looking forward to."