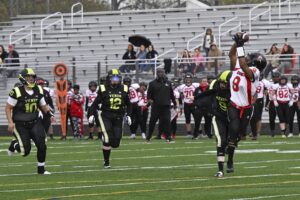 Image courtesy of Jess Dodge, WFA Pro CEO
Good teams make road trips business trips.
The Boston Renegades aren't just good, they're historically good.
The dominance continued on Saturday night when Boston blew out Detroit on the road 56-0. Allison Cahill completed 11 passes, five of them were touchdowns. KD Ellison had just two catches for 117 yards, but both of them were TD's. Adrienne Smith, Abby Pelletier and Stephanie Pascual all caught touchdowns as well while Katie Falkowski added a rushing touchdown, as did Ruth Matta.
Defensively, the Renegades held Detroit to just 132 total yards (86 passing, 46 rushing) and 2-12 on third downs while also getting two turnovers.
"We were able to make plays (on defense) when it counted, especially when they got down into the red area," said head coach John Johnson. "We were able to clamp down, limit our mistakes and execute."
"We really wanted to build on our performance last week (against the D.C. Divas) when we gave up a touchdown late in the game. It felt really good to come together (to get the shutout) today," added defensive end Whitney Zelee.
This one was over in a hurry as Boston led 28-0 after one. Cahill found Ellison from 29 yards out to get things going before Matta punched one in from five yards out. Cahill hit Pascual for a short two yard TD and then Smith from 48 yards out late in the quarter. Vanessa Baer kicked all four extra points.
Maria Sacristan-Benjet recovered a blocked kick for a touchdown in the second to add to the impressive defensive performance. Pelletier caught a 19 yard TD from Cahill and the Ellison finished her big night early with an 88 yard catch and run to make it 49-0 at the half.
"Coach Johnny is big on knowing your assignment and reading your keys. It's just about doing your job and knowing your teammate is going to do their job. And together we did it, we pitched a shutout," said linebacker Lisa Vincent.
Falkowski put the finishing touches on with a 23 yard TD run in the third, using an impressive spin move to break free for the final 15 yards or so. Maggie Barden took care of the PAT. The Renegades are back home in Revere this Saturday for a matchup with Pittsburgh and an opportunity to go 3-0.
"It's about the little things: communicating, understanding your role, and doing your job. Like the New England Patriots always say: 'Do your job' — that's a real thing. We gotta be better about that," added Johnson when talking about preparing for the Passion. "Doing what you're supposed to do, when you're supposed to do it, the way it is supposed to be done. If we do those things and clear up our communication, we will be good."