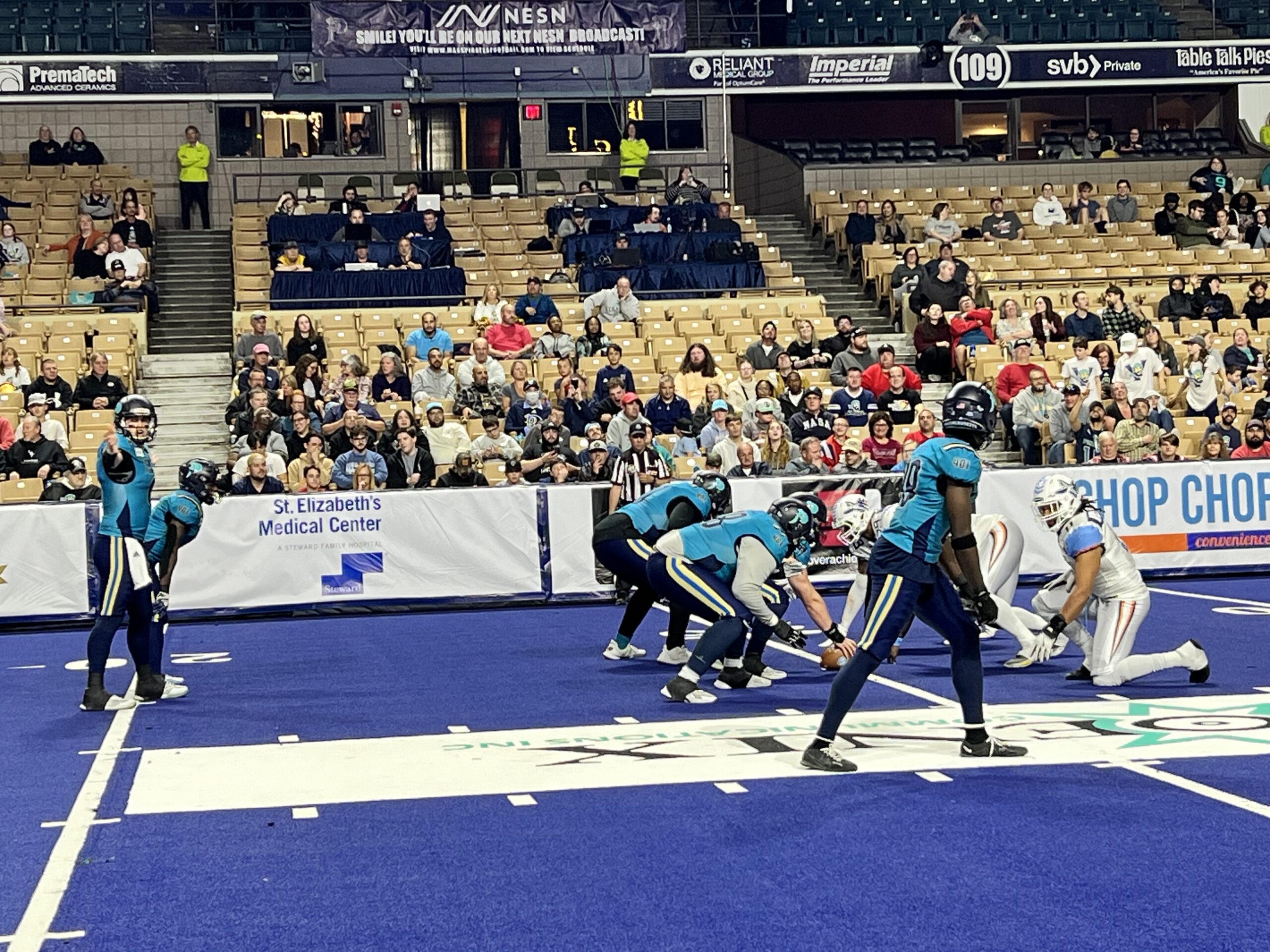 By Tony Catalina
WORCESTER – On an unseasonably cold June day in Worcester, two high-flying offenses were on fire at the DCU Center. The Pirates won an old fashioned 72-58 shootout against the IFL's best team,  the Frisco Fighters. The two high-powered offenses lived up to their billing as two of the best in the league by getting off to fast starts.
On the first drive of the game quarterback Anthony Russo got the game started with a beautiful strike to Thomas Owens to put the Pirates up six, however, the lead wouldn't last very long as the Fighters took the ensuing kickoff back for a touchdown and following a successful point after try, took a 7-6. That sequence set the tone for an explosive first half.
Russo finished the half with five touchdown passes, two of which were to Darren Carrington II. Couple that with kicker Josh Gable who contributed three kickoff two-point tries that resulted in an additional six points and the Pirates closed out the first half with a 43-36 lead.
The second half was a statement to the rest of the league by the Pirates. Not only did the offense continue their onslaught with Russo finishing with eight touchdown passes, but the defense also found ways to come up with key stops and turnovers. Fighters quarterback TJ Edwards only had one interception on the season coming into the game. The Pirates' defense was able to intercept an Edwards pass late in the fourth quarter that allowed the Pirates to score a few plays later and add to their lead.
When asked what a victory like this does for a team QB Anthony Russo said, "You know if you want to be the best you have to beat the best". "It continues to boost our confidence" Russo continued, "we're just worried about going 1 and 0 each week and putting the work in Monday through Friday"
With the win, the Pirates are now 4-0 at home and have been dominant on their home turf especially recently after beating two good teams in Quad City and Frisco.
As fantastic as Anthony Russo was in this game, you can't tell the story of the evening without mentioning place kicker Josh Gable. The former European League soccer player single handily scored 10 points on kickoff tries through the uprights. 60-yard kicks with pinpoint accuracy through the narrow goal posts is tough and Gable being able to do so with such frequency was truly a deciding factor in the outcome of this game.
The Pirates have had their fair share of challenges this season but are now 7-3 and sit one game back from the Fighters in the standings After winning their fourth straight game last night, the Pirates have gotten the rest of the IFL's attention. The Pirates are back at it next Saturday night when they host the 4-6 Vegas Knight Hawks.