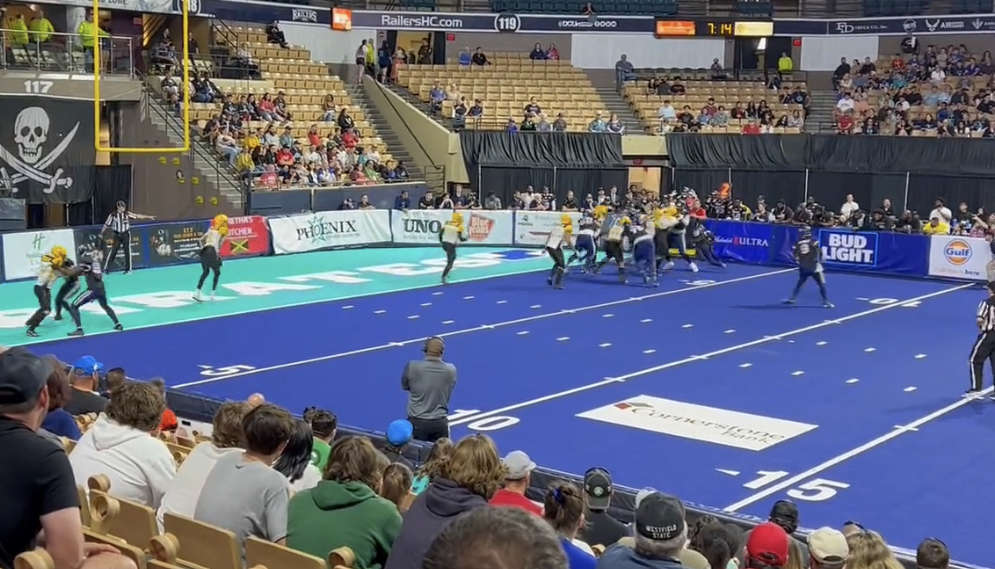 Ryan Martin
NEFJ Correspondent
WORCESTER – With the Indoor Football League standings and recent history in their favor, the Massachusetts Pirates earned their fifth consecutive playoff berth with a 43-24 win against the Tulsa Oilers Saturday night.
After going 1-3 to start the 2023 IFL Season, the Pirates (9-3) have now rattled off eight straight wins, while Tulsa (1-12) dropped their ninth consecutive game.

FINAL: @mass_pirates 43, Oilers 24

Pirates (9-3) finish the regular season with a perfect 7-0 record at home by beating the Oilers (1-12), paced by their offense that found the end zone on each of their first 7 possessions

Bennifield: 15/22, 160 yards, 3 TDs@newftbj https://t.co/5UQ3GEtbZ1

— Ryan Martin (@RyanMartinPxP) June 25, 2023
Massachusetts, fresh off a bye week, controlled the game from the first quarter on. The Pirates opened up a 14-6 lead via RB Jimmie Robinson (13 rushes, 64 yards, touchdown) scoring on the ground and a 22-yard strike from Anthony Russo (4/8, 78 yards, touchdown) to Fabian Guerra through the air. 
The Pirates, who found the end zone on each of their first seven possessions, kept pace by finding the end zone three times during an offensive-heavy second quarter. Russo was relieved under center by Alejandro Bennifield (15/22, 160 yards, three touchdowns), who hit Isaac Zico for two touchdowns while rushing for another to as the Pirates earned a 34-18 halftime lead. 
"The only thing that holds us back is us, Bennifield said. "We can run the ball and throw the ball with the best of them, so the only way we don't win is when we don't execute."
Following a scoreless third quarter dominated by the defenses, the Oilers made things interesting with just over six minutes to play. Tulsa quarterback Andre Sale (17/33, 124 yards, 4 touchdowns) tossed receiver Alexis Rosario his final of three touchdowns on a twelve-yard out, giving the Oilers a chance to cut the deficit to one score with a successful two-point attempt. In response, the Pirates provided the dagger: A pass deflection on the point after-attempt and a 25-yard rushing touchdown by Robinson on the next play from scrimmage. 
With the win, the Pirates finish the 2023 season 7-0 at home, their first time going undefeated at home in team history. 
Massachusetts will earn playoff home field advantage with just one more win, and will have that in mind as they travel to the Arizona Rattlers (9-4) for their first of three final regular season games on the road.