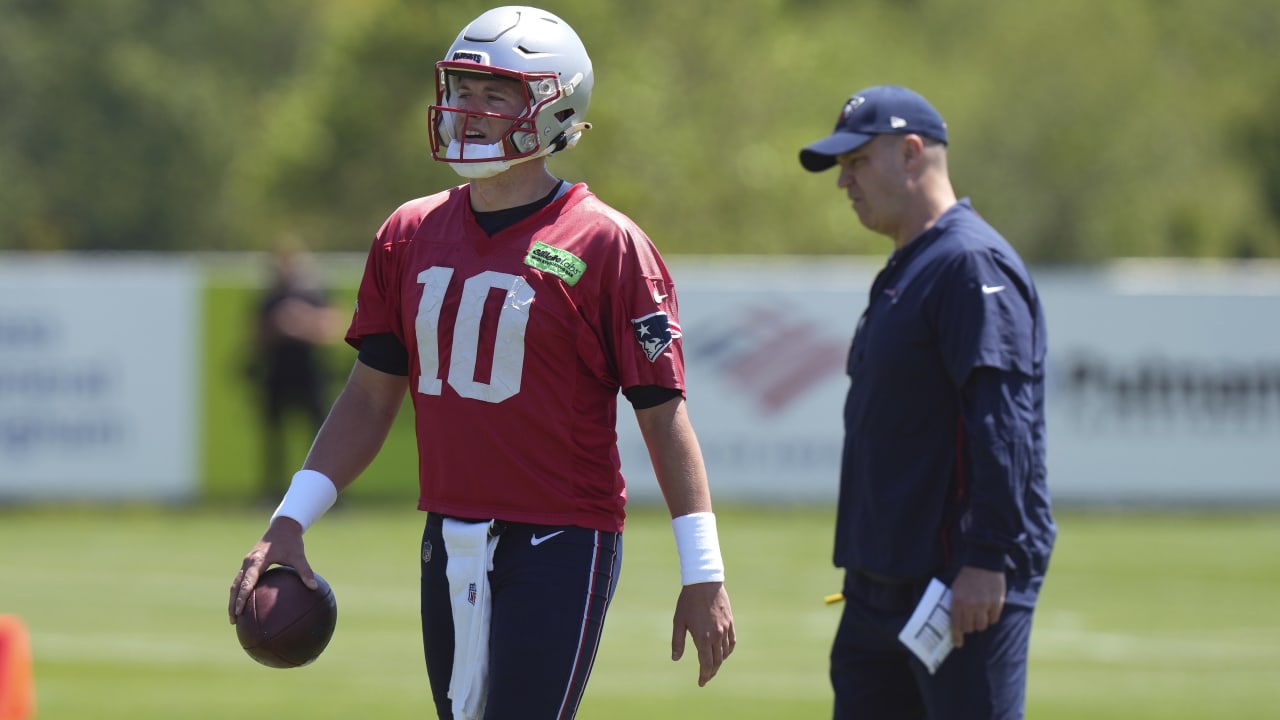 Image courtesy of nfl.com
The Patriots kick off training camp on Wednesday July 26th. All eyes of course will be on the Patriots offense and new offensive coordinator Bill O'Brien. The Patriots offensive struggles last season are well documented and have been discussed at nauseam. It is time to move forward. The best way to do it is to help Jones fix some of the issues that he had last season.
Here are five areas that Jones struggled in last season that he needs to improve in during training camp.
1. Decision making: Jones struggled in this area last season. He was constantly forcing balls into double and triple coverage at times.  Jones was pressing and trying to make a play but O'Brien and Bill Belichick will not tolerate it this season. The expectation is that Jones will play within the system. Jones must be patient, work through his progression and make the right decision. He has to take less chances and less sacks. O'Brien will spend a lot of time this summer working with Jones on his mental clock and getting the ball out.
2. Temperament: It is no secret that Jones immaturity was a problem last season. He was clearly frustrated and it showed up in his body language and the way he reacted to making a bad play. O'Brien is known for coaching his quarterbacks hard and not taking any nonsense from them. He will be patient with Jones but he will not tolerate Jones' meltdowns. Jones is going into his third season. He needs to be more mature and act like a pro. O'Brien will work with him on controlling his emotions and staying under control.
3. Speed up the processing: The Patriots will emphasize their three step passing and quick five step passing game early in training camp. O'Brien wants to get the ball out of Jones hand quicker and speed up the game for him. The best way to do it is short and intermediate routes along with perimeter screens. The Patriots offensive line struggled last season but there were times that Jones hung on a read too long, held the ball and took a sack. As I mentioned earlier, he needs to speed up his mental clock. He cannot look at pressure. Feel pressure, move your eyes and get the ball out quick.
4. Accuracy: Belichick places a premium on accuracy. He wants his quarterbacks to be accurate and take care of the ball. You cannot fix accuracy issues but you can certainly improve it. Jones needs to be more accurate so look for the Patriots to emphasize it in individual and group periods. As we saw last season, the vertical accuracy is still there but Jones need to be more accurate underneath and in the intermediate passing game. It is essential in O'Brien's offense because the Patriots are going back to their roots in a sense by throwing the ball underneath and in the middle of the field more. Jones needs to be more accurate.
5. Leadership: Jones is well liked and respected in the locker room but he needs to step and be one of the leaders of the team now. With Devin McCourty gone, the opportunity is there for Jones step into his leadership role. He needs to be more vocal and lead by example. Jones has the opportunity to make this his team and it starts at camp. A positive attitude, better body language and supporting his teammates will go a long way in helping Jones become one of the faces of the franchise.
The expectation is that Jones will be better in year three. Jones improvement goes beyond the addition of Bill O'Brien. He will need to put the work in to get better in these areas and he will.