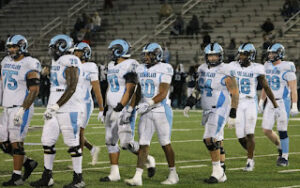 Image courtesy of Meghan Ellis/URI Athletics
With only so many chances during a short college football season to make an impression on poll voters and most importantly, earn a playoff berth, every game is critical for Rhode Island.
After nearly escaping the opener with an upset win over Georgia State, the Rams have taken care of business in conference play. Maine hung tough on Friday night at home, but URI pulled away late for a 34-17 win, moving the Rams to 2-1 overall and 2-0 in the CAA. Maine dropped to 0-3.
This was also the program's first win in Orono in 25 years.
The Black Bears struck first when Tristen Kenan (18/84) punched in a two-yard TD to cap a 12-play, 75-yard drive. A Ty Groff field goal late in the first made it 7-3 and Rhode Island went up 10-7 early in the second on a a 35-yard TD pass from Kasim Hill (18-32/234) to Kahtero Summers (6/130). Maine went back up 14-10 on a Kenan 15-yard run, but Rhody scored the next 14 points. Hill and Summers connected again for a 37-yard strike, then Ja'Den Mckenzie (17/124) scampered in from 17- yards out with 2:27 left in the half for the 10-point lead. A last-second field goal for Cody Williams finished off an impressive two-minute drive spanning 61-yards and 10 plays, keeping the Black Bears in it at 24-17.
Abdul Stewart picked off Hill early in the third but it didn't end up hurting the Rams. URi got a solid defensive effort (261 total yards of offense for Maine) and a 42-yard Groff field goal to make it 27-17 after three.
A dominant 12-play, 89-yard drive that lasted 5:48 ended with a 10-yard Gabe Sloat rushing TD to make it a 17-point game and Fredrick Mallay added a late pick to ice it. The Rams out-gained the Black Bears 440-271 and held Maine to just 17 first downs.
Now, a stiff test against Villanova on the road awaits next weekend. The Wildcats are 2-0 and are heading to UCF this weekend.