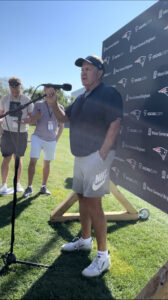 The words "Patriots" and "violation" have been in the same sentence more often than they should be over the last 20+ years.
On Wednesday night, they were together again.
Before that, the Patriots announced early in the afternoon that the first OTA open to the media on Thursday had been cancelled. The schedule also shifted a bit with the media only getting two chances to watch OTA's instead of the initial three. Mini-camp (June 12-14) is still set to be open for media viewing.
Then, around 9:15 on Wednesday night, ESPN's Mike Reiss had a report that the Patriots had two OTA's taken away by the NFL for offseason rules violations.
While most fans will simply shrug and say 'it's only May,' this is a pretty big deal. With a new offensive coordinator, new receivers, a new tight end, new faces on the offensive line and some questions in back on defense, the Patriots can't afford to have two days of work taken off the calendar. Is it going to kill their season and completely ruin communication? Of course not. But, it's still not great considering how much needs to go right this year for the Patriots to have a shot at contending, even for a Wild Card spot.
Not to mention, if nothing else, it simply fans the flames for the national media and fan bases of the other 31 teams – who already still hate this team – to instantly bring up the "cheater" narrative before training camp even starts. Now, this will obviously all go away quickly once Bill Belichick speaks for the first tie on May 31st, but it brings unnecessary negative attention upon the organization very, very early in the process of getting ready for this season.
Quite an interesting start to 2023 already. Hopefully, this isn't a bad omen of how things will go over the next seven or eight months.