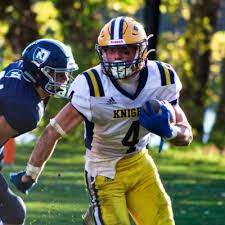 A tradition has been established at BB&N that says the Knights will be winners in the fall and on National Signing Day, alike.
That will stands to continue going forward for coach Mike Willey and his team.
In 2022, BB&N lost two games but still managed to make it to a NEPSAC bowl and earn a tie for the top of the ISL-7.
Once again, BB&N will be one of the favorites to win the league in 2023, and there will be plenty of prospects who make their way to all levels of college football.
We spoke to Willey over the phone to get the rundown on his best players last week.
And when you talk about best players and BB&N, you start with running back Bo MacCormack. A class of 2025 player, when McCormack leaves BB&N, he will probably do so as maybe the best BB&N player of all time.
He's fast, elusive, and runs with power. He holds a Nebraska offer, and picked up one from Charlotte this past week as part of the New England Showcase.
And even brighter days are ahead for the 6-foot, 195-pounder.
"He is as explosive as anyone I've seen," Willey said. "He's as strong a runner as anyone I've seen. He's as elusive as anyone I've seen. But what I think he's done in the offseason is he's become even faster. You see in The League, he's played two games, eight touchdowns, run away from everyone. That's the thing that's really exciting about him next year. He's going to have some great film."
MacCormack absolutely ran away from the competition in The League, including 232 yards and a touchdown in the championship game.
"There are lots of schools on him that see the spring league film on him and see him at the showcase and are like, 'Wow. We've got to evaluate this guy even closer,' " Willey said.
Heading now into his junior year, MacCormack has time to build an even better resume, but this is not a player you want to be late on.
"Someone is going to get Bo MacCormack, and they're going to get an outstanding football player," Willey said. "Outstanding, in all the ways. He will be one of the players on the team that makes a dramatic impact to their team. There's no doubt about it in my mind."
In the 2024 class, interior offensive lineman Brian Brennan (6-4, 295) recently committed to Princeton.
"He had a bunch of Division 1 offers, scholarship offers, across the gambit," Willey said. "Really, what happened with him is he fell in love with Princeton. He's obviously a great academic kid. Just said, 'That's my dream school. I'm going there.' He kind of shut it down and was like, 'That's where I want to be.' "
Tight end Brett Elliott (6-6, 235) has schools like Rutgers, BC, Virginia Tech, and all the Ivies, including Harvard, in pursuit.
"He's a true Y, a guy that could truly block in-line and can run the field," Willey said.
Another '24 is outside linebacker Jack Kelley (6-2, 210), who is attracting attention from FCS, Division 2, and Division 3 schools.
"He's an edge setter, tough dude," Willey said. "Just really strong on the edge. He had that three-sack game against Nobles. He's kind of a tough, edge-setter kind of guy. Long, rangy, that kind of stuff."
Inside linebacker Tyler Blum (6-0, 225) is also an Ivy, D2, D3 prospect, and "a punch you in the mouth kind of guy," according to Willey.
Defensive lineman KP Panariti (6-3, 245) has some versatility along the defensive line and is attracting some D1 interest.
Another '24, Max Van Tassel (6-3, 250) picked up a bunch of sacks in The League, and has "done a great job in the weight room," according to Willey.
Quarterback Henry Machnik (6-1, 205) just got a 1520 on his SAT, and is getting Ivy and D3 interest.
Offensive lineman Jimmy Marini (6-1, 265), defensive back Kevin Winschel (5-10, 180), and defensive lineman Nic Matosic (6-1, 305), depending on their senior years, could land an FCS opportunity, or a D3 one, anywhere in that range.
A 2025 player who is getting a lot of buzz is defensive back/wide receiver AJ Azuakolam (6-3, 175).
"Was a basketball guy. Came over from the hoop court, and he's done a great job. . . . Can jump out of the building," Willey said.
In the 2026 class, fullback/linebacker Sam Kelley (6-1, 225) is a versatile athlete.
"He's just crushing guys, and him with the ball in his hands has become very interesting,"Willey said. "He can catch the ball certainly well. He can run with it. You can hand it to him. Lots of different things for him."
Another versatile player in the 2026 class is wide receiver, strong safety, kicker, and punter Vince Snoonian (6-1, 196).
"He's a sure-handed receiver that's just really, really precise with his route-running," Willey said. "Reminds me a lot of Jay Symonds, who ended up at Stanford."
Newcomer Ethan Ortega (5-11, 190) is a defensive back/wide receiver who played some running back at The League.
"Has really turned some heads in the spring," Willey said. "He's a DB/wide receiver. . . . Fast and tough. Fast, and runs with an attitude when he gets the ball. A lockdown secondary guy."
Natick transfer Damon Taylor (6-2, 205) has "really turned some heads," Willey said. "Very intriguing."
Liam Cunningham started on the BB&N offensive line as an eighth grader. A center, Cunningham checks in at 6-0, 275.
"Benching a small house already," Willey said. "He did 225 for 12 the other day as an eighth grader."
Three other players to keep an eye on, whom Willey thinks have bright futures, are TE/DE Andrew Knapp (2027, 6-3, 220), DL Xavier Chafin (2028, 6-2, 230), and DB Owen DeSalvo (2028, 6-0, 185).
Parity hit the ISL in a big way in 2022, and it just may be how things are going forward. Willey welcomes it.
"What's better than every week having to play, like, a Super Bowl?" Willey said. "Every week's a Super Bowl. Anyone can beat anyone on any week. It's just ultra competitive. It makes the games better, the league better. The coaches have to be more on point. It's just really fun."