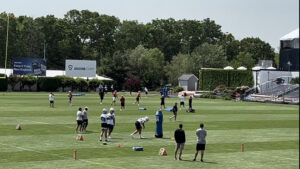 Organized Team Activities.
The most overly scrutinized part of the NFL calendar.
The Patriots begin their non-mandatory OTA's this week and the first one media members can watch and report on will be Thursday. For the next three-four weeks, we won't learn a ton from things the team will be running, but there's still reason to believe this team could be better than everyone thinks as "real" football activities ramp up.
Now, it's going to take a lot for that to be the case, but here are five groups I – and probably everyone else – will be keeping a close eye on during the non-mandatory practices and mandatory mini-camp (June 12-14) that could dictate what type of season the 2023 Patriots have.
1. Offensive line.
Obviously. With David Andrews and Mike Onwenu as the only truly proven dependable guys up front right now, there are questions with Cole Strange, Reilly Reiff and Trent Brown among others. Can new rookie Side Sow make an immediate impact? How about Antonio Mafi? If Bill O'Brien is going to have ANY chance of turning this offense around, he needs the quarterback standing upright. Adrian Klemm could and should be able to get the most out of the guys he has, but as is usually the case with most offenses, it'll go as the offensive line goes.
2. Receivers.
Again, this is pretty obvious. I happen to think this unit is much more capable of having a big year than most people do. There's speed and guys who can actually catch everywhere, again, it falls on Bill O'Brien to put them in the right spots to succeed. JuJu Smith-Schuster is an upgrade over Jakobi Meyers and as long as he can stay healthy, should be playing with a "prove it" chip on his shoulder. Mike Gesicki is a huge target and can help alleviate some of the pressure on Hunter Henry in the right end room. DeVante Parker doesn't have to be a true No. 1 with JuJu here and hopefully, you have Kendrick Bourne back in good graces with the staff as another very speedy option. Don't forget about Tyquan Thornton and newcomers Kayshon Boutte and Demario Douglas. This is the most speed at the position the team has ever had. There is plenty here for Mac Jones to succeed with, just need to put it all together.
3. Running backs
Who's going to back up Rhamondre Stevenson? With Damien Harris now in Buffalo, that second back becomes crucial for this offense. They also need to figure out who the next James White is going to be. Ty Montgomery being back and healthy could be huge. He was an intriguing red zone threat in camp last year both as a runner and pass catcher in training camp. You've got second-year guys Pierre Strong Jr. and Kevin Harris. You've got newly signed James Robinson who has already admitted he's in a bit of a "prove it" mode. Like the receiver group, there is talent here, just need to see who separates and can be a true factor behind Stevenson.
4. Safety
You can't replace Devin McCourty's leadership and communication ability. Those are the biggest things the Patriots will miss back there, but it'll be interesting to see what Jalen Mills looks as the first fill-in when we take a look at the team this week. As a veteran along with Jabrill Peppers, Kyle Dugger and Adrian Phillips, there should (in theory) be plenty of NFL experience to make the transition relatively easy. Marie Mapu and Josh Bledsoe could make an impact as well and may need to. Up front and at linebacker I think this team will be disruptive – especially with the addition of rookie Keion White – and if the back end can do its part, we might be looking at an elite defense.
5. Kicker and punter.
Yes. Kicker and punter. Nick Folk isn't a spring chicken by any means and New England just drafted Chad Ryland high in the fourth round. Special teams was atrocious last year and the punting was a huge issue. The Pats lost the field position battle regularly in pretty much every game. It feels like Ryland and Bryce Baringer are sort of the new wave of specialists for this franchise, hopefully the Pats have found their next guys there for the next 5-10 years and don't need to keep searching.