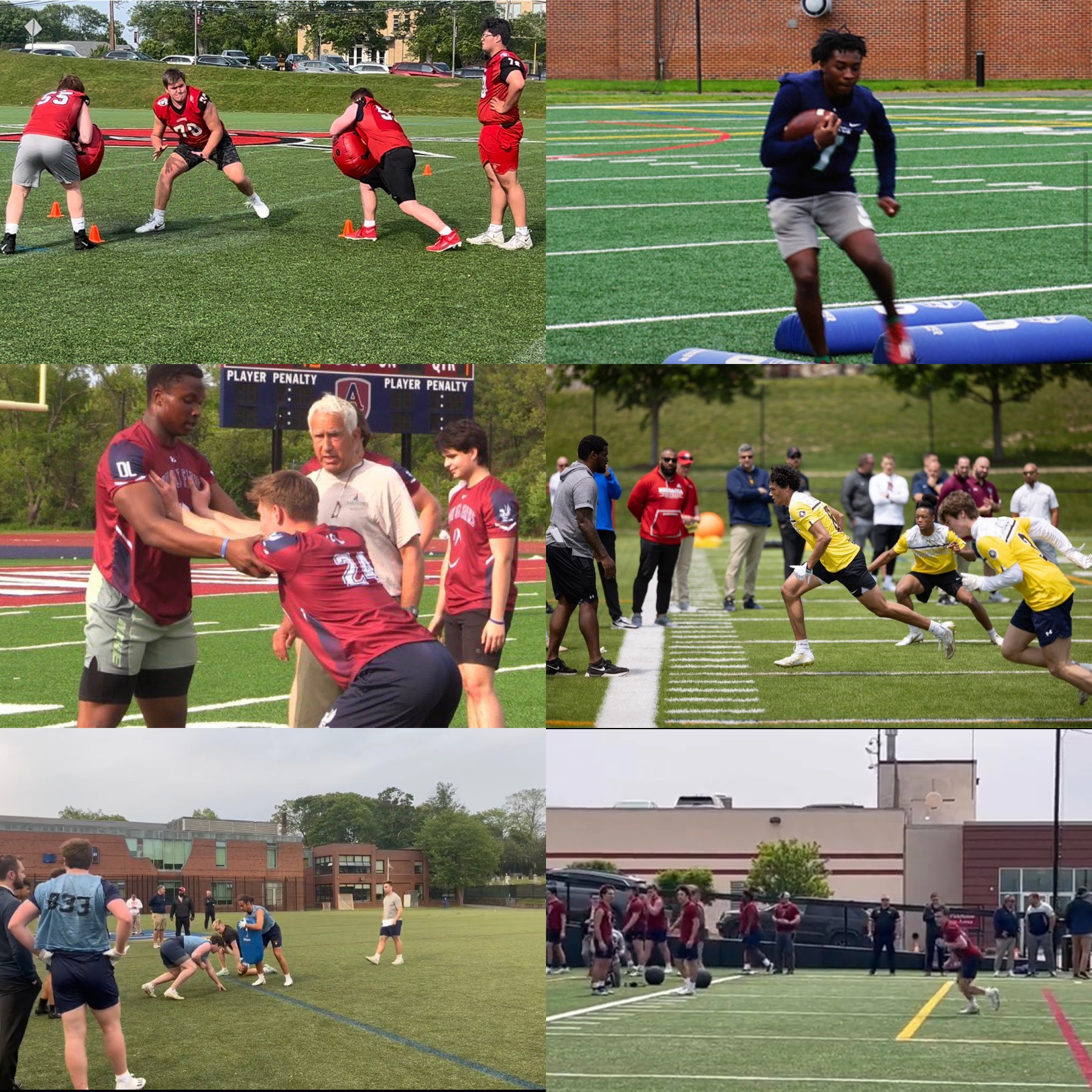 Over 100 programs and over 150 coaches flocked to Connecticut on Monday and Massachusetts on Tuesday for the New England Showcase. The event was started last spring by Avon Old Farms Coach Jon Wholley.
CT Show Day Major Success ✔️

CT was the center of the College Football Recruiting world 🌍

Over 100 Schools 🏫

Top Programs in 🇺🇸
(OSU,Penn State,ND,Mich.,USC, ect)

Looking at TOP Players in 🇺🇸…
In Connecticut!!!!!

Unbelievable!

Congrats to coaches & players! pic.twitter.com/5ms9dp08FD

— Coach Jon Wholley (@JonathanWholley) May 16, 2023
The former college assistant saw an opportunity to put together a showcase for private school prospects in Connecticut and Massachusetts. The event got some attention last year but it blew up this year given the amount of coaches that showed up and the attention it got nationally.
ESPN's Kirk Herbstreit and Greg McElroy even chimed in with tweets applauding Coach Wholley and the coaching staffs for holding this event.
We've started to see a BUNCH of guys in CFB the last year coming out of New England area.

Awesome to see the coaches coming together and promoting their players in a showcase setting at @AOF_Football . Hope we see more of this.

Great job Coach @JonathanWholley! https://t.co/XnXn5BWAV6

— Greg McElroy (@GregMcElroy) May 16, 2023
Really love this idea!!
Great opportunity for the players to be looked at in person by several college coaches. Congratulations coach on a big day for your program and a lot of the schools in your region. Keep crushin it! https://t.co/67cf5u47Qh

— Kirk Herbstreit (@KirkHerbstreit) May 16, 2023
College coaches came out in droves to watch some of the top talent in both states workout for them. Some of these players are already to committed to programs but in this day in age, that means nothing. Relationships are king and building relationships with kids has never been more important in this era of the transfer portal. Seeing them workout in person is important.
Wholley was pleased with the entire event.
"Overall, I believe the show days were a tremendous success as they brought a large amount attention on our region. They gave unbelievable opportunities to the kid in New England."
Wholley hopes that these showcase days not only help the kids who participated but also kids at other schools who might not get the chance to get in front of college coaches.
"My hope is that it not only help the kids at the schools were the coaches visited, but also in the long run, will help the surrounding schools by bringing more attention to both Massachusetts, Connecticut in the rest of the Northeast."
The recruitment of local talent has had a trickle down affect according to Wholley. Younger kids are seeing these high school kids get recruited by national programs and want to play football as a result.
"I believe the increased interest we have gotten in the past five years has a tremendous trickle down affect to younger kids." Wholley continued." I see more and more talented sixth seventh and eighth graders [playing] then before."
The New England Showcase will only get bigger but expect other schools to follow suit. Williston-Northampton has teamed up with several schools to hold a showcase tomorrow night. I expect more schools to do the same in the coming years. The goal is to get players recruited, something that is getting increasingly harder to do in this era of college football.
Days like Monday and Tuesday help and they are here to stay. Hopefully state governing bodies loosen restrictions and more schools follow suit.