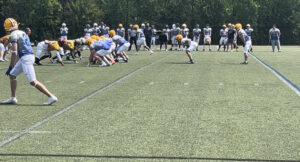 WORCESTER — Bo MacCormack had just finished with another stellar performance in the championship game of The League, but had more to say.
Following his Boston Junkyard Dogs' 19-16 win over the Northern Knights Sunday, MacCormack spoke about the importance of The League to him, and his BB&N team. The Dogs' roster was made up largely of BB&N players.
"(BB&N) coach (Mike) Willey and coach (and The League creator John) Papas do a great job to get us The League, and just get us opportunities to play spring football with the pads on," MacCormack said. "As I'm sure everybody knows, there really is no other opportunity like this to come and play. As much as you want to do 7 on 7, as much running 1 on 1's as you can, you will get nothing like this game that we just played in the spring. You can't mimic that at all other than just doing The League.
"The only thing I would say is it has helped all of us so much. It helped us a ton last year to see what we need to improve on going into the year and having a stronger half of the season because of it. Everyone should take notice of that and join The League next year, because it makes you a lot better."
And you would get no argument from anyone that MacCormack makes any team better. If there were an MVP for The League, MacCormack would run away with it. On Sunday, he rushed for 232 yards and a 40-year touchdown on 25 carries. A good 200 of those yards came after halftime.
Only a sophomore, MacCormack holds a Nebraska offer, but one would think more will come.
"Bo's our guy," said Dogs' tight end Brett Elliott, who caught two touchdown passes. "We like to run the ball a lot, and Bo is the perfect guy todo that with. I love blocking for him. He's a great leader, great friend as well. Great teammate, and just love playing with him. He's obviously a great player."
The Knights led, 9-0, at halftime, but the Dogs took possession in the third quarter and marched right down the field. MacCormack had 50 yards on the drive, and Henry Machnik's 9-yard touchdown pass to Elliott cut the deficit to 9-6.
A Dogs fumble was recovered by the Knights' Cam Worster, and his team capitalized. Tiger An of Windham (NH) rumbled in for an 11-yard touchdown, and the Knights took a 16-6 lead. An finished with 112 yards on 18 carries.
MacCormack then struck with a 65-yard run deep into Northern territory, and Machnik again hit Elliott, this time for a 5-yard touchdown as the Dogs cut it to 16-13.
"Outside linebackers were playing outside most of the day today, so I kind of tried to just get equal pad level with them to get equal leverage," Elliott said. "Make my move there, get outside to make those two plays."
Dogs linebacker Tyler Blum recovered a Knights fumble, and two plays later, in the fourth quarter, MacCormack burst through the middle of the Knights' line for a 40-yard touchdown as Boston grabbed its first — and final — lead.
Blum then made a fourth-down stop inside the Dogs' 5-yard line, and AJ Azuakolam made an interception to seal it late.
In the first half, Peyton Harmony booted a 22-yard field goal for the Knights in the second quarter. Then, An caught a 22-yard screen pass for a touchdown from North Andover's Drew Fitzgerald (146 yards passing).
But the Knights could not contain MacCormack and the Dogs in the second half.
And it goes without saying, but MacCormack is a big believer in the league, having played in all three seasons of it.
"It just makes you a closer, better team, because you're with each other year round, rather than just coming together in the fall," MacCormack said. "You've done all these 7 on 7's and stuff, but you don't know what kind of team you are. It's a good thing to find out what you are going into the fall."
He added, "You can do the drills, but nothing like this."