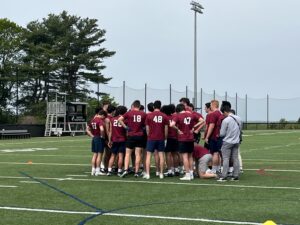 BROOKLINE – Around 10:15 on Tuesday morning, the Dexter Southfield campus was quiet as kids were in class.
By 10:30, just outside the Kraft Fieldhouse and Fusco Arena, dozens and dozens of NCAA scouts and some head coaches from around the country began convening just outside one of the end zones in preparation of the next Showcase Day.
Between Monday and Tuesday, Connecticut and Massachusetts have been the epicenter of the college football world for the second straight year. Private schools have been hosting Showcase Days that have quickly become a "must attend" for teams at every level. Ohio State, Penn State, West Virginia, Boston College, Costal Carolina, USC, all the other 15 Division 1 New England schools and dozens more have all been represented in both states. In Brookline, 23 kids were on hand for the 45-minute session.
Dexter Southfield was already the fourth stop of the day for busy staffs as Deerfield, Williston and Tabor kicked off the morning. Everyone was heading to St. Sebastian's, Milton Academy and BB&N between 6:00 A.M. and 8:00 P.M. DXS head coach Casey Day was thrilled with the turnout and what this idea has quickly turned into, spearheaded by BB&N head coach Mike Willey.
"This is year 13 for me and we've come a long way since then," Day said of his program. "Obviously, it helps when we've got great kids and administration that supports athletics and football and we've got great coaches. You could see today how those guys work with our kids and what our standard kind of is at this point. The culture's been set by the guys that graduated before and this is kind of the first event for the 2023 team. I think we got off on the right start today."
The days and hours leading up to these newly created Showcase Days are nerve-racking for the coaches, not just the players that are ultimately having a job interview as 16, 17 or 18-year old kids. Getting the word out is the most important aspect of these days actually being meaningful and is a full time job in itself.
"It's a busy time and today was a little hectic," Day said with a laugh. "I feel a lot better than I did at 10 o'clock when I wasn't sure if people were going to be able to get here with traffic. We've always done these events as our own stand alone event. I think it helps that Coach Willey and I are good friends and we've always kind of done our own thing. It helps now to be linked up with all these other schools. I try to do my due diligence. Last Friday, I spent basically all my free periods and all that night trying to get the word out to everybody. It's all about creating opportunities for these kids because they earn it in the classroom, in the weight room and on the field."
Most of the nearly 100 coaches on hand were there to see top 2024 O-Line and D-line prospects Dom Silvia, Riley Bloch, Liam Andrews and 2025's Hardy Watts and Bryan Joseph. Overall, 23 Dexter-Southfield guys were on hand and a few offensive guys stood out as well, including quarterback Joe McCauley, who threw the ball well both stationary and on the run. Mike Bonus, Darius Day, Dom Wadland and Quinn Carver were all good in DB and WR drills, showing quickness and speed (yes, there's a difference) while Chase Halfpenny (2025, LB/FB) and Alex Saunders (LB/RB) were solid in backpedal drills too.
For guys like Andrews, Watts and Silvia who have been in contact with quite a few big time schools, having teammates and a crowd of students on hand for support was key to a strong showing, especially with some of the nerves involved while realizing a dream.
"There's always some nerves coming out. Ohio State, Penn State, Michigan, top teams in the Power 5 conference. I was a little nervous, but once you get out here and start warming up, you realize it's just another day of practice," said Silvia. "If you had told me last year I'd be competing with Ohio State and Michigan watching, I would've called you crazy…it's a lot easier with teammates motivating you."
"Bit of nerves because you want to play the best," added Andrews. "You don't want to mess up on a big stage, but really, it was just another day for me. I've been training a lot of these drills. It was good to go out there and showcase my versatility on the offensive and defensive line…it's really a dream come true. I've always wanted to play college football at the highest level I could. So, seeing all these coaches, I may not smile, but it makes me feel good inside when you think about how far you've came."
"I loved being a part of it," said Watts on the day. "Love all the coaches that came out, appreciate all the support from my teammates. Just a great day. I'm happy to be here, blessed."
McCauley may not have been one of the "main event" guys, but still put on a pretty good showing.
"I thought I did good, it was just throwing to my best friends," he said. We've been going over it for a bit. I thought the day went really well. Loved seeing my teammates compete and a lot of coaches came out. You can't ask for more."
Dexter Southfield and every other school involved in these Showcase Days the last 48 hours may not know it yet, but they are some of the groundbreakers for what is rapidly becoming a major college football recruiting event. Day and others believe this thing can go to some really special places in the years ahead.
"I do know the private schools are the only ones doing it right now with the exception of Springfield Central, and I think it's something the state…football the past five years in Massachusetts and New England has obviously really skyrocketed with talent," said Day. "I think these events are so important to kind of get that next level of play. People have always come up here for tight ends and offensive linemen, but we've got skilled guys. We've got guys that can throw the ball. We've got guys that can run. There's talent at every position in this area I feel and now people are noticing."