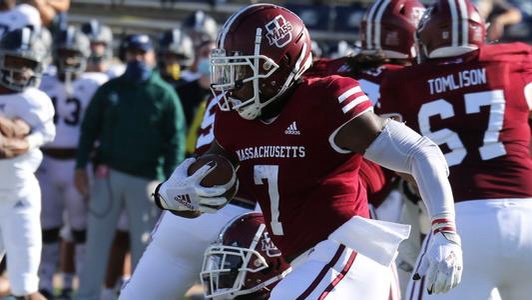 Former UMass running back Ellis Merriweather has signed with the New Orleans Saints after participating in their rookie mini camp this past weekend.
🖋️ Officially a @Saints

Congrats @ellism_2 ‼️#Flagship 🚩 pic.twitter.com/7LpdPtmfEC

— UMass Football (@UMassFootball) May 15, 2023
Merriweather attended the Green Bay Packers rookie mini camp two weeks ago but did not come away with a deal. Apparently he made the most of his opportunity with the Saints and got a contract out of it. Terms of the deal were not disclosed.
The 6-2 225 running back transferred to UMass in 2020 as a junior college transfer from Garden City Community College in Garden City, KS.
In three seasons in Amherst, Merriweather rushed for 1,828 yards and eight touchdowns. He also caught 31 passes for 217 yards and a touchdown. His best season was 2021 when he rushed for 1,138 yards and five touchdowns. He also caught 22 passes for 165 yards and his lone receiving touchdown in his career.
Merriweather impressed scouts this spring with his ability to run routes and catch passes. Given his size and his receiving skills, there is a good chance Merriweather could make the Saints roster.