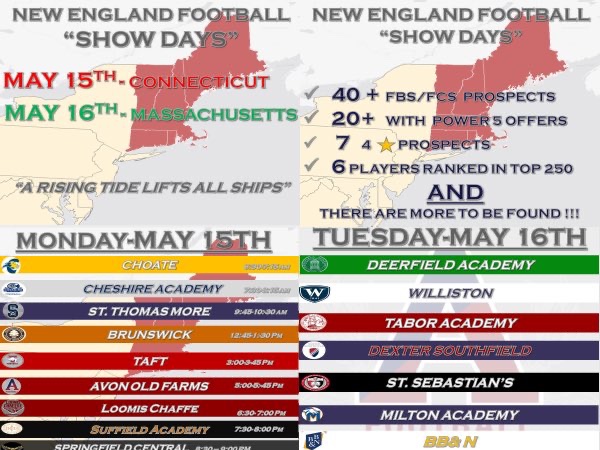 The New England Showcase is back. The brainchild of Avon Old Farms Head Coach Jon Wholley, the showcase will be held today in Connecticut and tomorrow in Massachusetts.
The Coaches Chat: Presented By The League: Jon Wholley, Avon Old Farms https://t.co/139pURqvTF

— New England Football Journal ® 🏈 (@newftbj) May 12, 2023
Some of the top prospects in New England will showcase their talents in front of over 60 schools and over 100 plus college coaches.
New England has become a hotbed for talent in recent years. There has always been talent in the region but now more than ever, schools are flocking to the area to recruit Power 5, Group of 5 and FCS level talent.
Some of the top prospects in the area that are scheduled to work out includes:
Ryan Puglisi, QB, Avon Old Farms (Georgia commit)
Benedict Umeh, EDGE, Avon Old Farms
Dante Reno, QB, Cheshire Academy (South Carolina commit)
Jacob Smith, EDGE, Cheshire Academy
Jered Smith, DT, Cheshire Academy
Elijah Newby, LB, Cheshire Academy
Luke Reynolds, TE, Cheshire Academy (Penn State commit)
Liam Andrews, OT, Dexter-Southfield
Dom Silva, OT, Dexter-Southfield
Brett Elliott, TE, BB&N
Bo MacCormack, RB, BB&N
Brian Brennan, OT, BB&N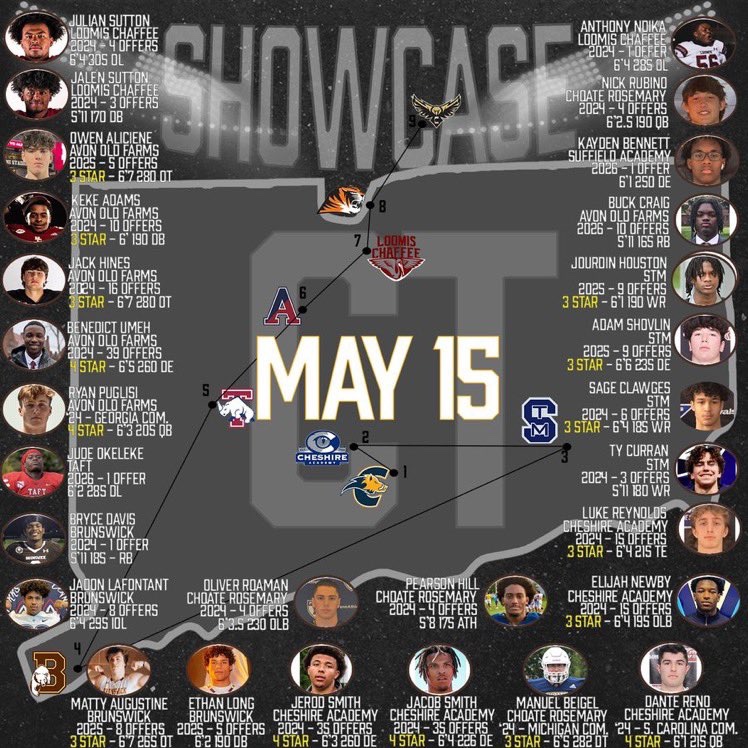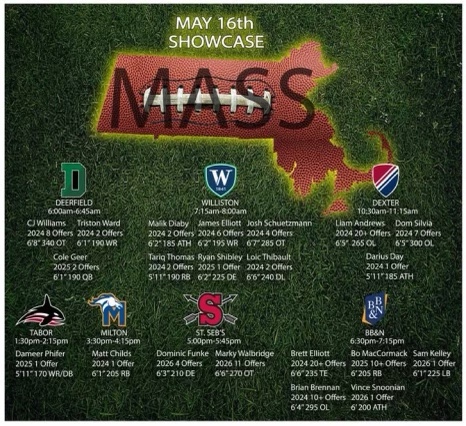 These are just some of the names that will be showcasing their skills for college coaches over the next two days. There are countless others who have multiple offers or are on the brink of becoming scholarship level players.
In a recent interview with me on the Coaches Chat, Wholley said he would like to see the Showcase expand to beyond private schools. Wachusett held a workout last year for quarterback Tucker McDonald. Springfield Central is once again doing it this year as well, but no other public school is participating. Methuen High School is doing a pro day workout for quarterback Drew Eason this week.
Wholley believes that there are players everywhere and if you hold more these showcases across the board, more coaches will show up.
Wholley got the idea for the showcase when he recruited Southeastern Ohio during his time at UConn. High schools in that area did something similar to showcase their players for college coaches. When he got the job at Avon Old Farms, Wholley said one of the first things he wanted to do was implement a showcase for private schools.
There was a great turnout last May but Wholley expects an even bigger turnout from programs across the country as they try to identify talent in a part of the country they haven't always recruited. One SEC coach told 24/7's Brian Dohn that he views the region differently now.
"I never thought I would say this, but there is a lot of really good talent there."
That says it all. It is why the next two days are so important for New England football. The New England Showcase is a game changer in recruiting for this region.