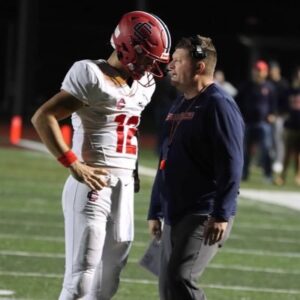 Sometimes, in the world of college football recruiting, scholarship offers can come in as a trickle, one every few months.
Then, a lot of times, those offers build up like an avalanche, and that trickle is more like a fire hose blast. You can hardly keep up with the every day onslaught.
For quarterbacks Miles O'Neill and Blake Hebert, the experience has been way more like the latter most recently. You can make the argument that these have been two of the hottest quarterback recruits in the country over the last two weeks.
O'Neill is a Marblehead native who recently transferred to the Hun School in Princeton, NJ. He is a member of the 2024 class. Hebert started last year for Central Catholic, and is a 2025 recruit.
Both are big players with big arms. O'Neill is 6-foot-5, 220 pounds, while Hebert is 6-3.5, 215 pounds.
Right now, Hebert has 11 FBS offers.
"UMass and UConn (we the first to offer Hebert)," Central coach John Sexton said. "We have Rutgers. We have Virginia. We have Nebraska. We have Ole Miss. We have Virginia Tech, Pittsburgh, Iowa, and Minnesota."
Boston College then jumped in and offered Hebert the day after that conversation on Thursday night.
When it comes to what colleges like about Hebert, Sexton said it is a number of things.
"The size, certainly," Sexton said. "We've had a nice run of quarterbacks at Central Catholic, but nobody this size. Nobody with these measurables. The size kind of jumps off the tape. How sturdy he is, I've heard that term more than once, how sturdy he is in the pocket. Now, when guys are coming to see him throw, there has been a noticeable increase in arm strength, and spin, and the way the ball carries down the field. He's made a big jump even from November. We're certainly excited about that. The kid is an unbelievably hard worker. He's made this effort because of the time and effort he's put into it."
Hebert had attention from those in the know as far back as his freshman year, when he was backing up Ayden Pereira (Maine).
"I think he would have played for 95 percent of the teams in Massachusetts as a freshman if he didn't have the Gatorade Player of the Year playing in front of him," Sexton said. "I thought he grew and awful lot as the season went on last year. I thought he played really well in the second half of the season. The biggest strides he has made over the winter is as a leader. He has been phenomenal during our conditioning workouts all winter. The way that the guys are kind of responding to him and rallying around him, it's been very exciting for the coaching staff to watch."
Most of the teams that have offered have done so after seeing him up close, but some have gone off film.
"Of that group that we named. only Ole Miss and Virginia Tech have offered sight unseen," Sexton said. "Everyone else has been in to see him. We have a whole bunch more people coming in tomorrow and next week. All these guys have told me that this is kind of just the beginning, so we're bracing ourselves for that."
With O'Neill, it has also been a recent jump.
"He threw last Tuesday," Hun coach Todd Smith said. "A bunch of schools saw him throw. He picked up this past Monday Virginia and Michigan State. Then we threw again this past Tuesday, the day after he got the two offers, and he picked up Maryland and Boston College. And then the next day he picked up Pitt."
O'Neill has been in front of a lot of coaches at Hun.
"We run some open workouts at the school, nothing in pads or shoulder pads," Smith said. "No helmets. It's just really shorts and T-shirts, running around showing mobility, flexibility. Then we'll do some position-specific drills. But we do have quite a few blue-chippers on our team. We have a four-star defensive tackle named Owen Wafle, who is in the class of 2024. He's committed to Notre Dame. Then, we have a four-star tailback/linebacker named Kamar Archie and a four-star defensive tackle that's in the 2025 class that's named Kole Briehler.
"So we bring a lot of schools around. During this open recruiting period they'll all come to watch and check the kids out. We had two so far, and the first one we had 40 college coaches come and watch, and the second one we had about 60. It's something we've been doing every year. Every year it gets bigger and bigger. If you have the right kind of kids, people will come and watch."
Like Hebert, O'Neill has plenty of physical skills.
"He can throw the ball with anybody in the country," Smith said. "I think the big things about us is we run a pro-style offense. We'll do almost everything. He'll be under center almost 60 percent of the time, but he'll be in shotgun, as well. He'll get to experience all the things he hasn't been experiencing. He'll get to play with kids that are pretty good, and will play at a high level. He'll also be away from home, living at school in a college atmosphere, which I think when Miles was looking at everything, would be a really good prep year for him to get ready for college."