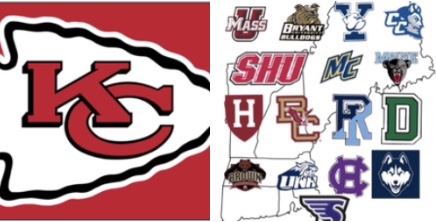 It is well established that the Kansas City Chiefs have a lot of New England ties in their front office. It is partly why the organization has emphasized Northeast Scouting. It is also why they have signed two undrafted free agents and given several other prospects a shot by inviting them to their rookie mini-camp.
Assistant General Manager Mike Borgonzi, Vice President of Football Operation Chris Shea and Team President Mark Donovan all have ties to the area. Borgonzi and his brother Dave (Bears Linebackers Coach) played for John DiBiaso at Everett, Shea played for John Papas at Belmont and then attended Boston College. Donovan was a quarterback at Brown. Those ties help because these men have established ties to the area and they get intel from coaches.
Here is a list of who has either signed or is getting a mini-camp invite with the Chiefs:
Truman Jones, EDGE Harvard (Signed as UDFA)
Anthony Witherstone, CB, Merrimack (Signed as UDFA)
Chizi Umunakwe, LB, Central Connecticut (Mini-Camp Invitee)
Connor Degenhardt, QB, New Haven (Mini-Camp Invitee)
Allen Smith, RB, Brown (Mini-Camp Invitee)
Aidan Borguet, RB, Harvard (Mini-Camp Invitee)
Tyler Roberts, TE, Merrimack (Mini-Camp Invitee)
Sean Coyne, WR, New Hampshire (Mini-Camp Invitee)
That is an impressive list and some of the best college football players in New England the past two years. Jones and Witherstone both signed as undrafted free agents and have the best shot of making the roster. The rest of the guys on the list have a shot of advancing to another OTA or even mandatory mini camp in June as part of Phase 3 of the off-season program. Even if they do not advance with the Chiefs, if they acquit themselves well, they could get a shot with another organization.
Tight end Jody Fortson and defensive end Tershawn Wharton were both undrafted free agents by the Chiefs and both have made the roster and made an impact so the Chiefs are willing to give players a shot if they think they can play.
Much of the credit for the team's success evaluating talent in the area has to go to Northeast Scout Cassidy Kaminski. The Wisconsin native has done a great job of evaluating talent and cultivating relationships in the area. As a result, the Chiefs have deep roots in the region and a leg up on other teams not named the New England Patriots.
The NFL is a league of opportunity and the Chiefs have given several local prospects an opportunity to realize their dream of playing in the NFL. Hopefully they make the most of this opportunity.