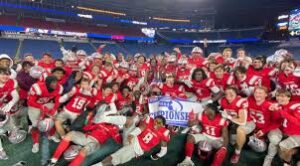 Following last year's Division 2 state title — the second in a row — Catholic Memorial coach John DiBiaso knew he would have to replace a lot of talent.
Star players at nearly every position moved on to the college ranks, many at the Division 1 level.
But don't cry for DiBiaso just yet. The legendary coach has replacements ready to step up and defend those Catholic Conference and D2 titles.
There is plenty of talent for a reload, not rebuild, in West Roxbury. Here are some of the names to watch out for.
Let's start with a look at the 2024 or rising senior class. Leading the way is a talented offensive line group that starts national recruit Guerby Lambert, who plays tackle at 6-foot-7, 300 pounds.
"There's not too many kids that have offers from Alabama, Ohio State, and then Harvard and Yale," DiBiaso said. "It's a pretty wide spectrum."
Lambert is an unlikely prospect in that he started as a soccer player, and is inexperienced in football.
"He has a very high ceiling," DiBiaso said. "He's only played two years. He has gotten better by the game the last two years. I just thank God that they didn't keep him on the soccer team."
Right next to Lambert at guard is Brandon Sullivan (6-2, 285), who has offers from Harvard, Yale, Bryant, and Maine.
"He's very smart. He works hard in the weight room," DiBiaso said. "He and Guerby play side by side to form a great right side. They're very much alike."
Also in that 2024 class are fellow linemen James Mullin (guard) and Antonio Puleo (tackle), who are both 6-3, 290.
"They're like clones of each other," said DiBiaso, who said UNH, Maine, and URI are looking at those two.
At cornerback, Eric Perkins (5-10.5, 180) will be the Knights' top option there.
"We've been blessed," DiBiaso said. "We had (Villanova's) Devon (Marshall at corner) the year before. (BC signee) Max (Tucker) played the other side, learned from Devon. Then we had Max, and Erick learned from him."
At linebacker, CM has one of the best in the state in Will Claude. The 6-1, 210-pounder has an offer from Bowling Green and interest from the Ivies.
"Will is very explosive," DiBiaso said. "He plays off the edge a lot for us. He blitzes a lot. He made so many big plays, impactful plays. He's the one who had the strip-sack in the Super Bowl. He had a big sack on (quarterback Henry) Hasselbeck when we played Xaverian. He had the big hit on the quarterback when we played the Prep. . . . He hits like a ton of bricks. He's 210 pounds, but he hits like he's 250."
A defensive end who will garner attention is Colin Murphy (6-2, 260).
In the 2025 class, a linebacker who returns is 5-11, 215-pounder David Timson.
"David's just like a tackling machine," DiBiaso said. "Every game, he was right up at the top in tackles."
One of the top defenders from a year ago is back in tight end/defensive end JD Rayner (6-5, 250).
"(Rayner) was a lot like (Notre Dame signee) Boubacar (Traore)," DiBiaso said. "He's filled out. He was very thin. He played at 220. Now he's like 245. I think he'll end up being about 250."
The Knights have two running backs who played behind Datrell Jones (BC) and Carson Harwood (URI) last year, but got some snaps in 2022. The two 2025 backs are Lesean Sharp (5-10, 185) and Mekhi Dodd (6-0, 205).
On Sharp, DiBiaso said, "He's got great, great eyes. He doesn't have the (Jones) 100-yard dash speed, but very elusive."
"(Dodd)'s very much like (former Everett standout) Isaac Johnson. Isaac never looked like he was running fast, but nobody ever caught him. It's a very deceptive stride that Mekhi has. He looks like he's gliding. He's pulling away from everyone."
Outside linebacker Michael Haggerty at 6-5, 235 pounds missed last year with injury but DiBiaso said is "a clone of Rayner. Very athletic."
Center Jack Holland (5-11, 250) started in the playoffs last season for CM.
The Knights also have a promising 2026 class. This year's starting quarterback will be Peter Bourque. He saw action last season and is up to 6-2, 180 pounds.
"He's got a real, real future ahead of him," DiBiaso said.
Bourque's favorite target could be wide receiver Isaiah Faublas (6-1, 190), who also saw time late last season.
"He and Bourque, they've known each other a long time," DiBiaso said. "They played 7-on-7 together and all that stuff. Isaiah is legit. He's going to be a Power 5 guy."
Finally, safety/running back Chris Sanchez is another player who saw time late last season. At 5-11, 190 pounds, he gives the Knights three good backs.