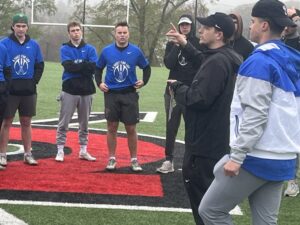 NEEDHAM — There was no player at Sunday's A Shot For Life Bowl at St. Sebastian's who seemed to have more fun than Milton Academy's Matt Childs.
The standout linebacker and running back was laying out for balls, yelling out encouragement for his teammates, and generally just having a ball out there, even in the cold, rainy conditions.
So maybe it was fitting that Childs and his Team Fight won the 7-on-7 tournament in a star-studded affair that had players from both the MIAA and NEPSAC. Participants had to either play at a school or come from Massachusetts.
Weather eliminated the quarterback challenge, but Childs put on a show in the 7-on-7 final. First, he made a one-handed touchdown catch on a pass from JC Petrongolo. Later, he made another touchdown reception on a diving grab in the back of the end zone. On the last play, he threw a long touchdown pass.
"It's fun playing football with all the boys right now," Childs said. "We all play against each other, but we're boys out here. That's all it's about."
The event was clearly a success. All told, $47,000 was raised for the Massachusetts General Hospital's Cancer Center.
"It's super fun," A Shot For Life CEO Mike Slonina said. "All of our players are building off of what our players did before them. If basketball wasn't successful, we can't do baseball. If baseball wasn't successful, we can't do soccer. If that's not successful, we can't do football. These guys, what they're doing here today is going to live on for a very long time. Half these guys will be back. All underclassmen are welcome back. So it's a roster. So a number of these kids will be here the next year, as well. They're doing a really powerful and special thing, and we love them."
Barrett Pratt, a Catholic Memorial alum who is now a quarterbacks student assistant at West Virginia, put that roster together, and it was a talented one. It included standouts from both the MIAA and NEPSAC.
"It's really nice to see," Pratt said. "It was a really long process, started almost a year ago. Started talking to guys last June. Started getting going in the summer. Then, over the past few months, got it all together. It's really rewarding, nice to see. They're all great kids, all doing it for a great cause. It's been really nice to see, and great to see happen."
The most heralded name was Ryan Puglisi, a quarterback from Avon Old Farms who hails from Paxton. Puglisi is a University of Georgia commit.
"Despite the weather, it's a great time," Puglisi said. "I was talking to Barrett. My team, we were losing, but I told him it was bigger than football. It's just great to be out here for s great cause, and just happy to represent A Shot For Life."