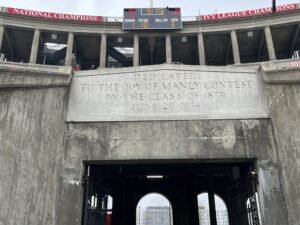 CAMBRIDGE – For the last month or so, Harvard players have been waking up when it's still dark out out for 6 A.M. practices.
Being a member of a Tim Murphy-coached team isn't easy. Being a member of an Ivy League football program and school is not easy. Still, the Crimson players did it with smiles on their faces and an eagerness to compete each and every day.
On a chilly Saturday afternoon, Harvard wrapped up all the hard work and progress made with a very physical spring game. For just about two hours, the White and Crimson squads battled in a hard-hitting, trash talk-filled game. While most spring games use some type of scoring system for various plays on both sides of the ball, Murphy and his staff kept it to real football. The only difference was 12 minute quarters.
"Well, you never get everything you want to get accomplished, but I thought we had a really good spring," said Murphy. "I think the reality is that when you've had all winter to work on stuff even though the actual spring football piece is only 12 practices, we made a lot of progress. We have a long way to go and a short time to get there. We know that when we open we're playing teams that have already played two games, so we have a lot of work to do, but the work ethic and the overall intensity of the group has been outstanding."
There is plenty of competition at a bunch of positions, but none bigger than quarterback. Junior Charles Deprima ran the "ones" offense but sophomore Jaden Craig and junior Connor Easthope all got equal playing time as well as the QB's rotated for both offenses.
The running back competition was intense too. sophomore Isaiah Abby ran with the "ones," it was classmate Jordan Harris who had the big day, rumbling in for two short yardage touchdowns, including one to put the Crimson side up 23-0 with 3:48 to go. After the final score, Murphy decided to officially end the spring season on a high note and yelled "to the locker room!" for a walk-off TD. Those two, along with junior Malik Frederick will all have a chance to try and replace Aidan Bourget, who replaced Aaron Shampklin. That position has been a strength of the team for years now and should be again in 2023 no matter who starts.
"Competition is always a factor in this group," said Harris. "We don't really have a bad back. We all have our specific abilities to use on the field. Competition is really high and it motivates us to always be doing things we should be doing anyway. It's a good atmosphere to be around."
The tight ends were very impressive on Saturday too. Sophomore Dean Boyd caught an early 10-yard TD from Easthope while senior Tyler Neville and sophomore Ryan Osborne all showed an ability to catch and put together a strong effort after the catch. This group was arguably the best of any for the day.
Senior Jean Bernard-Zoungrana, sophomore Caydon Coffmanjunior Scott Woods III all stood out for the receivers. Woods III in particular showed elusiveness and speed – especially on quick screens — while also fielding punts, which means he could prove to be a weapon on special teams too. The offensive line struggled a bit to protect as each quarterback was flushed out and forced to run or throw several times off balance, but it's also a testament to the Harvard defense.
"We've got three good, young quarterbacks. There's probably going to be a fight right down to the last couple weeks of preseason," Murphy said of the QB competition. "I like our wide receiver core, I like our tight ends. Offensive line probably exceeded our expectations. Defensively, that's probably our strength, especially the front seven. We've got a long way to go, but really like the looks of this group."
The defense was extremely impressive all afternoon. Whether it was an interception by sophomore Delian Bradey, a fumble recovery by senior DE Micaiah Bell, a forced fumble by senior DT Tyler Huenemann, a fumble recovery for senior LB Matt Hudson, relentless pass rushing from senior DL Kwaku Adubofour – who is a massive human being when in pads – and junior Brandon Svets or consistent open field tackling throughout the afternoon, it was hard not to like what you see from that side of the ball.
As for special teams, it wasn't the cleanest day. but junior Sebastian Tasko handled punting duties while senior Cali Canaval had a short field goal and handed PAT's. Along with Woods III, Coffman also handled a few punts as a returner as well.
Overall, while there are a lot of questions on offense for Tim Murphy and co., there is talent and speed all over the field, no matter who ends up earning the starting roles. Defensively this team is big up front and fast both at the linebacker level and in the secondary.
A lot of prognosticators may overlook the Crimson this season due to last year's ugly finish against Yale and the lack of clarity at some key positions, but doing so could be a big, big mistake.