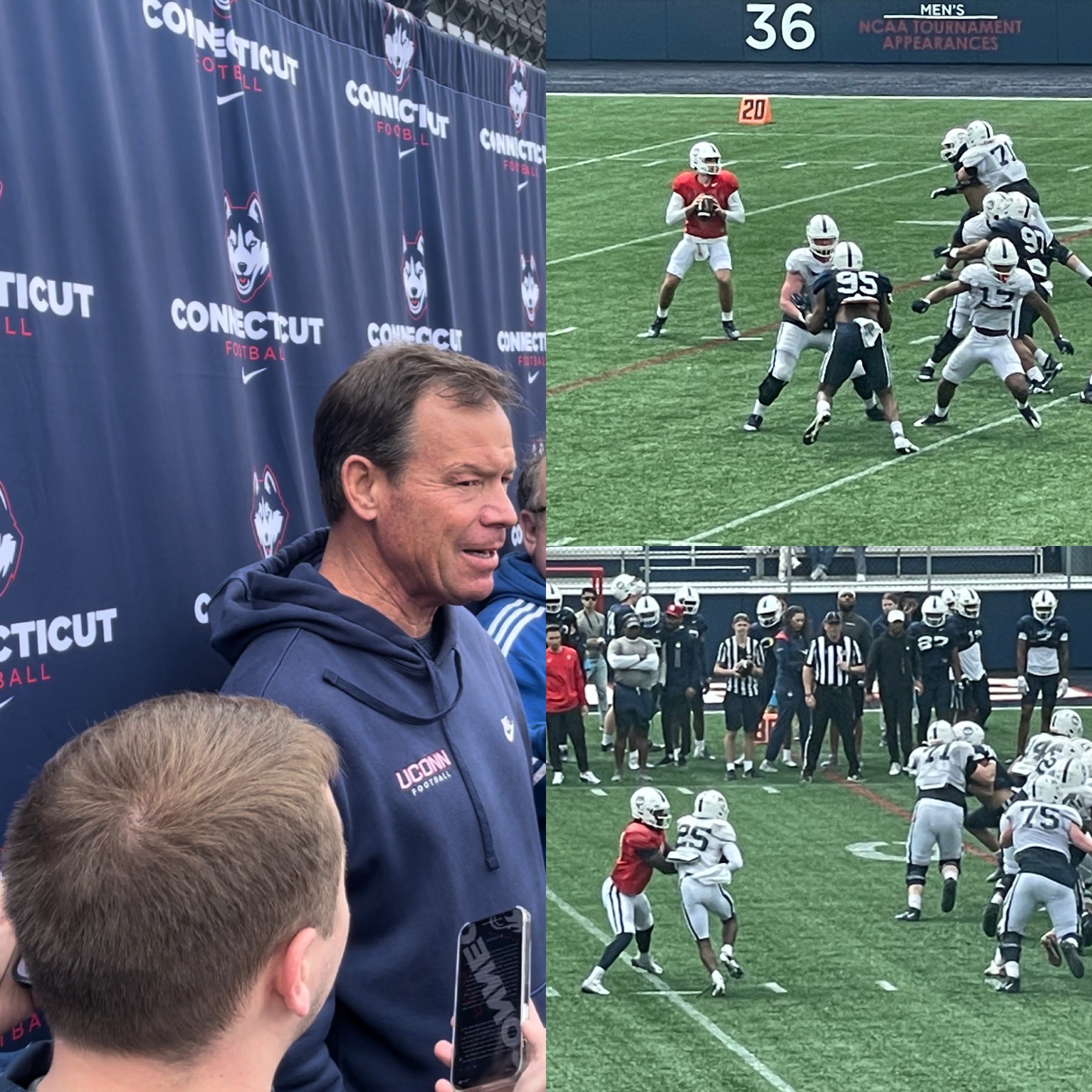 UConn held its Spring Showcase on Saturday to culminate the end of spring practice. Head Coach Jim Mora met with the media prior to the game and spoke for 20 minutes on a variety of issues regarding the program.
After Mora was done meeting with the media, the program engaged in an hour and fifteen minute situational practice in essence. All three phases were showcased and it was a good opportunity to evaluate the individual players.
Here 10 things I took away from today's Spring Showcase at UConn
1. Quarterbacks struggle: The quarterbacks struggled today but before Husky fans get upset, just remember one thing. This was a glorified practice. I thought both Zion Turner and Joe Fagnano had their moments but turnovers were a problem. Offensive coordinator Nick Charlton did not show much. The Huskies ran the ball a fair amount more than they threw it. I thought Tucker McDonald, the promising true freshmen from Wachusett looked the best on the day. He looked comfortable in the pocket, made good decisions and got the ball out quick. The quarterback competition heading into fall camp will be fascinating, especially with Ta'Quan Roberson back.
2. Running backs shine: As expected, the Huskies ran the ball more than they threw and the running backs shined running behind a veteran offensive line. Devontae Houston and Jalen Mitchell looked the best but Brian Brewton, Camryn Edwards and former walk on linebacker Hunter Clark looked good as well. Clark is in the running to get reps at fullback as well.
3. Secondary makes plays: I thought the secondary had the best day of any unit on the team. West Virginia transfer Mumu Bin-Wahad had a good day on the backside as a boundary corner. He was targeted several times but did a good job of staying in phase and playing the ball. Jaylen Jones, Zakhari Spears, Chris Shearin and Durante Jones also played well. Safety Alfred Chea who is a hybrid linebacker, safety had a pick six in the two minute drill. Overall, it was a good day for a unit that had a lot of question marks heading into the spring.
4. Joly good time: Freshmen tight end Justin Joly proved once again today that he is one of the most valuable receiving options in the offense. The 6-3 228 pound move tight end was used in a variety of ways and showed the speed and athleticism that we saw last season when he scored a 62 yard touchdown against Boston College. The UConn tight end room has a lot of talent and Joly might just be the best of the bunch.
5. Freshmen Harper, Drawdy and Edwards standout at receiver: The Huskies had to rely on several freshmen last season and by the looks of it, they are going to relying on true freshmen Jackson Harper (Avon Old Farms), Teddy Williams (Cromwell-Portland High School and the Salisbury School) and Zach Drawdy to step up and make a difference. Mora spoke specifically about Harper and Williams and the spring they have had.
"We basically simulated the NFL combine for our underclassmen and tested them," Mora said. "Three-cone, short shuttle, vertical and the 40 (yard dash), and Jackson came in as a kid who's supposed to be in high school and put up phenomenal numbers, numbers that you'd see when you watch on NFL Network from Indy. His intelligence, his football savvy, you see it every day. I wouldn't say he's got it all figured out, but he's a guy that can certainly contribute this year."
Mora was complementary of Williams work ethic as well.
"Teddy's one of the hardest workers we have," Mora said. "He's always here, always working, always in the weight room, taking care of his body. He's serious, his effort is fantastic and, yeah, he's caught our eye."
Both will have an opportunity to play sooner than later thanks to some departures at receiver.
6. Mora talks portal and receivers: Speaking of the receivers, Mora addressed the situation at the position in his pre-game media session. He said that the program is looking at possibly adding to the receiver room but Mora also acknowledged that it is not always easy for UConn to land certain players in the portal especially when competing against Power 5 schools.
"It's still a challenge for us because the guys that we're competing for, because of where we want to take this program, are getting Power Five offers," Mora said. "And that's just the way it is. We'll get really close with some guys and then a Power Five team will jump in and that's something we can't compete against right now. But there's so many positives that are happening and so many positives on this campus, it's such a beautiful place, that at least we're in the game with those guys, and we're starting to make some breakthroughs."
With Keelan Marion and Aaron Turner in the portal, the Huskies will be looking to land a commitment or two this week before the portal closes.
7. Defensive line stands tall: The defensive line was impressive once again particularly defensive end Eric Watts who not only stands out with his size but his play as well. When we visited UConn two weeks ago, we talked about how good this unit could be. They were once again very good.
8. Tight end group a focal point: The tight end room has a lot of more talent in it this spring than last and as we saw on Saturday, this position group will be a focal point of the offense. St. Seb's alum and Michigan transfer Louis Hansen got a lot of work this spring and he will be a big part of the offense. The aforementioned Justin Joly will as well. Bo Estes who played in all 11 games last season also figures to be in the mix. Keep an eye on redshirt sophomore Rayonte Brown. He is all of 6'6 255 and an absolute monster. He could be a legit red zone target throughout the course of the season.
9. Mission accomplished: Mora said in his pre-game press conference that the objective was to have a productive day and get out of it healthy. Mission accomplished. With the exception of one injury, the Huskies got out of the showcase healthy and can now focus on the rest of the off-season.
10. Fantastic atmosphere: I thought the atmosphere at the Showcase was terrific. I liked the interviews with players and coaches and the crowd was into it. It was well done. It was the perfect length too. A great day all around for the program.
UConn's athletic department is on a roll right. Men's Basketball just won a national title, the women's program is still the standard in college basketball and the baseball and hockey teams have had great success recently. It is truly a good time to be a part of the athletic department and Mora acknowledged as much.
"Everyone is focused on our basketball program, they just won a national championship. How cool is that? That was a cool night, it was a late night. Our practice the next morning wasn't the best practice we've ever had, which is understandble because our team was so excited for the basketball team." Mora continued, "It is not just our men's basketball team. There are so many sports on our campus that are excelling right now. There's so much excitement. You look over to the Toscano Family Ice Arena. You see the finishing touches. There is a real energy right now."
Mora added that the football program has tried to capitalize on that energy.
"We've tried to add to it. We want to be part of it. We don't want to be the anchor. I think that is important to our guys. We don't talk negatively like that. The guys want to be a part of the excitement that is happening on this campus."