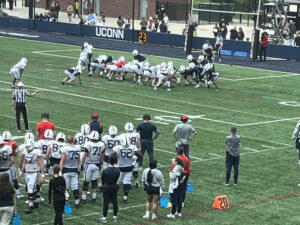 STORRS, Conn. — It happened over and over. A player would have a standout moment during UConn's spring game Saturday, and this would be the reaction.
"You're not going to believe this, but he's listed as a freshman, too."
One main takeaway stood out, that the Huskies surely have juniors and seniors leading the way. But it's also true of the freshmen and sophomores. Young players were making an impact all over the field.
It speaks to the fact that yes, Jim Mora is a good coach, but also that this is someone who knows how to replenish the ranks.
Players like running back Camryn Edwards, quarterback Tucker McDonald, tight end Justin Joly, wide receivers Zack Drawdy and Jackson Harper, among others, all flashed real potential Saturday, and that did not even include established ones quarterback Zion Turner, and running back Victor Rosa (Rosa did not participate).
But if you're looking for reasons why UConn can maybe build a consistent winner, those players are a reason why.
"We obviously only have a few freshmen right now, but they all did a really good job coming in," linebacker Jackson Mitchell said. "Obviously, they should still be in high school. For them to come in midyear and be able to do what they do is really exciting. I expect a lot from Tucker (McDonald). Obviously he's young, and there's a lot of experienced guys in front of him, so I don't know what that will look like. But when his time comes, he's a really good quarterback. Then guys like Jackson (Harper) and Zack (Drawdy), they're probably going to have to see time this year, with what has happened the last couple days. They're really good players, and they'll be ready for the moment when the time comes."
Mitchell is referencing how wide receivers Keelan Marion and Aaron Turner this week entered the transfer portal. But Harper and Drawdy both could see time, and Harper is also getting work in the return game. It may be a lot to expect two freshmen receivers get on the field, but each is capable.
McDonald looked good, and, as Mitchell said, is behind Turner and Joe Fagnano in the quarterback competition. But McDonald is a good athlete, possesses a live arm, and is smart.
Edwards is part of a very competitive running back room, and is a tough, downhill runner with an extra gear. Rosa is probably your starter there, but Mora is excited about the depth, and what is possible at that position.
Joly perhaps stood out more than any young player. Going into his second year with the Huskies, Joly was the most popular receiver of the day. At 6-foot-3, 233 pounds, you can move him all around the formation, and he can make plays. He has good hands and an ability to make the first man miss. There's a lot to like with him, and he is an intriguing player.
It may have been only one spring game, and there are a lot of unproven players, but on first blush, you're looking at a group that has the ability to make a real push come fall. They will be exciting to watch.