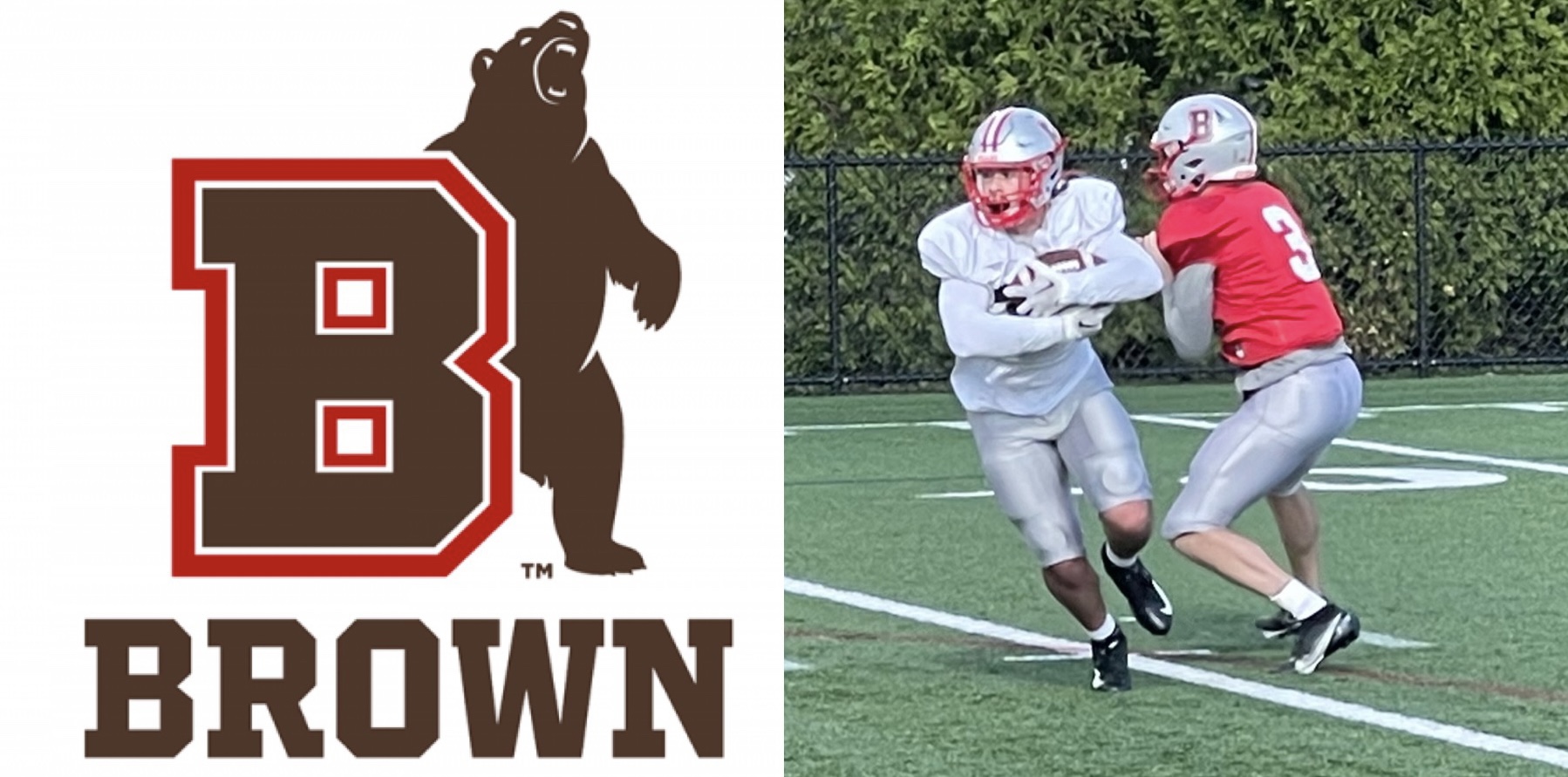 On Tuesday afternoon we took a trip down to Brown University to check out the Bears as part of our spring visit series. As usual, Head Coach James Perry was full of energy and the coaching staff did a great job of teaching while keeping it lite.
Here are five observations from Brown's practice.
1. Competition aplenty: With several key contributors from last season's team gone, the Bears have a lot of openings that need to be filled. The competition level was obvious at several positions most notably wide receiver, running back, defensive back and linebacker. There will several new faces that will need to step up at those positions the reminder of this spring and fall camp.
Brown @BrownHCPerry talks about the spring thus far and his thoughts on some of the positions that need to be filled. @BrownU_Football #SpringVisit pic.twitter.com/6ZESXDCUoA

— New England Football Journal ® 🏈 (@newftbj) April 18, 2023
2. Offensive line returns four of five: The Bears got some good new when All-Ivy League Honorable Mention offensive lineman Donovan Allen and center Lucas Ferraro both decided they were going to come back for the 2023 season. That means the Bears have four of five starters returning up front. Allen and Ferraro join offensive tackles Hayden Bozich and Jack Connolly as returning starters. The Bears do need to replace Hunter Folsom, but the staff likes their young offensive lineman so there should be plenty of competition the rest of this spring and beyond.
3. Defense has that swag: I thought the defense was competitive throughout practice and showed a swagger that we haven't seen from them. Collectively, this unit played better last season and with key returning starters like defensive tackle Kyle Philbin, linebacker Junior Gafa and cornerback Isaiah Reed back, they are expected to take another step forward in 2023. Based on what I saw at practice, the Bears defense has enough talent back to keep the team in games and give them a chance to win some of the close games.
Brown CB @isaiah_reed_14 joins me to talk about the Bears defense and what he's worked on this off-season. @BrownU_Football #SpringVisit pic.twitter.com/HQB9DPfivX

— New England Football Journal ® 🏈 (@newftbj) April 18, 2023
4. Running backs ready for a bigger workload: With Allen Smith graduating and pursuing a career in the NFL, the Bears have to figure out a way to replace his production. Luckily, Perry and his staff have recruited well so there is plenty of returning talent. Sophomores Jordan DeLucia and Stockton Owen are both back. DeLucia missed practice on Tuesday but Owen practiced and looked good. He looks like he put on about 10 pounds from last season. The staff is also high on junior Ian Franzoni. Franzoni has had some injury issues but when healthy is another big back with a versatile skill set.
Coach Edwards drilling the running backs. @BrownU_Football #SpringVisit pic.twitter.com/rSBUixfx6p

— New England Football Journal ® 🏈 (@newftbj) April 18, 2023
5. Quarterbacks competing: Coach Perry was very pleased with the progress of the returning quarterbacks. Junior Jake Willcox started last season and is the front runner to once again be the starter this season but nothing is guaranteed. The quarterbacks got equal reps and in the eyes of Perry, no one is the anointed starter as of right now. Junior Nate Lussier played a lot last season in direct snap packages and may get more of the snap share this season. The staff is also very high on sophomores Courtland Dicks and Will Jarvis as well.
Brown is heading in the right direction and the hope is that this spring will serve as a launching point for a strong fall camp and a good season. The Bears have to replace a lot of talent but there is enough back on this roster that Brown should improve on last season's 3-7 record.