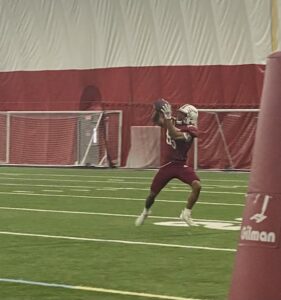 It's hard to believe, but the UMass spring game is just a week away. Sydney Ciano was back at practice for us on Tuesday morning.
Sydney Ciano
NEFJ Correspondent
The Massachusetts football team opened its fourth week of practics on Tuesday with the defense refining their work in man-on-man coverage, and the offense trying to find rhythm on their side of the ball. Previous quarterback, now tight end, Gino Campiotti, was a huge piece of the offensive success on Tuesday.
In the final play of practice, quarterback Brady Olson passed the ball to Campiotti who ran roughly 60 yards for a touchdown. After a series of struggles throughout all three scrimmages, head coach Don Brown ended practice on the high note for the offense. The celebration for the tight end, though, was the highlight for him.
"Running down there and scoring to end practice, and turning around seeing ten red jerseys running at me… every [player] on the field was there to pick me up after 60 yards," Campiotti said. "They ran a long way just because they wanted to show love and celebrate… I feel so much love from [this team]."
Originally a quarterback for Northern Arizona University as well as UMass' program the previous season, Campiotti said he felt comfortable in the switch to the tight end position as this is the second time he's done it. As a Minuteman, he felt more excited to take on the new (old?) role with the athleticism he brought to the field:
"I get to go win one-on-one's rather than go play 11-on-11 football," he said. "I play a little more physical than the average, everyday quarterback… [Tight end makes] football a lot more physical, and I find a lot of fun, I find a lot of joy… really competing everyday."
His experience as a quarterback, he said, also helps him on the field as a tight end. Last season, Campiotti knew where he wanted and needed players to be on the field. Making this switch to tight end allows him to put himself in the best position for his quarterback. In knowing each play and where everyone is on the field, Campiotti said his time as a quarterback helps him perform the best in this tight end position, which is noticed by Brown.
"I think that's been a good move, for him and for us. Athletic tight end is an important piece," Brown said.
Aside from Campiotti and a few completed passes during the day, though, Tuesday's practice had some flaws. Regardless of the quarterback or receiver, the offense had difficulty keeping hold of the ball. Drops and mis-timed routes were unfortunately a theme throughout.
The defense continued to show up as you'd expect, especially in scrimmages where they kept momentum and energy on their side of the ball.
During position-specific drills, the defense focused mostly on man-on-man coverage as well as playing whistle-to-whistle. Even after a tackle, the coaches expected the players to get right back up on their feet. Staying active in the play, whether that be getting back on their feet or following through during man-on-man coverage, Brown was pleased with the defense.
"It's nice when the two corners… [are] both back, both playing better," Brown said. "Steven Ortiz, he's out there now… We did move Darius Gooden from safety to corner, and that's been a really good move."
During scrimmages, the defense did not allow many runs, becoming a wall the offense struggled to get through. This caused many of the quarterbacks to take matters into their own hands and run the ball themselves. As in the previous weeks of practice, each quarterback stepped in for almost an equal amount of reps per drill and scrimmage. Though all four had their opportunity to run the ball, Brady Olson and Taisun Phommachanh continued to show their athleticism in this element.
"We're trying to find out who can do everything," Brown said. He then discussed how important it is to find quarterbacks who can run, as their own running ability adds a piece to the offensive side of the ball.
The lineup for their first spring game April 29 is still up in the air, according to Brown, as the team still has four practices ahead of them.