Image courtesy of BC Athletics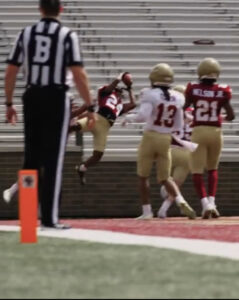 CHESTNUT HILL – As quickly as the spring ball season came, it went.
Saturday officially wrapped up the 15-practice slate and now the next time we see head coach Jeff Hafley and his crew they'll be starting training camp. Here's a detailed look at the sights and sounds around Alumni Stadium on what was a beautiful Saturday morning…
-The moon bounce was jumping (pun intended) early as kids of all ages were getting after it by 9:30 in the morning when the parking lot and garages were still empty.
-Inside Alumni, players helped out with a youth clinic on the field as what had to have been 2-300 kids ran different drills prior to the team heading our for warmups.
-Steelers head coach Mike Tomlin was in attendance and his son Dino put on a show for him, more on that in a bit.
-Just about the entire lower bowl on BC's home sideline was full as fans came out to see what this team has to offer early in the process.
-Ozzy Trapilo, Jack Conley, Drew Kendall, Ryan Hergel and Logan Taylor were the first guys out with Emmett Morehead under center. Obviously, one of those spots belongs to Christian Mahogany, but the Eagles are being cautious with him as you'd expect.
-Early and often No. 84 Taji Johnson showed some flashes as a dependable intermediate guy, catching a few balls with some flare. This receiver group is deep and he's going to be a part of that rotation.
-Alex Broome hauled in a screen early and showed some elusiveness.
-All spring long we've heard that the emphasis on the running game has been ramped up. While the play calling was very vanilla, we didn't see much to really boost confidence in that part of the offense, but it's early.
-The defense was lightyears ahead of the offense – again, albeit with limited play calling on both sides – but it turned into the Amari Jackson show early with a pick in the end zone early after Morehead forced a ball in a window. It wasn't the last time we'd hear from Jackson or the secondary.
-Jacobe Robinson was the second guy up as far as QB reps – something Hafley hinted at during the spring when asked about the backup QB competition – and he's clearly more athletic than anything BC has had there in a long time, maybe ever. It's obviously Morehead's job, but you can see why they like Robinson. Matt Rueve follow him.
-Sam Candotti handled the punting duties.
-Senior DB Kahri Johnson made a hell of a play in the first half, breaking up a pass with a leaping one-handed deflection.
-Jaden Williams was back to receive punts.
-The defense dominated the day, but that's something all of the coaches have talked about so far this spring. With few changes to the scheme, the defense was always going to be ahead of the offense early on, but it was pretty glaring on Saturday.
-Early in the second, Morehead hit Tomlin for the game's first TD on a slot fade. Tomlin is going to absolutely be a factor for the offense this season.
-Robinson showed his athleticism about two plays later with a long run.
-During a timeout, Drew Kendall took over t-shirt cannon duties.
-Rueve hit Xavier Coleman at one point with a similar route that Tomlin ran for the TD, getting a nice chunk play out of it.
-Rueve hit tight end Charlie Gordinier for a short TD late in the first half, which consisted of two regular 15-minute quarters before a 33-minute, running time second half.
-At halftime, Elijah Jones was presented with the annual Jay McGillis Scholarship
-The kicking competition is WIDE open. Lytton didn't look great and both Mika Montonen and Liam Connor are going to make this very interesting. I wouldn't be surprised if this one goes down to the first regular season game and even then, this might be a revolving door.
-Jackson came up with his second pick of the game late and both Jamareeh Jones and CJ Clinkscales had picks. The defense had six turnovers total.
-Andre Hines had a short touchdown run late.
-Didn't see any Ryan O'Keefe speed today, he was barely on the field. Hopefully it was just precautionary. Joe Griffin didn't play.
So, there's work to be done offensively and the defense seems like it might be deeper in the secondary than originally thought. Fans probably aren't happy with that they saw on offense, particularly in the run game, but it's far too early to panic yet.