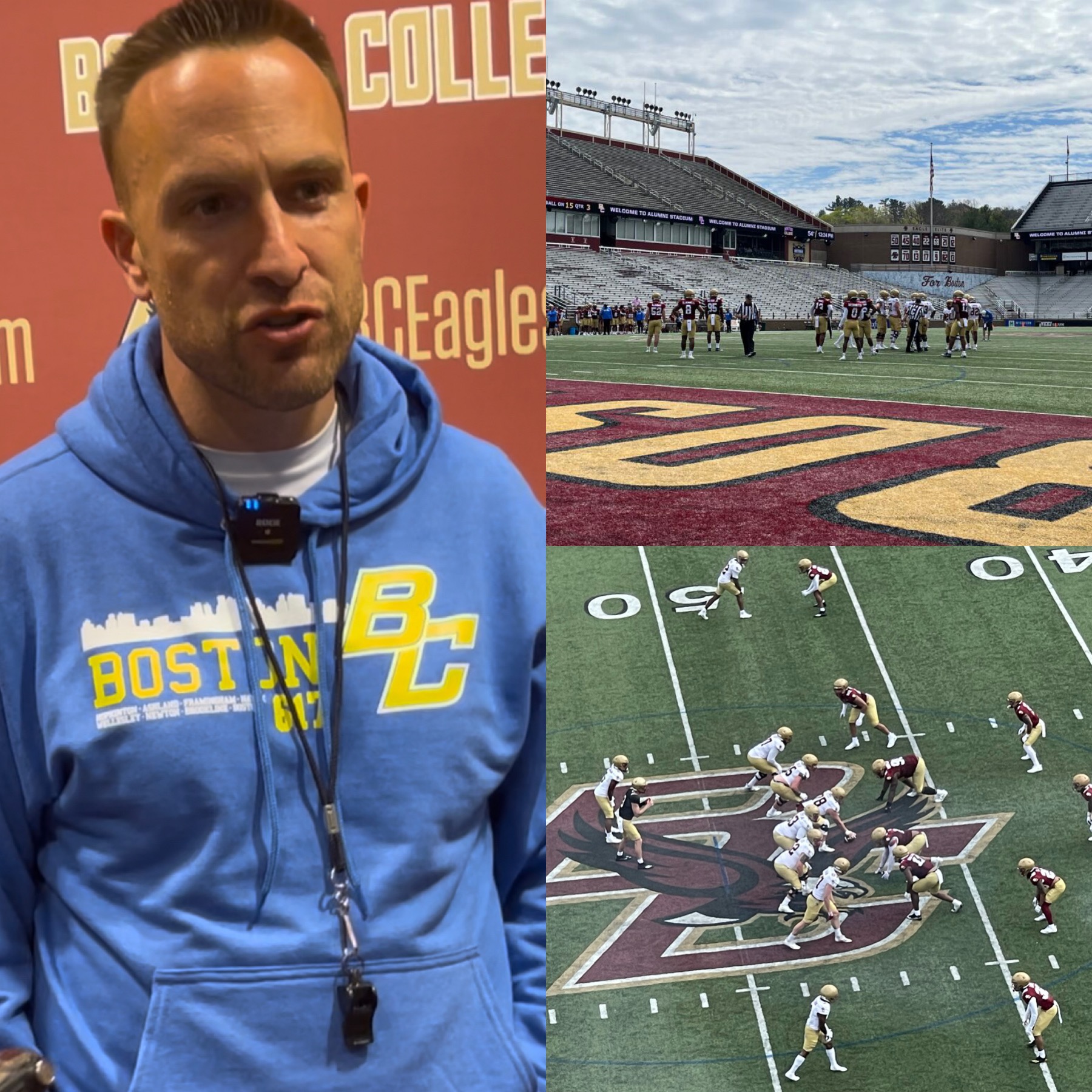 Boston College played the annual Jay McGillis Spring Game on Saturday morning. If you were keeping score at home, Maroon beat White 69-42.
The isn't about the score however. It is about honoring McGillis off the field and evaluating players on the field.
The defense had the upper hand but the offense had their moments as well. Overall, Eagles Head Coach Jeff Hafley was pleased despite the limitations placed on the offense and the defense.
"We had six turnovers, that's a good day if you're a defensive guy. I like the the takeaways. Look, at the end of the day, I'm not going to judge us off of the spring game. We scrimmaged really hard on Thursday where we ran our offense and we ran our defense. Today was…I think we ran four verticals like 10 times. We threw go-balls, which we haven't done much of all spring. We ran two different run plays out of the same formation and we played two coverages. Today was going to be vanilla. If the defense didn't have the better day, knowing the limitations with the offense, then something was wrong with the defense. I love the fact we took the ball away. The two interceptions by Amari…the one in the end zone was phenomenal…I'm pleased. The whole key today was to get out healthy."
Here ten takeaways from today's spring game at Boston College.
1.Offense was vanilla: The offense had its moments today but they also turned the ball over six times. Hafley said that the offensive staff kept it simple today and it showed as the Eagles only ran two running plays and threw a bunch of jump balls. Needless to say, they didn't want to show much. Hafley reiterated that in his post game press conference.
"We ran two different run plays out of the same formation and we ran four verticals. I think we threw four verticals ten times. We threw go balls, which we haven't done all spring." Hafley added: "We didn't show much. If an opposing team watches this, they cannot really get anything from it."
Add to that thud tackling and this game was tough to evaluate the offense on despite them moving the ball with some consistency.
Eagles quarterback Emmett Morehead talks spring game and how the spring as a whole has gone. @BCFootball #SpringGame pic.twitter.com/3700wKUX6T

— New England Football Journal ® 🏈 (@newftbj) April 15, 2023
2. New look offensive line: By all accounts, the offensive line has had a good spring. The return of former offensive line coach Matt Applebaum has helped and the addition of transfers Kyle Hergel from Texas State and Logan Taylor from Virginia will solidify the group.
Overall, I thought they competed today and the entire group collectively looked better. Hergel and Taylor played guard with Drew Kendall at center and Jack Conley and Ozzy Trapilo at tackle.
3. Commitment to Run: The running game has been a focal point this spring and it was today. The Eagles ran the football a fair amount despite only running two plays. Hafley has been pleased with the ground game this spring. He felt that the offense ran the ball better this spring.
"If you came to watch us in the spring, we were giving up explosive runs." Hafley continued: "The scheme, combined with the backs and the line, there were days I was left shaking my head trying to figure out how to stop it."
Coach Hafley (3/6) @BCFootball #SpringGame pic.twitter.com/SmgYwcbrHI

— New England Football Journal ® 🏈 (@newftbj) April 15, 2023
4. Coordinators at work: It is hard to judge offensive and defensive coordinators in games like this but when got our first look at new offensive coordinator Steve Shimko and new co-defensive coordinators Sean Duggan and Aazaar Abdul-Rahim. I thought both did a good job considering it is a spring game. The offense looked prepared despite the turnovers. Defensively, the front seven got consistent pressure and the secondary made plays. As always, there are some adjustments with new coordinators, it seems like the transition has been seamless and much of that is attributed to the fact that all three coaches have been on the staff and were promoted to their current roles.
5. Experience on defense: The defense returns a lot of experience which is important when you think about how many new faces there are on that side of the ball. Having veterans like defensive tackle Khris Banks linebackers Vinny DePalma and Kam Arnold and Elijah Jones back makes things easier for the young players and it allows the defense to get back on track after last season.
6. Transfers making an impact in the secondary: Arkansas transfer Khari Johnson and Harvard transfer Alex Washington both played well today and made an impact in the secondary. The Eagles are going to lean heavily on them to step into starting or sub package roles. Both proved today that they will be contributors this season.
Washington was especially impressive in downfield coverage. He was able to stay in phase and consistently made plays on the ball.
With several key members of the secondary moving on after last season, there were a lot of questions regarding the back seven. Thanks to some strong work in the portal, some of those questions were answered today.
7. Edge rush should popped:The defensive line got consistent pressure on the quarterbacks throughout the first half. I thought the pass rush popped particularly defensive ends Donovan Ezeiruaku (Junior) and Shitta Sillah (RDSS). Both are going to be counted on to generate pressure for a pass rush that has been very inconsistent in recent years.
8. Jacobe Robinson debuts: Freshmen quarterback Jacobe Robinson had a solid debut. He looked good running the offense, made some timely throws and looked good running with the ball when the pocket collapsed. Robinson had a 16 yard run along the sideline in the second quarter. Robinson certainly looks the part at 6-2 225 and he is more than capable of backing up Morehead and play if needed.
9. Tomlin family gathering: Redshirt senior wide receiver Dino Tomlin has had a good spring and is poised to make an impact in 11 and 10 personnel this season. With his dad Mike on hand, Dino caught a touchdown pass from Emmett Morehead on a slot fade. At 5-11 186, Tomlin has good size and offers alignment versatility. He can play in the slot or the X and the Z.
10. Amari Jackson Show: If you didn't know who Amari Jackson was prior to today, that is ok. You should know who he is now. The sophomore cornerback picked off two passes and made plays routinely in contested catch situations. He played outside and in the slot and proved that he has the ball skills and coverage skills to be a shut down level corner. Jackson is primed for a big season for the Eagles.
It is hard to get a lot out of spring football games but there are still things you can take away from them and there was plenty to take away from this one. The Eagles have had a good spring. There was plenty of improvement and plenty to work on as the team heads into summer workouts in June and fall camp in August.