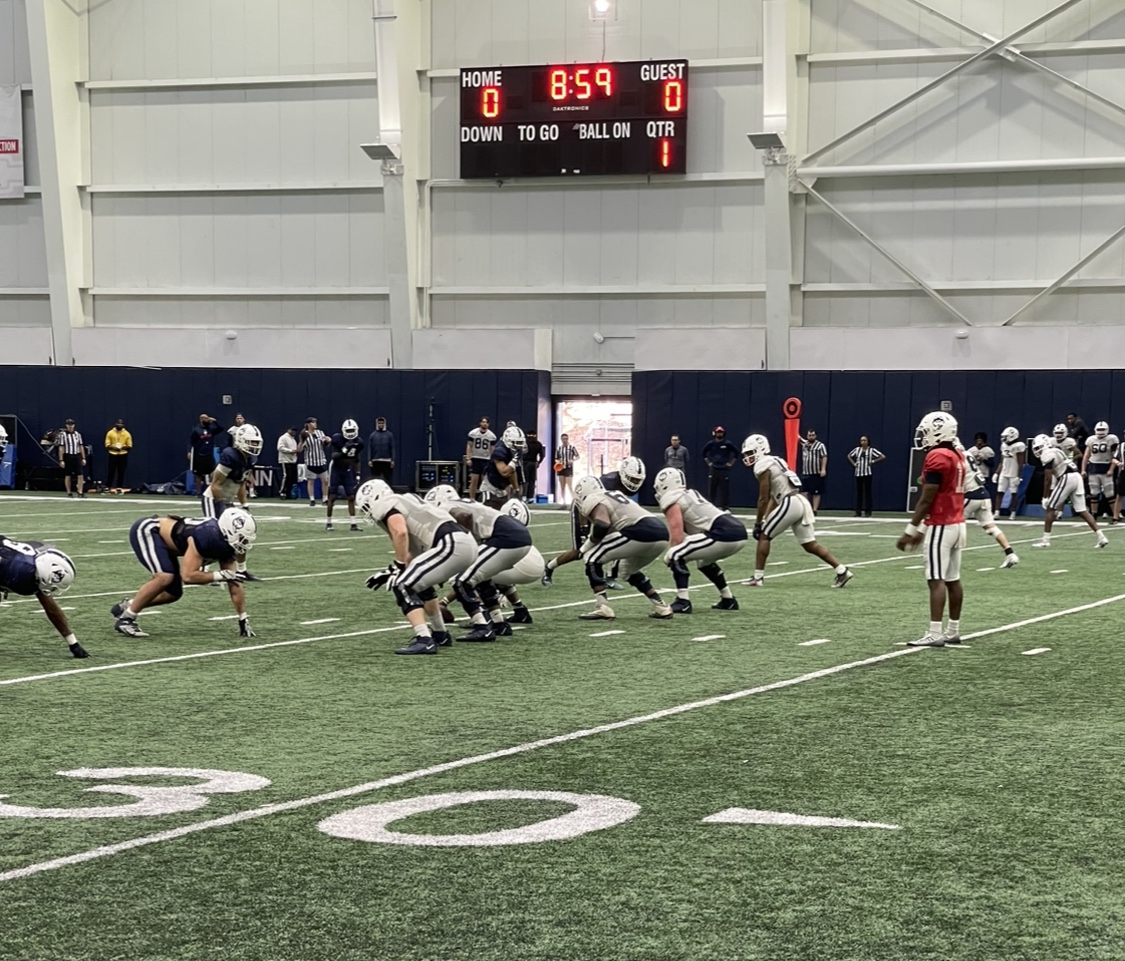 We visited UConn on Saturday as part of Spring Visit tour and came away throughly impressed with the Huskies.
Coming off of a 6-7 season and a Myrtle Beach Bowl appearance, UConn is well positioned to top last season's record and possibly win a bowl game. With key starters returning along the offensive and defensive lines and the addition of several impact transfers, the Huskies are better on paper.
Add to that a manageable schedule and UConn's ceiling could 9-3 and their floor could be 7-5. Obviously it is way too early to do predictions but it all lines up for this team.
Here are five observations from Saturday's practice.
1. Strength in the trenches: UConn returns four of five starters along the offensive line led by left tackle Valentin Senn and All American guard Christian Haynes. The Huskies will once again pound the rock and play to the strength of this group which is their run blocking. UConn wants to be physical and they have the right guys to do it up front.
Defensively, the Huskies return defensive end Eric Watts (Jr.) and defensive tackles Sokoya McDuffie (RD Jr.) and redshirt Dal'Mont Gourdine (Soph) Factor in All-American junior linebacker Jackson Mitchell who is one of the best in the country and this front seven has the potential to be very good.
2. Running back depth: The Huskies depth at running back is impressive. They return Connecticut native and freshmen sensation Victor Rosa who had unbelievable first year in the program. Rosa looks good this spring. He looks like he's added about 10 pounds to his frame.
Devontae Houston is a nice change of pace to Rosa's physical style. Both are explosive in space but Houston is more of a home run hitter and he showed that yesterday at practice scoring on a 48 yard touchdown run.
Add Jalen Mitchell, Camryn Edwards and Brian Brewton to the rotation and the Huskies have the necessary stable of backs to run the football consistently and run it well.
3. Quarterback update: Offensive coordinator Nick Charlton has one rule when it comes to being his starting quarterback. You must be a two year starter in order to be considered the starter heading into the next season.
Zion Turner and Maine transfer Joe Fagnano got the majority of the reps at Saturday's practice. Both threw touchdown passes. Fagnano threw a nice touchdown pass to Michigan tight end transfer Louis Hansen. Turner later threw a touchdown pass in the red zone to redshirt sophomore Kevens Clercius.
Overall, the quarterbacks had a good day but there is room for improvement. They will get better as the spring goes on. Wachusett's Tucker McDonald enrolled early and he looked good considering he has only been on campus since January.
4. Replacing Tre Wortham: The Huskies entered the portal to fortify their secondary and replace starting corner Tre Wortham. West Virginia transfer Mumu Bin-Wahad will get the first crack. At 5-10 185, the sophomore has high level ball skills and is a smooth athlete. He three years of eligibility.
Stan Cross, a transfer from Iowa Central will also be in the mix. At 5-10 191, he has the size and the ball skills to be in the mix as well. He can also play in the slot as well.
The Huskies have a lot of young talent in the secondary and that talent has done a good job of competing to get on the field this spring.
5. Riding the momentum: With the Men's Basketball team winning the national championship on Monday night, times are good at UConn right now. The football program is hoping to capitalize on that momentum by building off of last season and having another great year themselves. It is a good time to be a UConn Husky.
Jim Mora and his staff have the program rolling right now. A big season could be in the cards. The key is staying healthy this fall and getting better. The Huskies are definitely getting better and that bodes well heading into fall camp.