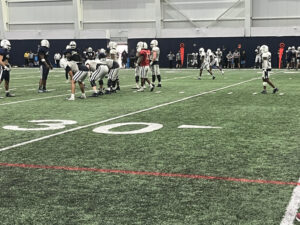 STORRS, Conn. — It may be only the spring for the UConn offense, but there are plenty of reasons for optimism with the Huskies.
Right now, many of those positive vibes have to do with the running game. Since the Huskies have some injuries at the moment to their wide receiving corps, that much was predictable.
Still, from both a talent and a depth standpoint, UConn should be able to do some damage on the ground.
Just going by the basics, this is a running back room that should be able to put up big numbers. The leading rusher from 2022, Victor Rosa, is back. Last fall, he rushed for a team-best 636 yards and 11 touchdowns on 140 carries (4.5 yards per attempt).
The next-best ballcarrier was Devontae Houston, who had 578 yards and three touchdowns on 84 carries (6.9 yards per attempt).
Houston is a bit of a smaller, quicker back, while Rosa looks great at 5-foot-11, 210 pounds.
But what makes UConn truly scary in the run game next year is that the Huskies have more than just those two. Freshman Camryn Edwards, Louisville transfer Jalen Mitchell, and sophomore Brian Brewton add a layer of depth that not every team has.
Obviously, it starts with Rosa and Houston, but those other backs can hurt you, too, and we saw that on display at Saturday's scrimmage.
UConn was a very respectable No. 33 in the nation in rushing offense last year. The Huskies ran the ball 525 times for 2,483 yards (4.73 average) and 20 touchdowns, with 191 yards per game. Based on what we saw this afternoon, the Huskies will be very capable of putting up similar numbers this fall, if not more.
Part of that equation is an offensive line that also should be a team strength. Players to watch there include Valentin Senn, Chase Lundt, Noel Ofori-Nyadu, Christian Haynes, and Christopher Fortin, among others.
This is a big, physical unit that can push opponents off the line of scrimmage. We don't doubt that that is where the Huskies will hang their hat to start off with.
The combination of those backs with that offensive line will give this offense an identity.
Quarterback-wise, UConn is in good hands, as well. Last year's starter, Zion Turner, looks to improve on his freshman campaign. He is being pushed by the rest of the quarterback that also has some depth. Maine transfer Joe Fagnano is another name to watch, while Ta'Quan Roberson is recovering from an injury that wiped out last season for him, and true freshman Tucker McDonald has worlds of potential.
Right now, the wide receivers are battling through injuries, but this is still a passing game that shows promise at this early stage.
One tight end who had a good day Saturday is former St. Sebastian's and Michigan player Louis Hansen. He caught a long touchdown pass in one session, and could break out this season.
Overall, the injuries at the receiver position was the only real negative. This is a talented offense that should be able to run the ball well from the start, and just needs time to jell in the passing game.