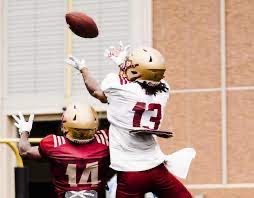 Image courtesy of BC Athletics/Eagle Action
The Tomlin name in NFL circles is well known. In the college world? Well, that's a work in progress.
Steelers head coach Mike Tomlin has had quite a successful career, but his son Dino is still trying to create his own path. Tomlin exploded onto the scene last year with a huge fourth quarter against NC State. Now, he's not only hoping to make an impact on the field in 2023, but he's also becoming a leader for the Eagles off the field.
"He's been awesome," head coach Jeff Hafley said on Wednesday. "Dino is one of the best guys, energy. Like, you know the feeing around Zay? The positive, upbeat…that's Dino. Smart, reliable, personality…and he keeps showing up. You think back to the NC State game last year and some of the catches he made, it's what he does in practice. He knows what he's doing in the huddle, he's always in a good mood, he's always got a smile on his face. He's a productive guy and a good football player. He's a great person and he's become one of our best players."
Tomlin also met the media on Wednesday following the 12th of 15 spring practices. He was asked about trying to represent the Tomlin name and forge his own identity.
"I always feel like I have something to prove," he said. "Growing up, I always felt like I was a target, especially in Pittsburgh. So, I'm always trying to prove that I'm supposed to be here. I felt like last year was the first time I felt like I was supposed to be a college football player. I hadn't really done much until last year. It felt good to finally prove I belong here, but now I'm trying to go past that."
While any comparison to Zay Flowers is special, Dino seemed a bit taken back when we mentioned that Coach Had had just compared him personality wise to the soon-to-be first round NFL Draft pick.
"I hope so," he said with a smile when asked if being the energy guy is something he took pride in. "You can only play football for so long, so, yeah, every time I'm out there I'm just going to enjoy it every time. It could be my last year. I'm in my fifth year, you never know when it's over. You always try to enjoy it. I don't know if I'm like Zay though, Zay's different, he's high energy. I just try to enjoy it every day."
Tomlin, Joe Griffin, Ryan O'Keefe, Jiden Williams and Lewis Bond – among others – will have their hands full trying to replace Flowers' production. Tomlin and the other guys are embracing that challenge with open arms and building some great chemistry in the process.
"I definitely think we're a lot more mature this year than last year," Tomlin said. "Other than Zay and J-Gill, we kind of kept everybody. I feel like there's a lot of continuity and everyone's one year older, so there's a lot less silliness. I feel good about it."
The receivers' relationship with quarterback Emmett Morehead will obviously be the most important aspect of the offense's growth this season and that's been coming along nicely as well.
"Another year with him, I definitely feel a lot more comfortable," he said. "To the point where, this is the first time since high school I've really had one quarterback. I can feel real good about adjustments, when he's going to make it, and a lot of it we don't even have to say much, so it's pretty good."
Tomlin also believes he's becoming a better player and overall athlete as an individual, which could pay dividends this season.
"I'd like to make a lot more plays, obviously," Tomlin acknowledged. "Definitely worked on my cardio. Last year I got tried because I wasn't used to taking as many reps. So, that's one thing. Also, special teams, I want to be able to help on special teams as much as possible."
There's a long way to go between now and the matchup late in the season against Pitt, but if Tomlin has his way, he'll be a well-known figure with a chance to prove to all those folks back home that the Tomlin name can be successful in New England too.
"You've got to respect every game," he added. "I'm going home, haven't played at home in a while, so, yeah, it's going to be cool, but we've got to respect every opponent."