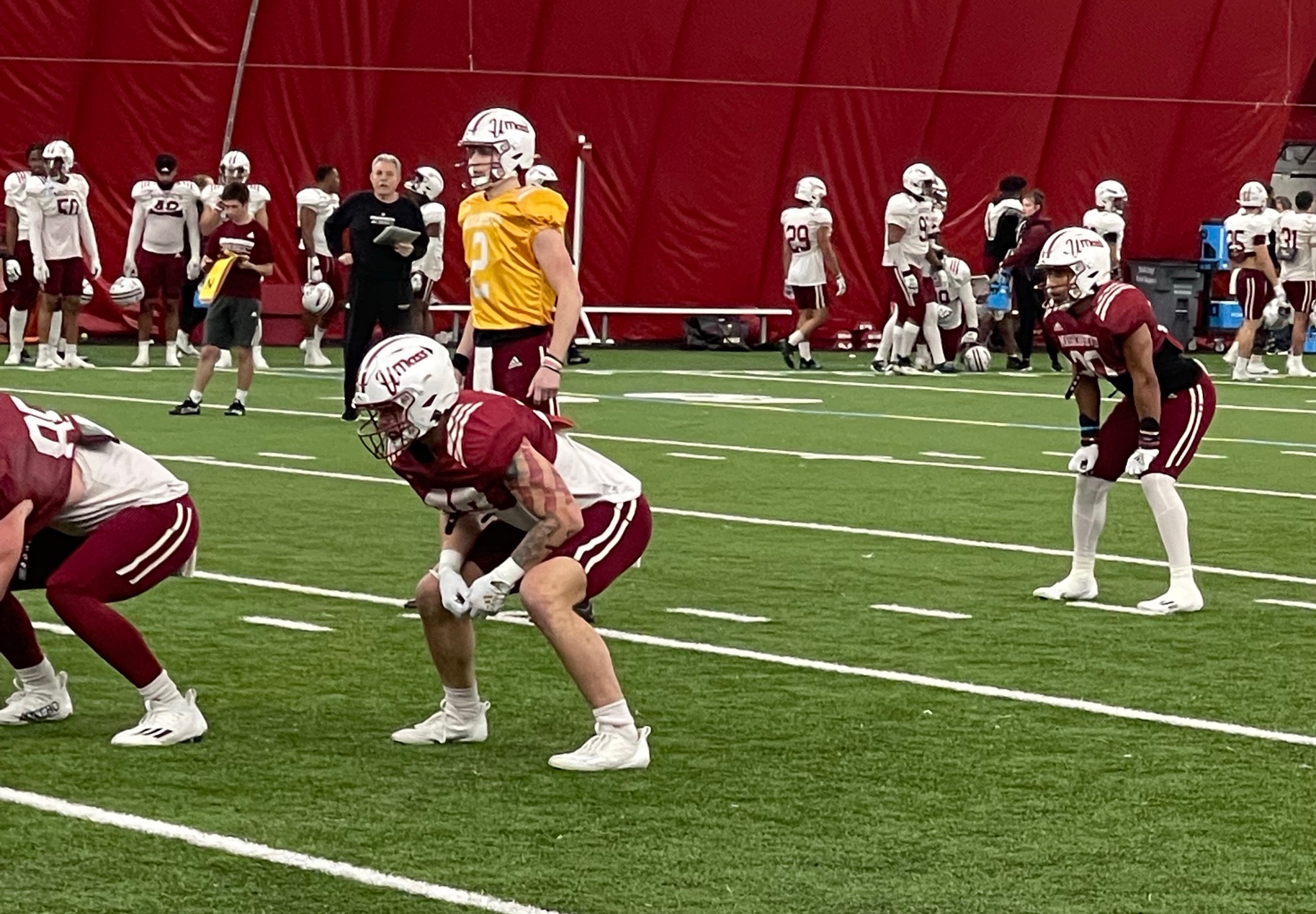 AMHERST- A year ago at this time we were talking about the quarterback competition at UMass. Fast forward to a year later and we're still talking about a quarterback competition except this time, there are some new faces in the quarterback room.
Transfers Taisun Phommachanh (Georgia Tech) and Carlos Davis (Western Carolina) along with true freshmen Ahmad Haston join Brady Olson in a battle to determine who will take first team reps in fall camp.
Phommachanh got the first set of reps on Saturday and at first glance, you see all the physical attributes that made him a four star recruit out of high school. He is all of 6'4 and he is a smooth athlete when handling and running with the ball. Phommachanh looked good riding and pulling the ball on read plays. He is a great fit in offensive coordinator Steve Casula's system.
Phommachanh had his moments throwing the ball however he needs to be more consistent. He threw an interception on his first team pass attempt on a screen.
The receivers did have some drops which didn't help but if Phommachanh can clean up some decision making stuff, there is no doubt he has the skill set to be the starting quarterback of this team.
Quarterback is the position most under the microscope this spring. Quarterbacks throwing to the receivers. @UMassFootball #SpringVisit pic.twitter.com/E9JDrT8YFM

— New England Football Journal ® 🏈 (@newftbj) April 1, 2023
I thought graduate transfer Carlos Davis had the best day overall. He ran the ball well but had the best day throwing the ball of any of the quarterbacks. in the competition. He looks comfortable running the offense and shows good touch and accuracy on his deep ball. He also moves well out of the pocket and throws the ball well on the run. You tell by watching Davis that he has been the man before and he has a swagger to him.
Olson once again flashed that plus arm strength that makes him an intriguing option for the Minutemen. He can make every throw in the book but he is more of a pro-style passer than a dual threat quarterback. Olson should good touch and zip on the ball but he was also betrayed by a couple of drops.
Freshmen Ahmad Haston also got some reps. He is not is my smaller than the other quarterbacks but that's to be expected. He's younger. He did however show flashes of the potential that we have been hearing about. Haston is a smooth ball handler and he runs well. He has plus arm strength but needs to work on his timing and anticipation. The game is fast for him now but he will eventually catch up to the speed of the game.
Overall, this group was up and down today but that was to be expected. It was the first day in pads this spring and Don Brown brought a lot of pressure.
I expect this group to improve as the spring goes on. They'll adjust to the pressure and they will be more comfortable in the offensive scheme as the spring goes one.
The Minutemen have a quarterback room that is talented and mature. Now it is time for someone to step up, lead this group and win the starting job.