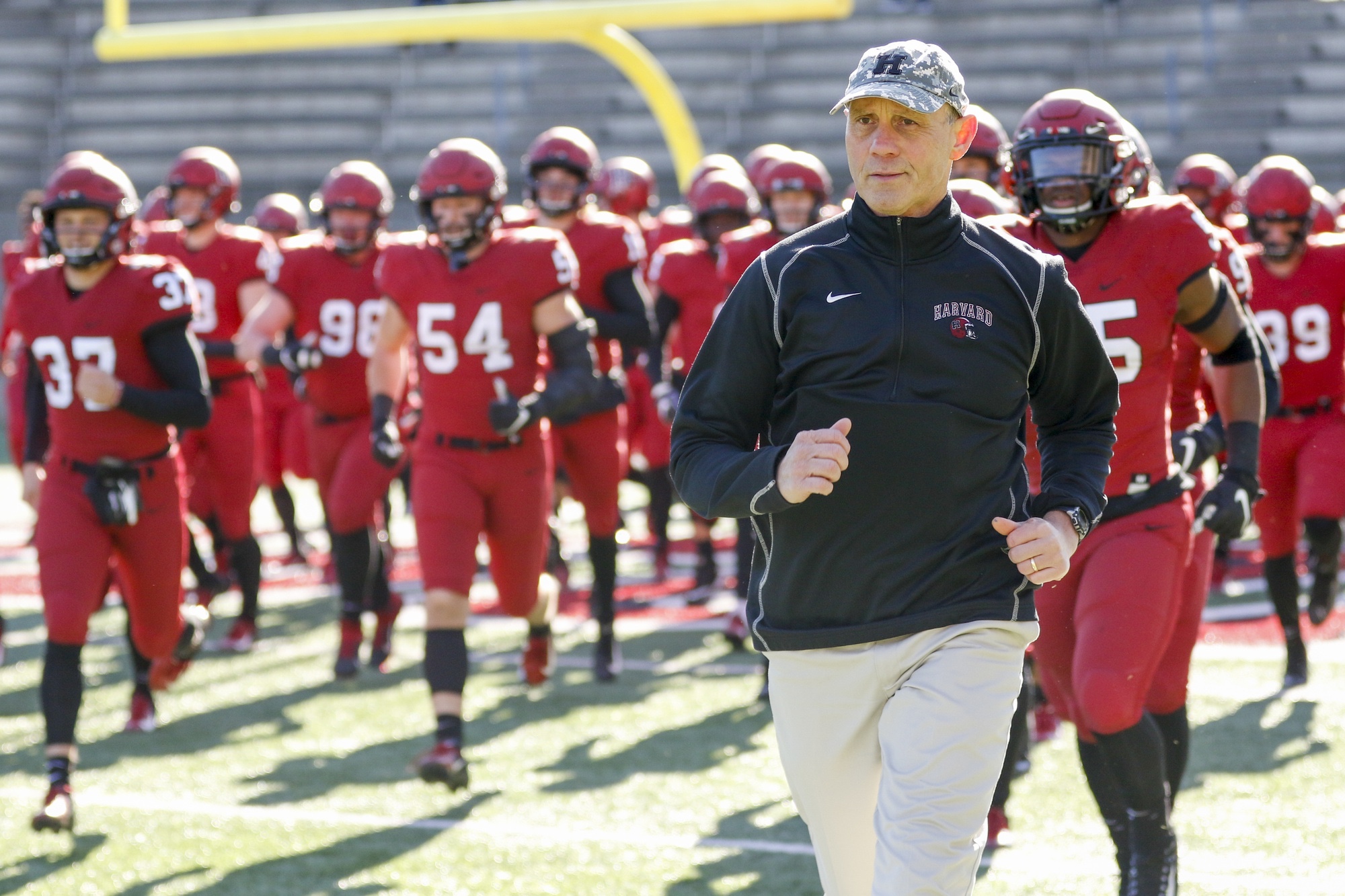 Harvard kicked off spring practice last week. The Crimson are going into their 150th season of football this fall.
Expectations will be high for this historic team. After back to back seasons of coming up short of winning an Ivy League title, the Crimson are focused on getting better this spring.
Harvard started 4-1 last season but went 2-3 down the stretch including a 19-14 loss to rival Yale at home. Spring practice is a chance to turn the page and to the start of the 2023 season.
Here are five areas we are watching this spring when it comes to the Crimson.
1. Replacing key starters: Gone are defensive end Truman Jones, running back Aidan Borguet, cornerback Alex Washington, offensive tackle Scott Elliott and quarterback Charlie Dean. Tim Murphy and his staff must identify younger players who will step up this spring and fill those big shoes. Harvard has recruited exceptionally well in recent years so there is plenty of talent on hand available to step up.
2. Quarterback Battle: With Dean gone, junior Conor Easthope will battle fellow junior Charles DePrima and sophomore Jaden Craig for the starting quarterback job. Replacing Dean's production will be difficult but the Crimson have enough experience back particularly in Easthope that they should be in good hands at the position.
3. Young secondary will get reps: The Crimson will be young on the back end. There is a lot of talent on the roster however but there will be some growing pains. Juniors Riley Jenne and cornerback Gavin Shipman will be expected to step up and take on a bigger role. Safety Garrett Sharpe will also be expected to take on a big role and play in all three levels depending on personnel and the package. Harvard has the depth in the back seven to be competitive this spring but guys will need to step up.
4. Replacing Truman Jones: Not only do the Crimson have to replace Jones' production on the field, they have to replace his leadership off the field. Jones was team captain last season which is a big honor at Harvard. Replacing the player and the person will be tough. Thor Griffith now takes over as the leader of the front seven. He will be expected to help bring along a young but talented group of players along the defensive line.
5. Young skill guys must emerge: Replacing the aforementioned Dean, Borguet and wide receiver Kym Wimberly will be tough but the Crimson have plenty of returning talented headlined by senior tight end Tyler Neville and junior wide receiver Ledger Hatch. Both are big targets and tremendous route runners who can win one on one.
Running back will be more of a competition with several backs vying for carries. Senior Israel Benjamin, junior Malik Frederick and sophomore Jordan Harris will get the bulk of the touches this spring.
Harvard is graduating a lot of talent so this is a big spring for the program as they look to replace players who were stalwarts the past two seasons. It will not be easy but the cupboard is far from bare. The Crimson are well positioned to contend for an Ivy League title again this fall.