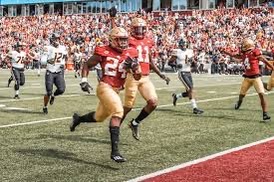 Image courtesy of BC Athletics
To say the BC run game was lackluster last year would be unfair to lackluster things.
The running game was downright non-existent last season.
For so many years, the Eagles may not have had much, but they always had tough, physical, hard-nosed running game. Since head coach Jeff Hafley has arrived that hasn't always been the case. Now, with a revamped O-line room and a plethora of weapons out of the backfield, 2023 could finally be the season where the ground game gets back to its old BC form.
"We're doing a lot of things. We're doing lot of variations and formations with personnel, so it's a lot on the centers and a lot on the O-line for ID purposes and stuff," new co-offensive coordinator Steve Shimko explained on Tuesday following the eighth spring practice. With Drew Kendall leading the way at center, Christian Mahogany back to make life miserable on defenders and other guys like transfer Kyle Hegel trying to play their way into the starting lineup, there's already a sense that this O-line is going to be much better than the one that was in shambles a year ago. Shimko has been impressed with how much they've already been able to put on their plates this spring.
"The amount of volume that they're able to handle right now is really remarkable, especially with the fact that it's completely new terminology and a new system," he said. "They're doing a great job and really taking a professional approach to this whole thing."
Sometimes, it's as simple as buy-in as well. The running game can't succeed without everyone being on the same page.
"Just guys buying in," Shimko added. "Running backs running really hard. Coach Applebaum doing a great job, Coach Chud leading the charge of the run game and Coach Huggins getting these guys tracks and pass right. There's a lot of different reasons why the run game struggled last year. We're not going to talk about last year. We just want to focus on this coming year.
"I do know this, without a group effort as far as putting the run game together, without the hard work of the players, this wouldn't be getting done. I do feel very confident we'll be able to run the ball this year because of all those things."