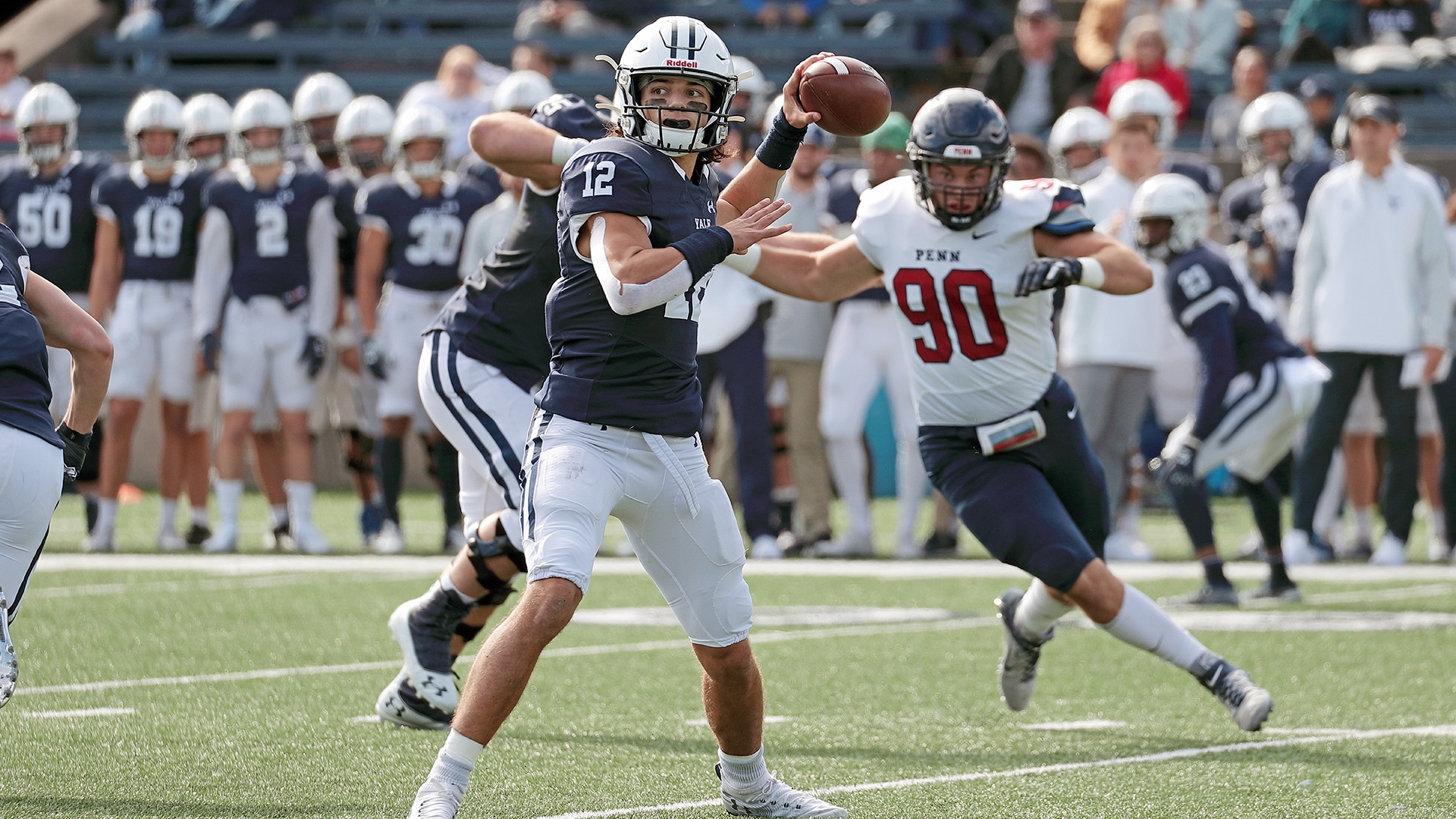 Image courtesy of Yale Athletics
Yale kicked off spring practice yesterday. After an unexpected run to an Ivy League title last season, expectations are high in New Haven.
Tony Reno's team returns several key starters most notably quarterback Nolan Grooms, running back Joshua Pitsenberger and cornerback Wande Owens. There is plenty of returning talent in place to allow the Bulldogs to defend their league title.
Here are five areas we are watching this spring.
1. Replacing key players: Yale graduated a lot of talent from last season's Ivy League championship team. Guard Nick Gargiulo, running back Spencer Alston and defensive ends Reid Nickerson and Osorachukwu Ifesinachukwu among others. Replacing those guys will be tough but the Yale staff has recruited well so there is plenty of talent on hand to step up.
2. Grooms takes the leadership reigns: Quarterback Nolan Grooms had a terrific junior season in leading the program to an Ivy League title. He won the Bushnell Trophy for offensive player of the year.
The senior from South Carolina was terrific down the stretch last season, playing big in big games. He was the dual threat quarterback the staff envisioned when they recruited him out of the Taft School. Now the onus will fall Grooms to take on an even bigger role and become the leader of the team.
3. Eye on the young offensive lineman: The offensive line will become the focus this spring as the Bulldogs will be looking to replace key starters. Young guys like Sean Sullivan, Michael Bennett Cameron Charron. Declan Savage and Bennie Anderson will need to step up to play alongside established veterans like Kiran Amegadjie.
4. Young skill aplenty: The Bulldogs have a lot of young skill talent that is primed for a big season. Pitsenberger headlines the skill group but the return of wide receiver Mason Tipton along with young receivers like Jay Brunelle, Nico Brown, Kelvin Smith, Aidan Stephens and tight end Scott Truninger have the Bulldogs well positioned to build on the offensive success this team had last season.
5. New faces on D: The Bulldogs not only graduate a lot of talent along the front seven but they graduate some key contributors on the back end as well. Having guys like Wande Owens and defensive end Clay Patterson back helps but the defensive staff will have to evaluate a lot of talent this spring as the Bulldogs look to fill some big shoes.