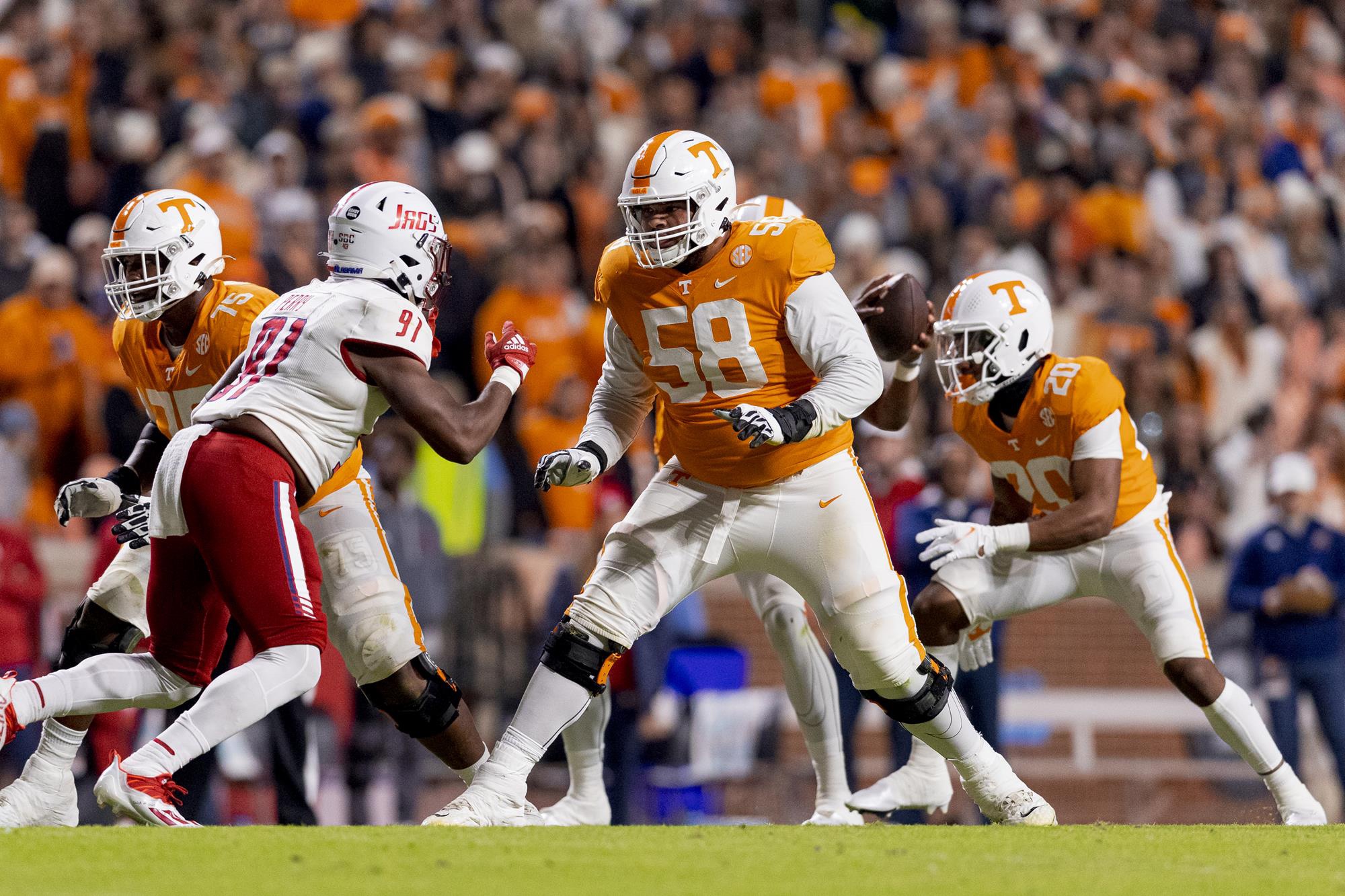 It's that time of the year! Mock Draft season is fully underway; the NFL draft itself is in a month. The New England Patriots have several needs, most notably at offensive tackle, corner and wide receiver. With that in mind, here is my first mock draft:
Traded down from 14 to 21 and picked up LAC 2024 first round pick
Darnell Wright, OT- Tennessee

DJ Turner, CB- Michigan

Kayshon Boutte, WR- LSU

Zack Kuntz, TE- Old Dominion

K.J. Henry, Edge- Clemson

Nick Broeker, G- Ole Miss

Ronnie Bell, WR- Michigan

Byron Young, DT- Alabama

Thomas Incoom, Edge- Central Michigan

Cory Durden, DT, NC State
In round one, I had the chance to trade down, pick up a 2024 first round pick and still draft Darnell Wright out of Tennessee. Wright is a powerful offensive tackle at 6'5″ and 333 pounds.  He performed at a high level against elite competition in the SEC; check his tape against Will Anderson and you'll see. He'll have a chance to play right away at right tackle and could be a long term starter at left tackle.
DJ Turner in round two gives the Patriots length and explosiveness at outside corner. At 6'0", 180 pounds, Turner is not as long as some other corners in the draft, but he is a superb athlete who ran a 4.26 40-yard dash.
I chose to add to the offense in rounds three and four with Kayshon Boutte and Zack Kuntz. Boutte, a 6'0", 205 pound receiver out of LSU caught 48 passes for 538 yards and two touchdowns in 2022. This was coming off an ankle injury that required two surgeries. Prior to the injury, Boutte was one of the best freshmen in the nation in 2020 (45/735/5) and posted 38 catches for 538 yards and nine touchdowns in just six games in 2021. With a full year of recovery under his belt, the hope is that Boutte will be closer to his first two years at LSU in the NFL.
Kuntz is a massive tight end out of Old Dominion at 6'8", 255 pounds. He needs some development and having him as a backup to Hunter Henry and Mike Gesicki will help him. Kuntz could be a contributor by the end of 2023 or early 2024.
KJ Henry is an edge out of Clemson with a great potential as a pass rusher. A talented, former five star recruit, Henry had five sacks and 50 total pressures last season. He moves well, but playing coverage is not his strength. He is also inconsistent against the run. He'd be in the pass rush rotation to start while developing as a run defender.
Of the remaining day three picks, Ronnie Bell and Byron Young stood out most. Bell was a productive receiver at Michigan who missed all of 2021 due to a knee injury. Bell will be a special teamer to start, but could eventually carve out a role at receiver. Young is a big, run stuffing defensive tackle who could develop into a complement Christian Barmore.