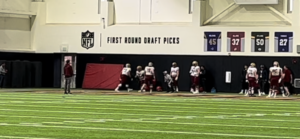 As the spring progresses, BC is getting more and more comfortable with what the operation will be like on offense in 2023.
This past Saturday, the Eagles had a light scrimmage and the run game in particular is something head coach Jeff Hafley is most pleased with so far. With more depth on the offensive line, new offensive coordinators Steve Shimko and Rob Chudzinski already comfortable with players on that side of the ball and a full commitment to establishing the run this year, it seems as if the offense will finally be more efficient.
Following practice No. 8 of the spring on Tuesday, Hafley spoke to the media and talked about the scrimmage and the offense.
"We scrimmaged Saturday, so we've been in full pads. I thought Saturday's scrimmage went really well. We played like, a half of a game which will progress this Saturday when we'll scrimmage again," he said. " We ran the ball really well. Offensive line looked really, really good, which is really encouraging walking out of here Saturday. The backs looked good, multiple guys. You can tell the offense wanted to focus on running the ball. We threw it pretty good, but we didn't throw it much. We came out and ran the ball well. The offense had a really good day."
The most encouraging development throughout spring ball so far has been the back-and-forth between the offense and defense. Good-on-good only creates a higher level of competition and in turn will make both sides of the ball better. Hafley said the defense bounced back on Tuesday.
"Today, the defense came out – which you would expect – came out swinging today and did a nice job early on," he added. "The offense fought back and did a good job at the end, so it was pretty balanced. I like how our offensive line looks right now, we have depth. (Christian) Mahogany worked into a few more drills today, still not doing all team. George Takacs worked in today, Shitta (Silah) came back today. So, when you see Christian starting to do some pod work and Shitta and George working in team settings, it's good to have them back. I think we're trending in the right direction right now. Guys are working hard, coming together as a team and I like where we're at."
Obviously, good, competitive practices in March don't mean anything in October, but for the time being, it feels like there is some real progress being made in the two biggest areas where the BC offense struggled last year. Right now, Eagles fans should consider that a massive win.